Escapism is a concept that seems to suit the Bay of Plenty. Distractions from everyday life dot the landscape like stops on a train line – some celebrated and well-trodden, others less established but equally adored.
A site that straddles both sentiments is the sprawling Whakarewarewa Forest Park – a 5500ha playground that clips the edges of downtown Rotorua, two state highways and houses the city's renowned redwoods.
The beauty of the place, alongside a stunning array of tree species, plants and impressive recreational resources, is in its subtlety. The forest holds hands with an urban area that houses the 12th-largest population in New Zealand, but once inside Whakarewarewa on one of its many trails, you are a world away from society.
Even when stood at the Whaka view point on the Pohaturoa track overlooking the centre of the city, the nearby thermal reserve, a notable road junction and an airport, there is serenity to be found in your elevated surroundings.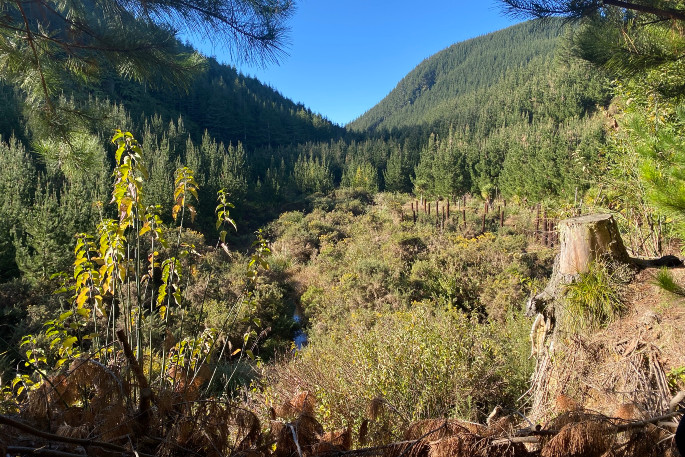 Whakarewarewa Forest Park. Photo: Dan Sheridan.
The beginning of each of Whakarewarewa's five colour-coded trails is also deceiving. Starting from the Redwoods Visitor Centre and i-Site, beneath the hugely popular Redwoods Treewalk, the first steps on your chosen trail are often tourist-heavy.
It is, however, a good opportunity for a last-minute toilet stop before your walk of choice begins, and your chance to grab anything you've forgotten from the well-stocked shop and an all-important map of the forest park.
Within minutes you are among some of nature's true giants. Native to the west coast of America, redwoods were first planted in Rotorua in 1901, and today Whakarewarewa's largest stands at 72-metres tall and 169cm in diameter.
As an aside, walkers of a certain age are forgiven for being instantly transported to the forest moon of Endor – a fictional location from Star Wars: Return of the Jedi filmed in California's Redwood National Park and scene of the film's famous speeder bike chase.
After a short stroll spent mostly looking upwards, it is decision time. The path splits, and an array of tracks that vary in length and difficulty lie in wait.
Short walks include the family-friendly Redwood Memorial Grove track – a well-used route among the towering trees that covers around 2km – and the Waitawa Walk, which comes in at 3.4km and includes stunning silver and mamaku ferns. Both take less than an hour and are a memorable introduction to this serene space.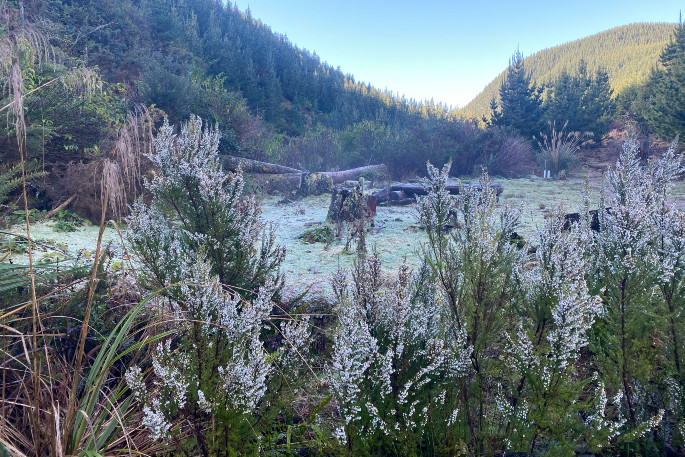 Whakarewarewa Forest Park. Photo: Dan Sheridan.
A variation on the Waitawa Walk is the Quarry Lookout track (4.8km), which ambles further into the forest and takes in a view point over – you guessed it – an old rhyolite quarry, while a route to consider for more serious hikers is the Tokorangi Pa track.
Challenging in places and littered with inclines, the route clocks in at 11.5km and will take even the more experienced trekkers over three hours. After a steady climb to around 500 metres above sea level, the views of Mount Ngongotahā and surrounding lakes make the effort worthwhile.
It also takes in the site of an old Māori pā before a descent to the valley floor. Caution is needed here outside of the summer months, as a lack of sunlight often leads to an immediately-noticeable drop in temperature. If you're heading off with the Tokorangi Pa trail in mind, an extra layer or two is advisable.
Like many of the park's routes, you'll also find yourself crisscrossing with heavily-used mountain bike tracks, and while perfectly safe, it pays to stay alert on certain sections of the walk. There's also some steady climbs to navigate, so a certain level of fitness is required.
At approximately 7.5km, and coming in at a little under two hours, the Pohaturoa track skirts the western side of Whakarewarewa, and factors in around 220 metres of elevation. The majesty of the redwoods makes way for a raft of pines and ferns, and the trig comes with its own viewpoint to rival that of the Whaka lookout.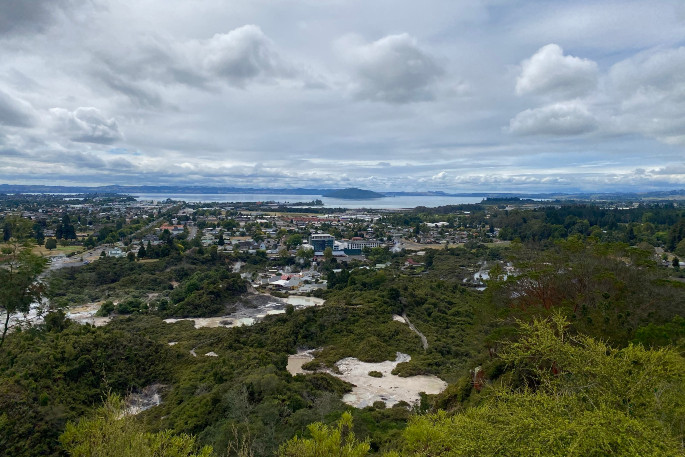 Whakarewarewa Forest Park. Photo: Dan Sheridan.
The longest route by quite some distance is the Whakarewarewa Circuit – a full day's walk that covers over 34km and can take anywhere up to eight hours to complete. This is intermediate-level tramping, taking in the shores of nearby Lake Tikitapu (Blue Lake) and Lake Rotokakahi (Green Lake) as well as some stunning panoramic views.
A good map is highly recommended on this trail, and it's not a bad idea to check in with the park's i-Site prior to departure, as parts of the route may often be closed for forestry operations depending on the time of year and the conditions.
It is rare to find a set of walks that cater for such a diverse level of experience and fitness all in one place, but that's exactly what Whakarewarewa Forest Park provides – a myriad of trails that grant complete escapism and all within striking distance of Rotorua city centre.