More than 150 years after a block of land was confiscated from Ngāi Tamarāwaho and turned into a Crown-owned reserve, Tauranga City Council are driving a project to look at the land's future use.
Ngāi Tamarāwaho representative Buddy Mikaere says early Tauranga Moana hapū established vegetable gardens there, naming it Maarawaewae. Maara relates to the gardens that were established in and around Poike, Waimapu and Maungatapu, and waewae relates to the picking and digging of the food that grew here.
The vegetable gardens which Buddy says extended along the ridge line above Kopurererua Valley were also used to provide food for the koroneihana - the annual celebration commemorating the Maōri King - in Ngāruawāhia.
"After the Battle of Gate Pā, the land was confiscated and taken off us," says Buddy. "When they did a reassessment in the 1870s, some of that land was returned. And then they decided no, they wanted to make it into a reserve. And so it was taken off us again."
Today, the total area of reserve land is 85ha - about the size of 100 rugby fields - with 34ha leased by Tauranga Racing Club and 45ha by Tauranga Golf Club. Buddy has been on the board of Tauranga Racing since last year.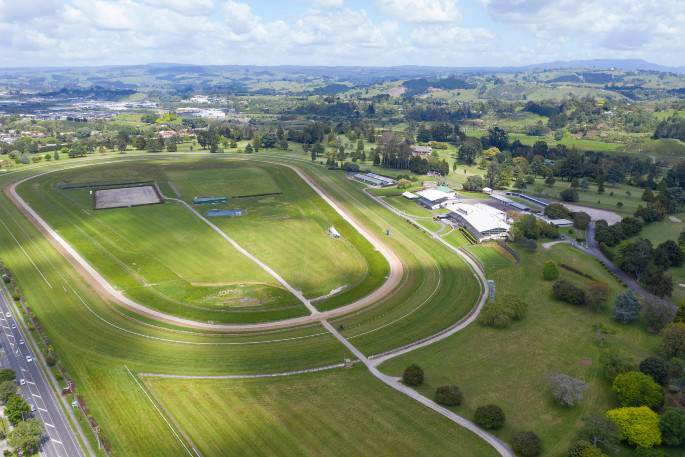 Tauranga Racecourse. Photo: SunLive.
"When it came to dealing with our Treaty claims, we didn't go anywhere near that, because it was like all the other parks and reserves around the city - they're areas of land that have been set aside for general community use, so we stayed away from them.
"However, now we are getting strong signals that Council intends to somehow get the government to revoke the reserve status and use that land for something else.
"If that's the case then we want to talk to them about that first. If anything, the land should be returned to us in the first instance."
Two community drop-in sessions of three hours each were held by Tauranga City Council during the week of November 14-19 in Greerton, and a pop-up shop in Greerton is planned. Anyone that wants to contribute ideas to council for the future use of the reserve can email: greertonmaarawaewae@tauranga.govt.nz
A question on the council's FAQ webpage asks: "As the land was originally confiscated from Ngāi Tamarāwaho, shouldn't they have first rights on what is done with it?'
Council replied: "Mana whenua are in a partnership with Tauranga City and Kāinga Ora in this process, and we're working with them to identify their future aspirations for the reserve land, as well as the views of the wider community."
Tauranga City Council say they are listening to ideas from mana whenua – local iwi who have had customary authority over an identified area, however Buddy says they are yet to have a one-on-one with council on this issue.
"Everyone around us is talking it up, but there's been nothing direct with us or, as far as I know, any other appropriate mana whenua group such as the Ngāti Ranginui rūnanga.
"We are going to be first in line at the Minister's door asking 'what the hell?'"