Tauranga Women's Refuge manager Hazel Hape says she is grateful that the refuge will benefit from a fundraising dinner on November 25, White Ribbon Day, at the Tauranga Club on Devonport Road.
Guest speaker at the dinner is Phil Paikea, a former Black Power gang member turned anti-violence advocate.
Phil tells SunLive that when he was in the gang in the 80s, he had issues with drugs and alcohol, and was violent towards his girlfriend.
"I hit her, yes, I beat her," admits Phil.
"I am not proud of that. I had experienced violence in my own family - but it is never an excuse."
After an assault charge, he took part in an anti-violence programme and that was the catalyst for him changing his ways.
The girlfriend, Rowena, is now his wife of 43 years, and mother to their six daughters and son.
"We are still very much in love."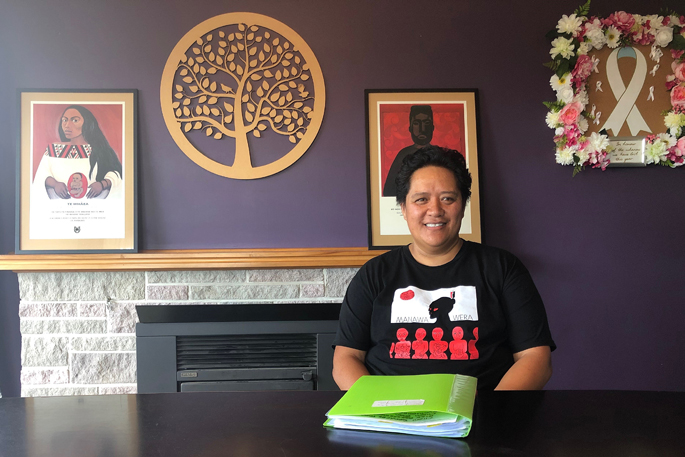 Tauranga Women's Refuge general manager Hazel Hape. File Image. SunLive.
White Ribbon Day is the international day when people wear a white ribbon to show that they do not condone violence towards women.
Hazel says that victims of domestic violence must not be forgotten amid the Covid-19 pandemic.
"Although Covid-19 is taking all the oxygen of public attention, we should not forget the ongoing threat of domestic violence in our region, which has got worse since the pandemic," says Hazel.
"So often it is the wahine who support other wahine in crisis, but there are very good men in Tauranga too. It is great to see that White Ribbon Day is being marked like this."
Phil was a founding member of Te Tai Tokerau Youth Workers' Network, and was also instrumental in starting the White Ribbon ride in New Zealand. He is a national champion for the It's Not OK campaign and has travelled extensively throughout New Zealand and Australia sharing his redemption story of change.
Today he works for the organisation Safe Man, Safe Family, a peer-led stopping violence programme that recognises that perpetrators of violence have often previously been childhood victims. He is also a member of The Patriots, a group of motorbike riders who annually tour the country spreading the anti-domestic violence message.
"It is important men take the reins too in preventing violence against women and children," says Phil.
"Not just in organisations like White Ribbon but in everyday life.
"The other day a woman turned up at our house with a lump on her head that her partner had given her. I had to calm myself down, but I did, and rather than confront him with more anger, I went to sit down with him and over a cup of tea we talked. This is not excusing what he did at all, but if you don't start the conversation, you cannot engage violent men to really want to change. Men need to be starting these conversations with other men, with our whanau and mates to challenge attitudes and beliefs that have wrongly become part of some men's lifestyle. Change is possible."
Organiser of the Tauranga event, Buddy Mikaere (​Ngati Pukenga/Ngati Ranginui) always marks the event each year with a gathering at Mauao by the memorial stone of Monica Cantwell, a 24-year-old British backpacker who was raped and strangled to death near the Mauao summit in November 1989.
This year Buddy said it felt like more was needed.
"One of the unfortunate outcomes of the Covid lockdown has been a rise in domestic violence, and a further drain on the resources of the organisations that work in this area," he says.
"Women's Refuge has always been one of my favorite charities which I have supported for several years. They need our help now more than ever."
Buddy is organising the dinner through his events company MANA TAIAO, together with Jacqui Rolleston (Ngāti Ranginui, Ngāi Te Rangi, Ngāti Pukenga)
Half the tickets are already sold, and with the event number capped at 100 due to Covid restrictions, Buddy expects it to sell out soon.
"There's some great music by Peri Kohu during the dinner - which will be exquisite. After dinner, musician Damo Innes will do a set." says Buddy.
In addition to funds raised by ticket sales there will be an auction hosted by local auctioneer Blair Cashmore.
People can register for the dinner by going to the Eventbrite link: To register, go to this link: https://www.eventbrite.co.nz/e/white-ribbon-fundraiser-tickets-195572070327?aff=ebdssbdestsearch