Fireworks vendor Justin King is turning November 5 into a cracking good cause this year, donating a percentage of his sales to mental health charity I Am Hope.

I Am Hope is holding a virtual fundraiser on Friday for Gumboot Friday.

Justin is hoping to raise $10,000 for the charity, founded by mental health advocate Mike King, which provides free counselling for young people in Aotearoa aged 25 and under.

Justin's pop-up firework shops throughout the country include one based in The Island, Papamoa, which is being run by Tauranga local Hailey Smith, herself a volunteer for I Am Hope, along with her friend Georgia Johnson.

Justin says he normally donates to animal charities, but this year it seemed "like the stars were aligned" to raise money for Gumboot Friday.

"Like most people in New Zealand, I know many people affected by mental health, especially young people.

"It is a real crisis for these young people to get the help they need. We want to contribute funds, but also raise awareness of Gumboot Friday - which uses the analogy of depression being like walking through the mud. The more people that know about this, the more they will realise how great the need is."

Justin says he, like many others in New Zealand, has been inspired by Mike King's unfaltering drive to help young people with mental health challenges.

"I am Hope and Gumboot Friday do an amazing job. But we can't leave it all to Mike King - we all need to muck in and do our bit. Young people are really in need of support, now more than ever before."

Justin's Papamoa site will be open all day Thursday and Friday until 11pm.

Around the region other people have rallied to support Gumboot Friday.

In Matamata, Sarah Troughton is running 21.1 km in gumboots and has already raised more than her $1000 goal on Givealittle.

She is encouraged by one of her dearest friends, Mount mum of seven Tash Dalley, who herself raised $75,000 for I Am Hope earlier this year, following the tragic death of her beloved 13-year-old son Blake to a suspected suicide.

Tash agrees that young people need counselling more than ever, and that I Am Hope/ Gumboot Friday are providing a much needed service which the government is not.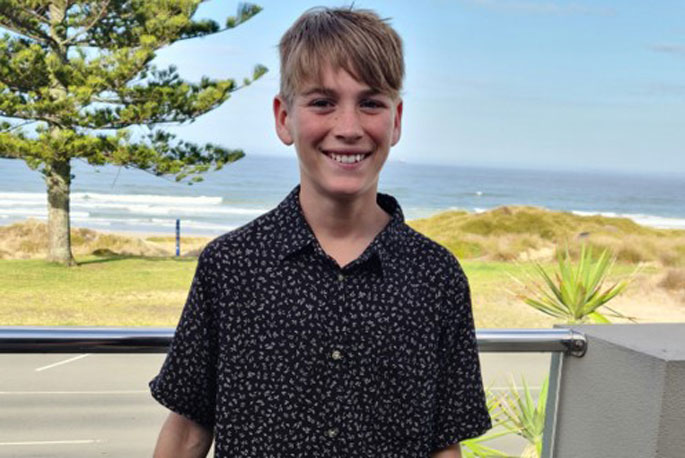 Blake Dalley.

"Please, I can't beg you enough. If you have a little to spare - please join us in supporting this worthy cause.

"Suicide. I can honestly say I never thought this would happen to our family - we were naive...it doesn't discriminate, it can happen to anyone. I have always consciously kept my eye out for my children's mental wellbeing, signs of stress, anxiousness, depression….It breaks my heart."

Tash firmly believes in Mike King's stance that one-to-one counselling for young people can save lives.

"Maybe things could have been different if Blake had somewhere to reach out.

Blake is not alone.

"The number of our young people in crisis would blow your mind. We desperately need to provide them with a safe place to open up. And that's where the amazing Gumboot Friday team comes in.

"They are in the trenches fighting for our youth, supporting them and providing them with the help they need, providing them with hope."

Last month, Tauranga restaurateur Connie Richards raised more than $8000 for I Am Hope/ Gumboot Friday in a non-stop 24 hour climb of Mount Maunganui.

Having suffered from anxiety and depression herself and recovered with counselling, Connie is also passionate about counselling being more freely available to young people in Aotearoa.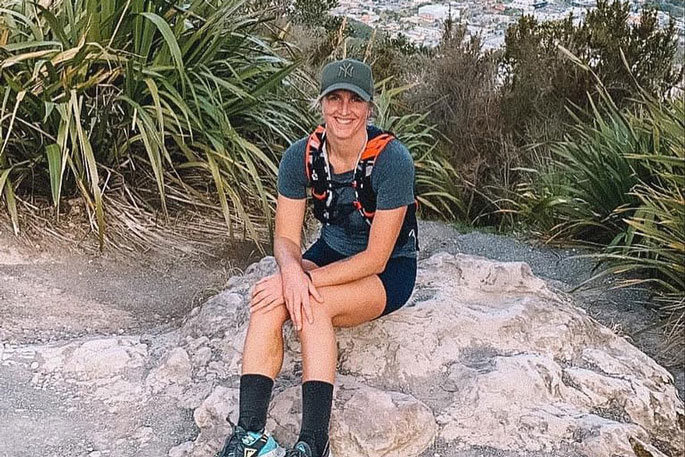 Connie Richards on top of Mount Maunganui.

Across New Zealand on November 5, the Gumboot Army, made up of hundreds of dedicated volunteers across the country are organising individual and community fundraising efforts, says Mike King.

"We now rely solely on the Gumboot Army, made up of wonderful people and communities across Aotearoa, to help us reach our goal. These people are passionate, hardworking and dedicated and without them, we wouldn't be where we are today."

With the onset of further lockdowns and isolation, I Am Hope recently launched its Gumboot Friday online counselling service nationwide, with patronage going through the roof, demonstrating young people's urgent need to access counselling sessions promptly more than ever, says Mike.

I Am Hope encourages the Gumboot Army to go ahead with events on November 5 while adhering to appropriate Covid level restrictions and safety protocols.

The pop up fireworks container is at The Island, 20 Domain Road, Papamoa.