A group of Otumoetai College students have taken out the regional Young Enterprise Scheme award with their edible kiwifruit gel, made from kiwifruit which would otherwise have gone to landfill.
The students developed the product KiwiKick from scratch and have carried out everything needed for it to be able to be sold to the public sector.
KiwiKick chief finance officer Daniel Dumee says it felt really good to win.
"We were actually just waiting for the other team to be announced because they'd put up a good fight against us during the pitch at the regionals, but we ended up pulling through and we were really happy."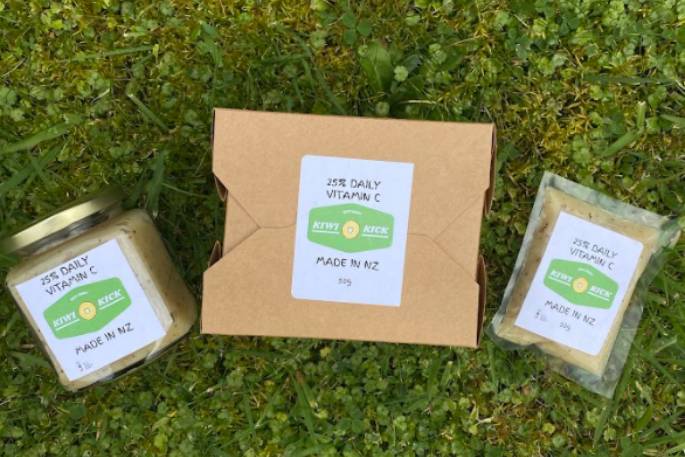 KiwKick's KiwiFruit Gel in its box, jar and sachet form. Photo: Supplied.
The six students who are all in Year 13 at Otumoetai College wanted to turn unwanted kiwifruit into something that could be used.
"Our start-up business KiwiKick is a kiwifruit gel, which is similar to what you might find in a yogurt squeezey packet.
"It uses 100 per cent recycled kiwifruit that can't typically be sold because it's either deformed or has blemishes.
"Our CEO Maia Trevelyan works directly with the Trevelyan's Pack and Cool and so we all thought 'hey we've got all this access to kiwifruit that isn't going to be used, why don't we turn that into something that can be used?'"
The organic, vegetarian, ethically sourced kiwifruit gel aims to provide customers with the health benefits of kiwifruit all year round, says Daniel.
Daniel, as well as Rose Mayhead, Maia Trevelyan, Amelia Wright, Renee Mitchell and Jasmin Murray all took their own roles within the business.
"I was the finance manager/CFO. It was my job to organise budget, spending, how much we should sell stuff for, what should and shouldn't we spend on, and all the stuff that doesn't get seen too much.
"I liked this role and am currently planning on going to Victoria University of Wellington to study accounting and law.
The KiwiKick team may still continue on with their business as they have been offered to pitch the concept to investors.
"The goal is to take the prize money that we got, go to the investors and see how much we can put in.
"We're pitching to them next week which is exciting."
KiwiKick will soon be taking on the Young Enterprise Scheme Nationals to be held on December 10.