The NZCT is awarding $90,000 to Ōtūmoetai Primary School for swimming pool upgrades.
"We have a rich history of swimming at Ōtūmoetai Primary School. A learners pool was first built in 1950, and our current pool was built in 1967. Moss Burmester, a former Olympic and Commonwealth Games swimmer, is a past pupil," says Senior School Deputy Principal Marcus Hughes.
"Unfortunately, the operation and maintenance of our equipment no longer met the New Zealand Aquatic Specific Standards. Our skimmers and returns were very old and needed upgrading to meet the standards required for a pool of our size. Our filtration and pump systems needed a complete overhaul, as did the fibreglass bottom of the pool.
"The standards aim to protect pool users from harmful bacteria and chemical burns, and to minimise damage to the pool and equipment. We simply needed to protect the large number of children and adults who use our pool by replacing our existing filtration system, pumps, skimmers, pipework and the old fibreglassing.
"Over one hundred families purchase a pool key in the summer months. The fees of our keys are $80, and families are able to bring whoever they want to the pool, providing they abide by the pool rules. This gives members of the public the opportunity to go swimming in the summer months at a very low cost. We also provide opportunities for groups such as Scouts, ICONZ, and disabled people to enjoy our pool, completely free of charge."
Marcus says the fees they charge barely cover the running costs of the pool over the summer holidays/Christmas and New Year period.
Although, the Ministry of Education contributes no money to school pools, successive Board of Trustees at the kura have always shown an interest in keeping the pool open for not only the children but the wider community.
Marcus says they have had to be incredibly resourceful and savvy to fund these running costs.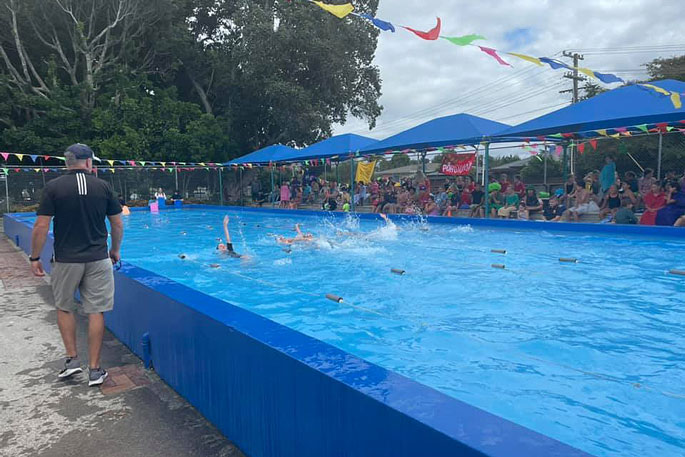 "Unlike many schools who have opted to get rid of their pools due to running costs, we see swimming as a vital part of our children's development. Tauranga's climate enables our children to use the pool between Labour weekend and Easter. Only an estimated five per cent our children have paid swimming lessons. More than ever, we see this as a time to value water safety and competency.
"Our school nestles in the heart of Ōtūmoetai, Tauranga. We are the largest kura in the area and have over six hundred pupils on our roll at the end of the year. Our students are fortunate to have an awesome place to come to school. Hundreds of community members utilise our facilities throughout the week after school and during the weekend. The Ōtūmoetai Primary School community are very thankful for NZCT's contribution - we simply wouldn't be swimming this summer."