Katikati's Fiona Powell is campaigning again this year for the weka to win the number one spot in New Zealand's national bird competition.
Feathers are flying all over the country as the top spot for Bird of the Year is hotly contested by bird lover and campaign managers alike.
Fiona is the only Bird of the Year Campaign Manager in the Bay of Plenty region and says the weka, a species threatened with extinction, is a cheeky hen-sized bird with a criminal mind, often mistaken as a kiwi by tourists.
"The flightless weka is an unlikely candidate for the Bay of Plenty with most of us having never spotted a weka bird in our backyard, yet surprisingly they have an interesting local history," says Fiona.
A captive breeding programme for the North Island weka was set up in the Karangahake Gorge in the early 90s. Unfortunately on release into the area, it was found that the new weka community was decimated by predators, mainly dogs and ferrets.
Other weka from the programme were released in 1996 to Pakatoa Island in the Hauraki Gulf – an island where Fiona lived for eight years.
"I hadn't even heard of weka before and suddenly I was sharing an island with about 100 of them," says Fiona.
"I discovered they are a very intelligent bird with loads of character. Anyone who has met a weka will tell you a story of how they stole something or pooped inside their house."
Fiona moved back to her hometown of Katikati a couple of years ago and was excited to learn weka had been released in the Agongatete Forest, south of Katikati in 2015. Unfortunately the weka didn't hang around.
"Weka have amazing homing instincts," says Fiona. "They'll travel across land by foot and swim long distances to get back home!"
Fiona collaborated with Tauranga-based vocalist Anna Crusis to produce a catchy parody music video 'Weka-lution – I Wanna Fly like an Eagle' - for her campaign. The competition NZ-wide is fierce between campaign managers vying for their bird to win Bird of the Year.
"I've produced weka videos with over 70 thousand views but sadly that doesn't equate to 70 thousand votes."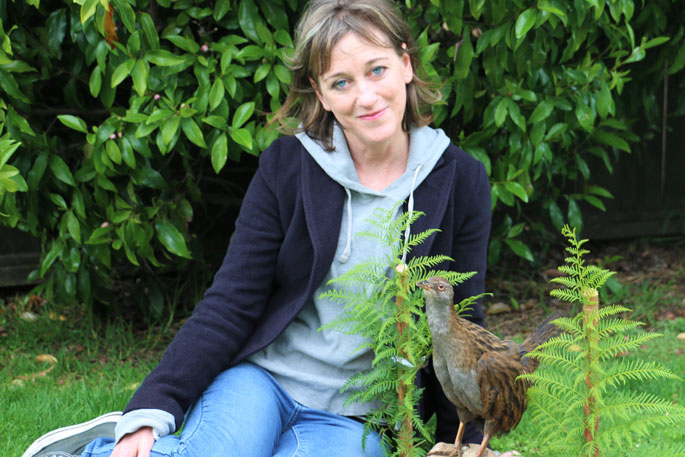 Fiona's ongoing goal as a Bird of the Year campaigner is to raise awareness of the weka, as our other flightless NZ endemic land birds – kakapo, takahe and kiwi - are very well known.
"Weka are a conundrum in our bird world; while they're vulnerable themselves and need protection from predators and impacts of climate, they do pose a risk to other native birdlife, and humans aren't thrilled when a weka digs up their garden either."
Vote for your five favourite birds at www.birdoftheyear.org.nz before 5pm October 31.
Discover more fun facts about the weka at the Forest and Bird blog - http://blog.forestandbird.org.nz/10-incredible-facts-about-weka-to-impress-your-mates-with