The past few spring weather patterns in NZ were quite settled, but this year more lows are coming in bringing more wet weather into dry northern and eastern regions.
A low moving through over the next two days will bring the next burst of rain with heavy falls on the West Coast and around the Nelson Ranges.
It will cross the North Island with some localised heavy falls, otherwise moderate rainfall. This is followed by a classic spring cold front that moves up NZ this weekend - starting with heavy West Coast rain on Saturday and falling apart over northern NZ on Sunday as a patchy broken up rain band, says WeatherWatch.co.nz
"Over the rest of September there's more order in the chaos - by that we mean rather than systems coming at NZ from all angles, it will have more a westerly theme to it. This encourages bigger rainfall totals on the western side of NZ while drier and milder in the east.
"NZ is also likely to receive an uptick in high pressure at the end of this month - and perhaps for the start of October too. October is expected to initially kick off mild with nor'westers as high pressure starts to depart NZ. Our next ClimateWatch forecast will be issued next Wednesday (8 days from now).
"Also, the spring equinox is this Thursday morning - after that point the days become longer than the nights and continue to grow longer up until late December as summer starts to move in."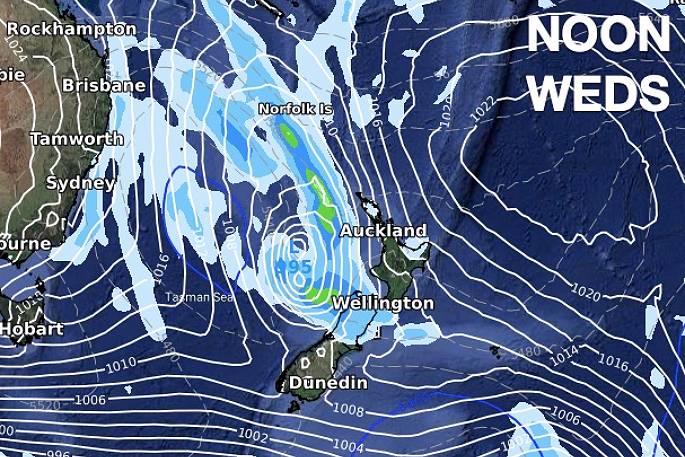 Weather maps showing the rain band over NZ this week. Images: WeatherWatch.co.nz