It was smiles, balloons, bubbles and cars this morning as staff at Tauranga's Ultimate Care Oakland found a safe way to connect their residents with family on Fathers' Day during Alert Level 3.
"We got permission from Police," says Oaklands Diversion Therapist Shona Sharp. "We notified them, and they were well-aware we were doing it.
"We also phoned Healthline who gave us permission and a permit.
"As long as we abided by their rules and followed their health guidelines, they were supportive."
Shelly Clark, who works as an activities coordinator at the two-storey rest home and hospital facility, joined Shona along with many other staff members who came in on their day off to help celebrate Fathers' Day and wheeling residents to the roadside.
"It was fantastic," says Shona. "We all wore masks, abided by the rules and maintained two-metre distancing."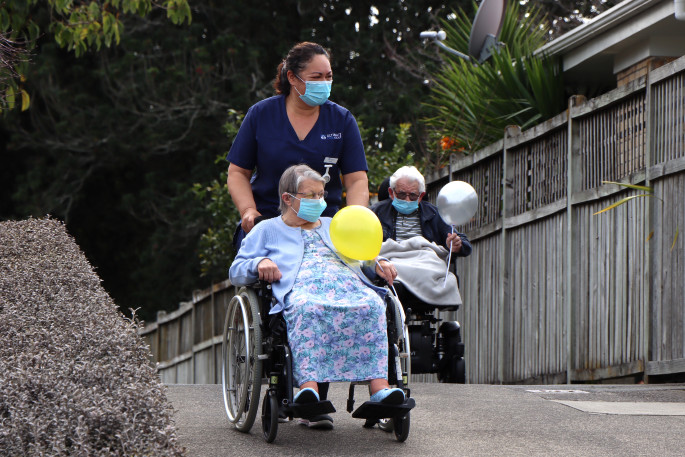 Oaklands Ultimate Care is located between 13th and 14th Avenues in Tauranga, and provides palliative, geriatric, respite and aged care as well as providing rest home care and hospital care.
"We have 82 residents and about half of them came out today," says Shona.
Shelly and Shona don't usually work weekends but following the joy and success of last year's Mothers' Day drive-by, also run during lockdown, they were keen to bring back the same smiles and delight to their residents.
"Last year when we did it for Mothers' Day it was a hit, the residents loved it, so I asked my manager if we could do it again," says Shona.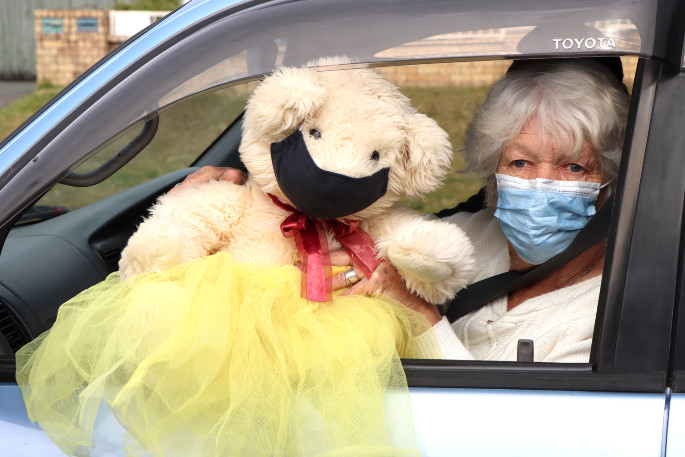 Some of the residents were taken out on to the 13th Ave roadside, and some out to 14th Ave.
"We had them in two blocks so they weren't breaking their bubble," says Shelly.
"They have their own bubbles here as well, so we put half out on one side, and half out the other side, and they were lined up along the footpath," says Shona.
"We had about 24 residents on one side, and about 16 on the other."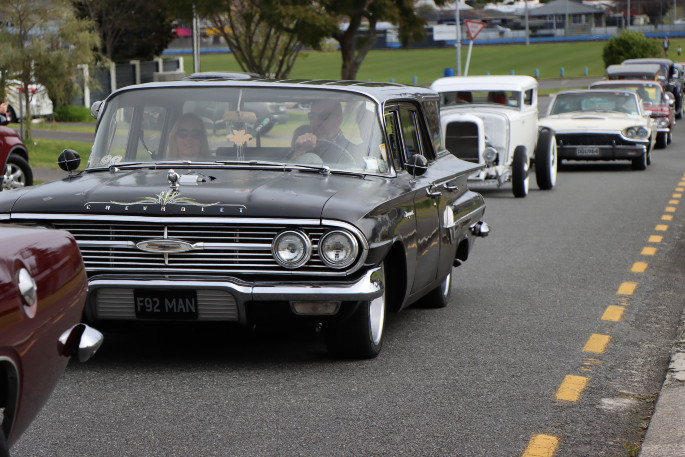 Shona, Shelly and staff provided balloons, bubbles and music as the residents' family members drove past slowly in their cars, with the vehicle occupants waving and tooting.
"For those in the cars, if the windows were kept up, they didn't need to wear masks; if windows down then they wore masks for safety's sake," says Shona.
Shona says members of the Oilers Hot Rod Club in Tauranga and the Bay Rodders Club also joined in.
"They made it possible for these residents to reminisce on Fathers' Day," says Shona.
"They went from 14th Ave to 13th Ave around the block a lot of times."
"The residents wanted them to go all day, but we said they need to go back to their families now," says Shelly.
"They loved it," says Shona. "They got out and got some much-needed fresh air."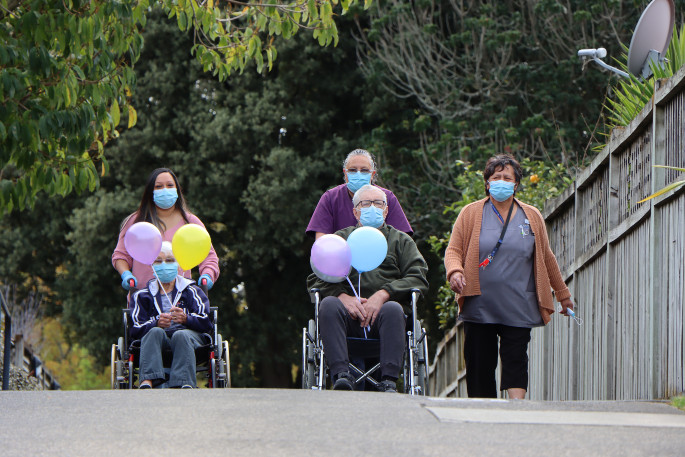 Shona says one resident who thanked her said it was the best Fathers' Day they'd ever had, and one to remember.
"And another one first said to me 'why did you bring me out here it's cold' and then when she saw the cars, she said 'oh my gosh'," says Shelly.
"It was one gentleman's birthday, so we sung happy birthday to him as well. He loved it. He was born in 1933," says Shona.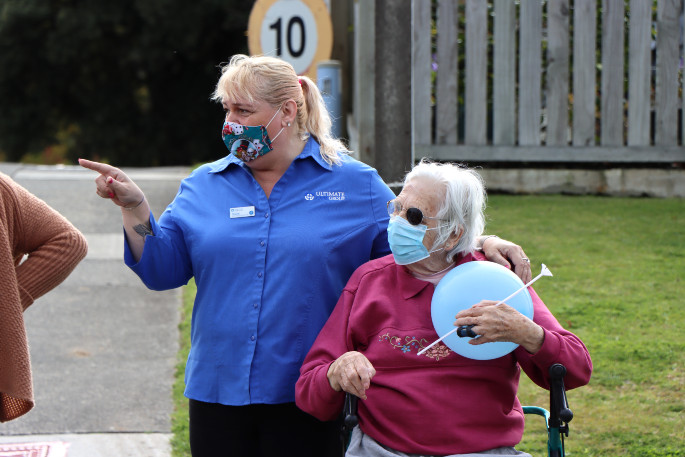 Shona, who was wearing a handmade retro mask, says that next door to Ultimate Care Oakland is a village with residents also out on their balconies and in the driveway watching what was going on.
"One of their ladies is 98 and she just loved it. She said thank you so much," says Shona.
"There were tears of joy and lots of reminiscing as the vintage cars went past with some saying 'I used to have one of them'.
"Even though you couldn't see their smiles through their masks you could see it in their eyes."
Shelly, who wore a medical clinical mask, agrees.
"Some had tears rolling down their cheeks, reminiscing and loving the atmosphere," says Shelly.
"It has given them a glimmer of hope that there is light at the end of the tunnel that there is some normality going on."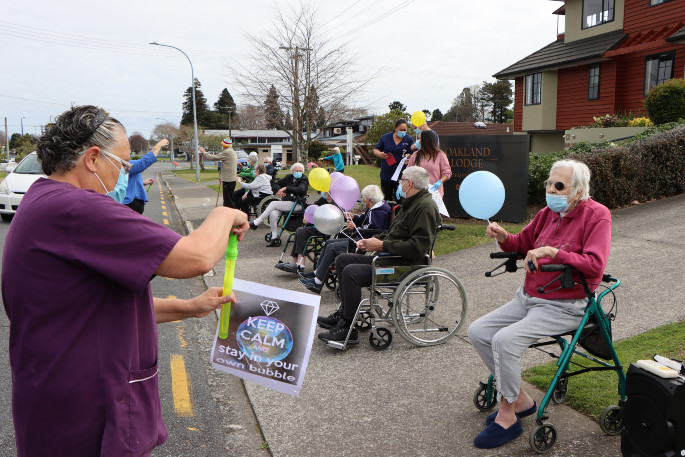 There were about 25 cars involved in the drive by, with occupants waving at their older family member, and some of the hot rods were owned and driven by family members of some of the residents.
"One of the hot rods that came through was one of NZ"s top hot rods that won Beach Hop 2020," says Shona. "The driver Lisa Sawyer is the niece of one of the residents and her husband is the nephew of one of the residents. He was driving a purple hot rod. It was amazing."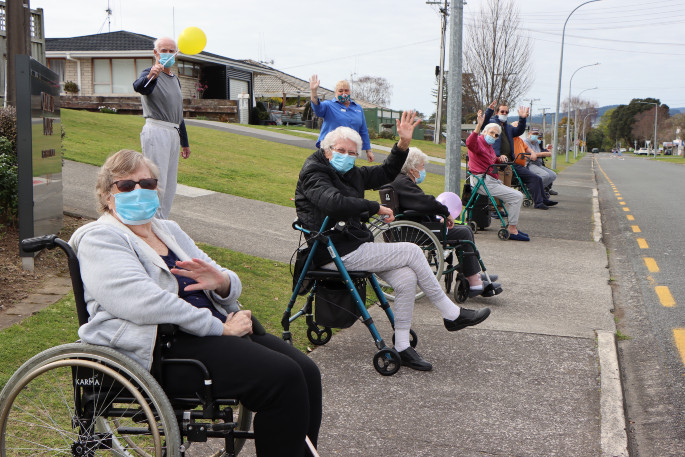 Don Scott who lives at Ultimate Care Oakland used to be a mechanic.
"He was in love with one of the cars," says Shona. "His favourite was a 57 Chev Bel Air. Everybody loved it."
The pair are thrilled to see how happy the residents are.
"They are smiling and glowing. So happy," says Shelly.
"Even the staff loved it as well, the carers and nurses," says Shona. "And even the clinical services manager came down too.
"They came down on their day off to give their time for our residents. About six or seven who were not rostered on to work came in and volunteered their time. This was to make sure the residents could get out there and be looked after.
"It was fantastic."