A Greerton Bakery has scooped three awards at this year's pie awards.
Baker Bobs Bakery and Café have won two silvers and bronze at the 24th Bakels NZ Supreme Pie Awards.
Bakery owners Mony Rath Chhoeuy and Geemun Chao are proud of their efforts, despite not wining gold like they have done in previous years.
The husband and wife team have four gold medals to their name.
It is the first year they have won a silver for their vegetarian pie, in previous years they've won bronze.
The secret was adding cranberry sauce and camembert to the spinach, pumpkin, kumara, pie, says Mony.
"We feel extremely happy, we weren't expecting a silver."
They have also won a sliver for their steak, mushroom and cheese pie and a bronze for the steak and cheese.
Mony says part of their success is because they focus on quality ingredients and love cooking.
The couple have entered every year since 2008 and have owned Baker Bobs for six years.
They previously owned a bakery in Taupo.
The have their sights set on gold and the supreme pie award at next year's competition.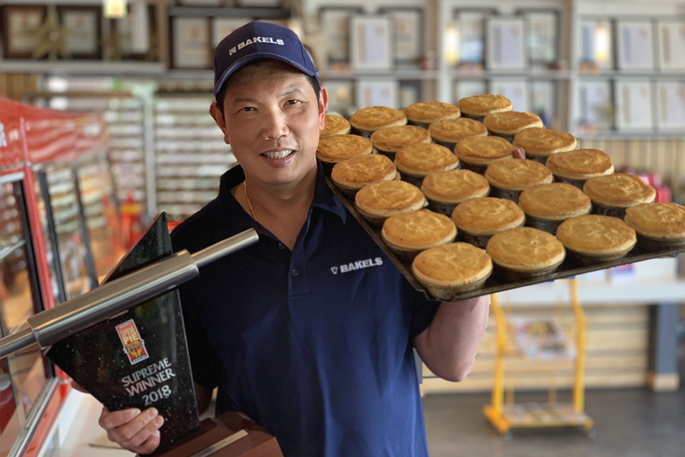 Patrick Lam of Patrick's Pies Goldstar Bakery. Supplied image.
Pie legend Patrick Lam also secured himself some wins, but has been ousted from his supreme pie award crown.
This year Auckland baker Sopheap Long of Euro Patisserie in Torbay won the supreme award with her steak and cheese pie.
Patrick of Patrick's Pies Goldstar Bakery in Bethlehem, holds the record for seven supreme awards.
His steak and cheese pie won silver this year as did his potato topped pie, his steak and gravy pie also received a highly commended.