Tauranga's beach volleyball stars Sam and Ben O'Dea will get their push to qualify for the Olympics underway later today.
The local brothers are in Thailand for the AVC Beach Volleyball Continental Cup, with the overall winners of the tournament qualifying for the Tokyo games.
The O'Dea's form part of the New Zealand team in Thailand, with Thomas Hartles and Alani Nicklin, who the Tauranga duo defeated to win the New Zealand Beach Tour final at Mount Maunganui back in April.
The Kiwis face two teams from the host nation in their opening round match at 8pm New Zealand time this evening.
If both win they are through to the next round, but if it ends in a tie a 'Golden Match' will be played to find the winners.
The tournament in Thailand is under strict bubble rules due to Covid-19.
They were greeted at the airport by a man in a hazmat suit and escorted through multiple checkpoints, before arriving at the hotel where their bags were sanitised and they were tested.
Ben says it's the "strangest" circumstances yet under which they have competed.
"We are locked up for 22 hours a day and monitored on CCTV, like we are in some sort of weird game! It's very different to bubbles we have been in at other tournaments, but with the Olympics at stake, it's better to be safe than sorry," says Ben.
New Zealand, as well as opponents Thailand, are joined by Iran, Qatar, Oman, Australia and China at the tournament, with all of them hoping to make the Olympics.
"We want to win," says Sam.
"If we play well and we play our game we can beat anyone here. We just need to take it one day at a time."
One key advantage the O'Dea brothers might have over their rivals is a recent competitive edge. Unlike many of the other teams at the tournament, the O'Dea boys have been travelling around the world, playing competitions in Mexico and the Czech Republic before training in Germany.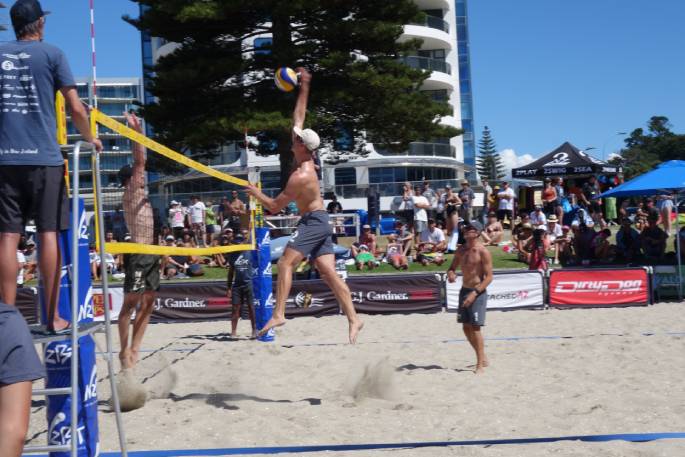 Sam on the attack at an event in Mount Maunganui earlier this year. Photo: supplied.
Leaving New Zealand, amid the pandemic, was a risk the duo are clearly glad they took.
"It has been wicked," says Sam. "There is nothing too much to do in New Zealand as it's winter back there. We are pretty seasoned travellers so it's has been a pretty good couple of months.
"We have played some good competitions and beaten some really good teams. We are one of the only teams to have been travelling around with a lot of the Asian teams sticking to one place.
"It's definitely an advantage that we've been able to get away and compete."
Should New Zealand claim the title in Thailand one of the representative teams will then get the nudge from Volleyball New Zealand and be on their way to Tokyo.
"The other guys are also pumped and ready to get going," says Sam.
"We have a pretty good team vibe going.
"Volleyball NZ will then choose one of the teams to go, immediately after the tournament.
"The job now is to win the tournament and we can figure the rest out after."
The games will be livestreamed and you can follow Sam and Ben's progress at www.facebook.com/AsianVolleyballConfederation/