This Tuesday marks a very special day in the history of the Village Radio Museum at Tauranga Historic Village.
It will be 37 years to the day since the radio station, now 1368AM, call sign Station 1XT, first commenced broadcasting from the village in 17th Avenue West. That occasion was to mark the city of Tauranga celebrating its 21st birthday.
On Tuesday April 13, the radio station will be "firing up" its original transmitter, says Station Manager George Stewart.
The 84 year old Collins one kilowatt transmitter was built at Cedar Rapids, Iowa, in the USA.
"This transmitter was one of four identical ones that were purchased by the New Zealand Government, for the new commercial ZB stations, in 1936," says George.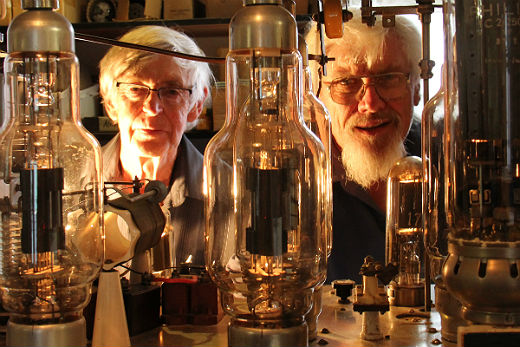 George Stewart and Steve Lambie with the Collins High Fidelity Broadcast Transmitter built in 1936. Photo by Tracy Hardy.
"In 1960 it was brought down to Paengaroa, near Te Puke, to be used to run 1ZD Tauranga."
The transmitter is only the second known to be operating in the world and was restored by Russ Bain, George Stewart and Neil Walsh, technicians at Village Radio. It was out of action for over 13 years but then painstakingly restored by the technicians and a grant from the Lotteries Commission. Village Radio continue to rely on it's more modern 1960s Toshiba value transmitter, leaving the Collins as a back-up and for special occasions.
It's been an exciting month for the 25 volunteers who help create the programmes.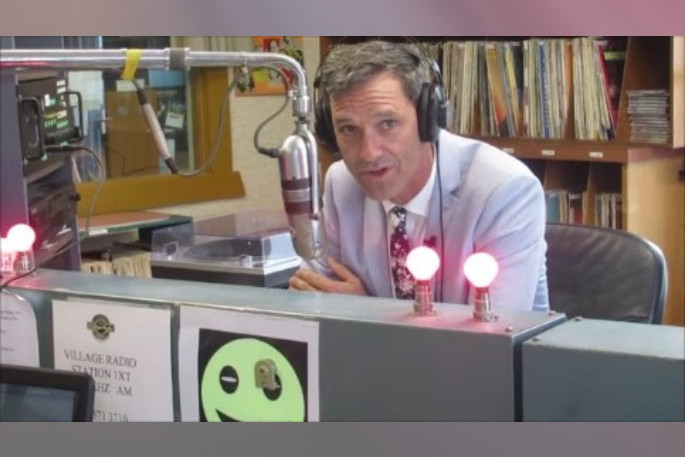 Haydn Jones on the Village Radio. Photo: Supplied.
The following weekend the Village Radio was featured on Haydn's programme on Easter Sunday, for all of two and a half minutes, but long enough to give viewers a very clear outline of what the station is all about.
For seven days a week, listeners can tune in to hear their favourite songs of yesterday, commercial free.
"Our role is to be a companion to people who are isolated in their homes whether they are old or have disabilities. We play music that suits people," says Tauranga Village Radio Museum Inc Chairperson Brian Williams.
There are about 120,000 tracks of music – LPs, 45s, 78s and CDs – some 50,000 titles and 10,000 artists - plenty to suit every type of musical preference.
Another highlight is that the station has also received a congratulatory recorded message from the Minister of Broadcasting, Kris Faafoi, and best wishes
from Prime Minister, Jacinda Ardern.
"1XT Village Radio 1368 AM is funded from generous donations sent to us by our listeners," says George. "Also, grants from COGS and the Lotteries Commission, and our Specialty Programme sponsors, Snowden Electrical, Farmer Auto Village, The Vines at Bethlehem and most recently Triton Hearing."
Tauranga Village Radio Museum Inc is keen to hear from anyone who would like to help with announcing, panel work, technical support and the general running of the station.
To learn more about Tauranga Village Radio Museum Inc visit the website
www.villageradio.co.nz
or email info@villageradio.co.nz . For further information contact the Station Manager George Stewart by email: geodor31@gmail.com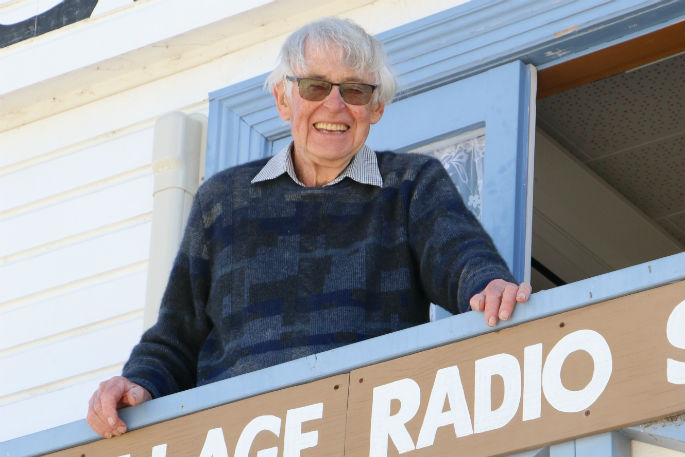 Station manager George Stewart outside the Village Radio. Photo: John Borren.