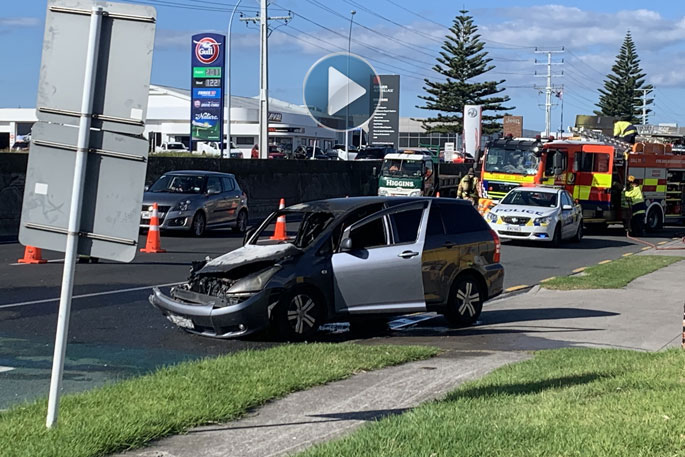 Click the image above to watch the video
UPDATE: 3.40pm An eyewitness suggests a woman has had a lucky escape after her car caught fire in a crash with a truck and trailer in Mount Maunganui.
The collision happened on Hewletts Rd near the AA Auto Centre.
A reporter on the scene says two firetrucks are in attendance along with one ambulance and three or four police cars.
The accident involved a Toyota station wagon and a truck and trailer.
Our reporter states that the right side of the Toyota's bumper made contact with the trailer, which sustained minor damage.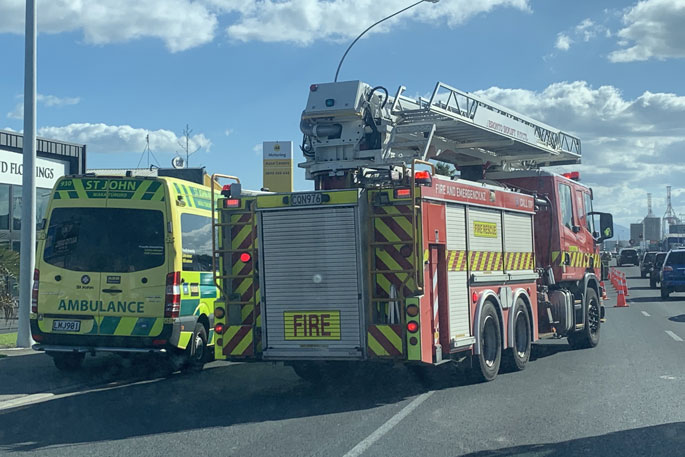 The car caught fire immediately after making impact, according to an eyewitness who was directly behind the crash.
"I was the car behind her although was quite a way back," says the eyewitness.
"She was going at the speed limit or at least near the speed limit. She obviously had not realised that the truck had stopped for the lights or something. She noticed at the last minute and swerved but obviously not enough.
"The car went up straight away but thankfully the driver did not seem to be too badly injured got out reasonably easily."
The eyewitness says that police must have been in the vicinity as they were on the scene almost immediately and bystanders from local businesses came out to help the woman.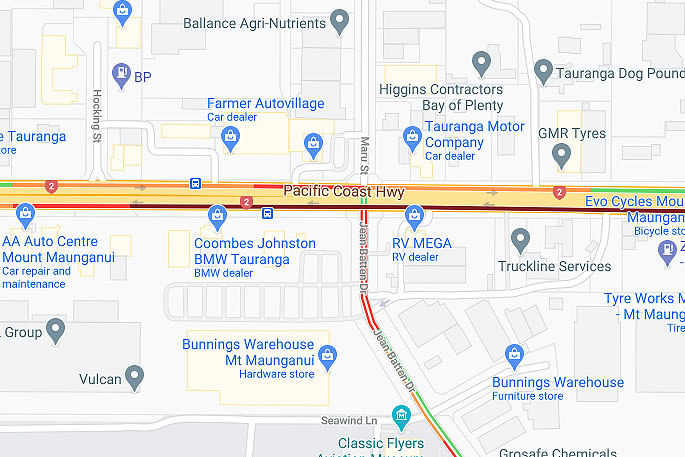 Traffic is stalled on Hewletts Road. Image: Google Maps.
Police have confirmed in a statement that they are on the scene of a crash involving a car and truck at the intersection of Hewletts Road and Jean Batten Drive.
"One person was reported to have sustained moderate injuries," says a police statement.
Our reporter on the scene says that there is a significant amount of rubble and debris from the incident. However, both lanes are now open but the bus lane remains blocked.
EARLIER: Reports are coming in of a car fire in Mount Maunganui.
A caller to the 0800 SUNLIVE news hotline says firefighters are dealing with a fire on Hewletts Road, near Jean Batten Drive.
"Both Tauranga bound lanes are blocked."
A SunLive reader emailed in to say the car fire is on Hewletts Road.
"Emergency services are responding and traffic is backing up."
Another reader reports seeing black smoke.
SunLive is working on getting more information and will provide an update when we can.
At the scene?
Call 0800 SUNLIVE or email photos to newsroom@thesun.co.nz