The idea to run an adaptive surfing programme in Mount Maunganui occurred to John Sligo naturally.
An amputee himself, he figured there must be others like him frustrated at wanting to get in the sea on a more regular basis.
'I can't swim at the beach by myself unsupported," says John, who is the sport development officer at Parafed Bay of Plenty.
'I just thought that if I am missing out, there must be a lot of people like me in the area that want to use their natural environment and just can't access it on their own.
'If you haven't got a good family or support group it is hard. I guess that is really where it came from."
Parafed were then awarded a Community Development Match Fund from Tauranga City Council to run an adaptive surfing and float programme.
They soon teamed up with Hibiscus Surf School, who have locations at Main Beach and at Tay Street, and the programme has blossomed ever since.
'This is our first year doing regular events," says Ray Ohrenschall, manager of Hibiscus Surf School.
As Ray explains, all participants need is to be a Parafed member at $20 a year and then they can get out on the water for surfing, or other activities such as kayaking, stand up paddle boarding or swimming.
'Usually, we do like one or two a year, but Jono has been great at getting all of these activities, not just surfing but a wide range for those with disabilities in our community.
'It is so epic. It is the first year we have had proper events actually scheduled and planned. It is amazing."
Combining the surfing knowledge of the stellar team at Hibiscus and the lived experience of John and Parafed has helped to improve the experience for users of the programme.
'Before we got together with Hibiscus Surf School they were not really sure how to do this with disabled people," says John.
'Now, through collaborating with us, we have sort of upskilled them around all the stuff needed in getting the people to the water."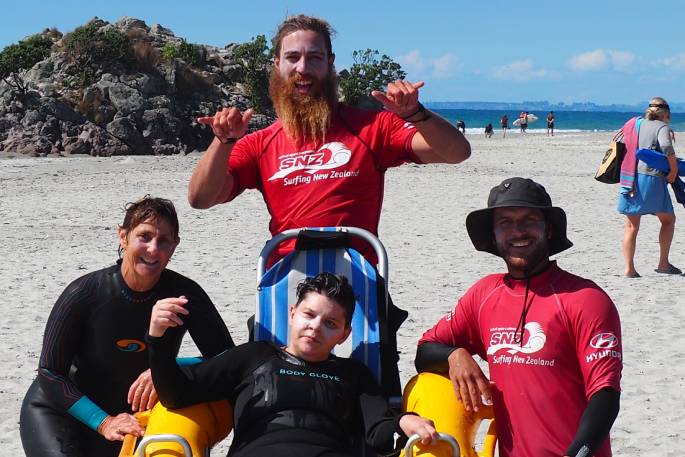 Maxine Parker, Patrick Maddocks, Nikayla Wood and Joe Swain enjoying the day in the surf. Photo. Hibiscus Surf School.
Hibiscus already have a beach wheelchair and through the donation of two adaptive surfboards from Lee Ryan of Surfing New Zealand, who Ray calls an 'absolute legend", Hibiscus can get as many budding surfers out in the sets as possible.
'He has let us hold on to them for the summer because he knows what we are up to and it is amazing," says Ray.
'The bigger boards with handles are the boards we may use for our participants who may need a little more assistance.
'They are just a bit safer, bigger and have more buoyancy."
Hibiscus also have fully trained instructors and heaps of volunteers which provides the safest environment possible.
'Having that safety there helps people have that comfort to push those limits," Ray beams.
'The last event the water was pretty big and pretty dumpy. So our volunteers they are crucial.
'It was amazing. It was probably the one that really pushed our limits and it was honestly one of the better events we have ever had. It was sick."
With three adaptive surfing sessions and four Friday floats there have been plenty of options for residents in the Mount this summer. Last Friday saw the final event of this season but John and Ray are both promising to be back next summer.
'It is our favourite part of the year," says Ray. 'No matter what, teaching someone how to surf is amazing.
'Put it to that next level where they never get the opportunity to get out there. Seeing the gratification with these students specifically is amazing.
'The feedback, the smiles, everything we get back is amazing. It is kind of why I do what I do."
For John, this is just the start. He wants an adaptive surfing championship in the Mount next year as well as a link with surf schools down the coast, from Waihi Beach to the Eastern Bay.
'We are just excited about going forward," says John.
'It is just about getting in the water and getting wet really."