More than one per cent of Kiwis have reported consuming amphetamines in the past two years, despite Covid-19 reducing illicit supply chains in New Zealand.
Methamphetamine is the most commonly detected illegal drug nationwide at wastewater testing sites, with detection levels highest per person in Northland, Bay of Plenty and East Coast.
In December, the Drug Foundation's 2020 State of the Nation report revealed a staggering 1.8 tonnes of meth was seized by police and customs in 2019, three times as much as the previous year.
However, information released by the National Drug Intelligence Bureau stated the quantity seized by police in 2020 dropped significantly to just 23.7kg.
Despite the decrease, a Drug Foundation survey of addiction and mental health services found referrals had increased by more than 300 per cent.
A snapshot of 19 emergency departments during one night in December 2019 found 1.9 per cent of presentations were methamphetamine-related, up from 0.7 per cent in 2018.
More than 50,100 Kiwis received treatment in 2019.
However, district health boards across the country decreased support equivalent to 17 full-time roles between 2018 and 2020.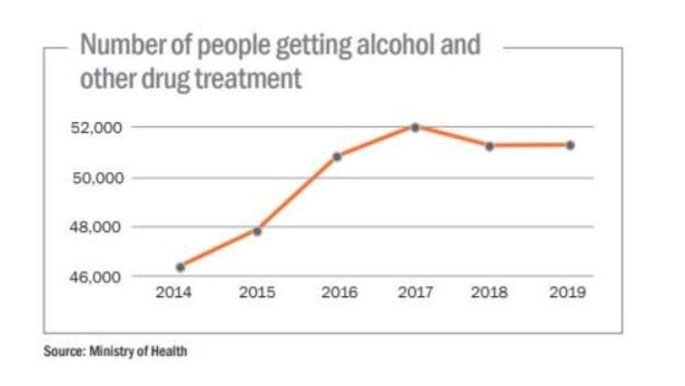 Number of people getting alcohol and drug treatment in New Zealand since 2014. Image: Ministry of Health.
Funding in the 2019 Budget ensured many existing services in danger of collapsing were now sustainable, according to the report.
This included more beds in addiction treatment facilities, managed withdrawal services and peer support.
"There are still large holes in treatment provision across the country," the report explained.
Lynette Hutson​, Salvation Army director of addictions, says the number of staff and community-based services had not increased.
"We haven't been able to impact our wait list, particularly for young people wanting access to addiction-specific counselling or support."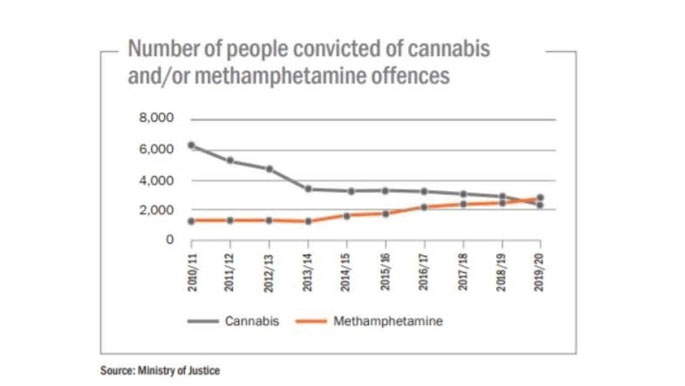 Number of cannabis and meth convictions since 2010. Image: Ministry of Justice.
Due to the way statistics are gathered, report writers did not have a clear picture of how long waiting lists were.
However, anecdotal reports suggest the longest wait is for residential beds, which has been further exacerbated by the stress and uncertainty of Covid-19.
Meanwhile, methamphetamine convictions have steadily increased since 2013.
Between 2019 and 2020, the number of people charged with methamphetamine offences overtook cannabis for the first time.
More than 2720 Kiwis were charged with a meth offence, and 2482 people were charged with cannabis offences.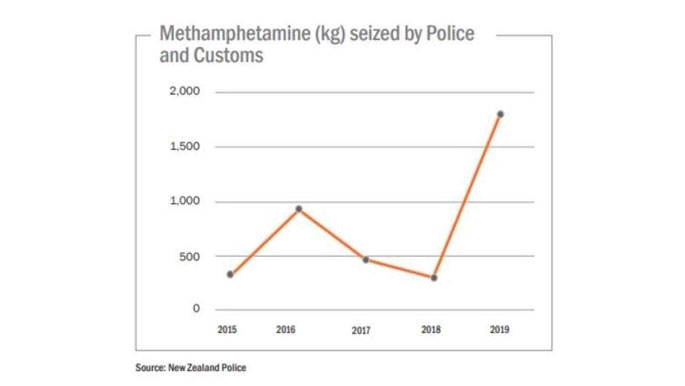 The amount of methamphetamine seized by police and customs since 2015. Image: NZ Police.
Recent changes to the Misuse of Drugs Act had not stopped charges as the Drug Foundation had hoped.
In August 2019, laws were changed so police had discretion to only prosecute for possession or use of drugs if it was "required in the public interest".
Police must now determine whether a health approach would be more beneficial to the public interest than a prosecution.
"If the law change was working as intended, we would expect to see court actions decrease and non-court actions, such as warnings, increase," the report explained.
Early indications show court actions for low-level offences went down slightly since the law change, from 1247 to 1096.
"While this is positive, it does not reflect the level of reduction that was anticipated by the law change."
Between August 2019 and July 2020, only 10 per cent of total proceedings resulted in a health referral – much less than forecasted.
"It's too early to calculate the full impact of the law change. However, we can say the impact has been significantly less than expected or hoped."
The overall number of people sentenced to prison for low-level drug offences has increased each year since 2013, with 853 people jailed between 2019 and 2020.
WHERE TO GET HELP
1737, Need to talk? Free call or text 1737 to talk to a trained counsellor.
Alcohol Drug Helpline 0800 787 797
Care New Zealand 0800 682 468
Lifeline 0800 543 354
NZ Drug Foundation 04 801 6303
Rural Support Trust 0800 787 254
Salvation Army Alcohol and Drug Support 0800 530 000
Samaritans 0800 726 666
Suicide Crisis Helpline 0508 828 865 (0508 TAUTOKO)
If it is an emergency, click here to find the number for your local crisis assessment team.
In a life-threatening situation, call 111.