Emotion ran high at a public meeting discussing the implementation of Maori wards in Tauranga this afternoon, with opposing views on racism and approaches that benefits Maori.
The meeting has been organised by a group called Concerned Citizens, which recently submitted a petition opposing the matter.
Hundreds of people both in favour and against the petition attended.
Protesters standing with signs and Maori flags filled the back of the TYPBC club room, behind rows of seats filled to the brim with other meeting attendees.
Speakers included former New Conservative party member Elliot Ikilei, and Hobson's pledge members Don Brash and Casey Costello.
They argued their views are in favour of equality and Maori bettering themselves.
Some of the remarks were visibly difficult for protesters to hear, with many shaking their heads, and tearing up during the speeches.
In his speech, Ikilei argued that everyone wants equality, and believes the implementation of Maori wards encourages segregation.
He told the crowd judging people based on the colour of their skin is 'nothing less than Nazi-style racism."
Protesters sang a waiata together during his speech.
Brash covered a range of topics. When Te Tiriti o Waitangi was raised, the crowd began sharing their opinions, with both sides yelling at each other.
In response to expressions from protesters during her speech, Casey Costello judged Kaumatua leadership, as she felt they had not delivered on their promise of a peaceful protest. Her statement led to more objections.
Yelling and people leaving the meeting happened on both sides. This was the peak of the disruptions.
However, event organiser and Concerned Citizens member Margaret Murray-Benge condemned this behaviour, which is why she decided to keep her speech short rather than stating her case.
'We were promised that this would be peaceful.
'I wish you well but you do not listen.
'I have never seen such behaviour from women."
Arguments for Maori Wards, and against the petition followed from iwi leader Buddy Mikaere and one other speaker.
Buddy says the fact that no other ward has gone through the same process or scrutiny proves that racism is fuelling the petition.
He says the views of Concerned Citizens and others who support the petition do not represent the views of Tauranga.
'The tides are turning.
'Your day is done."
Tracey Carlton and Pip Brook peacefully protesting outside the meeting. Photo: Mackenzie Dyer.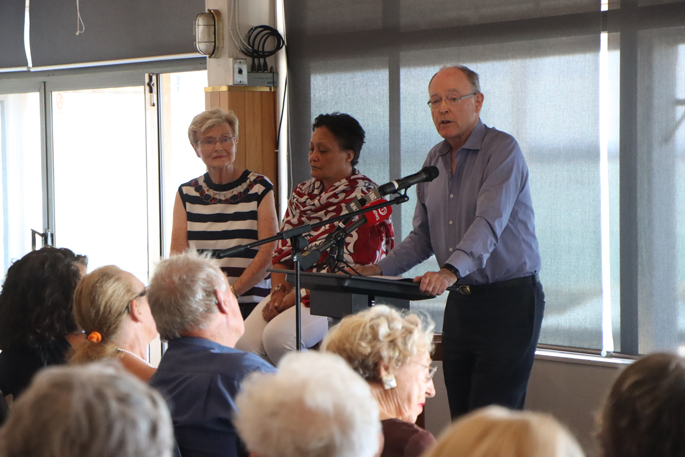 Margaret Murray-Benge and Hobson's pledge member Don Brash spoke at the public meeting.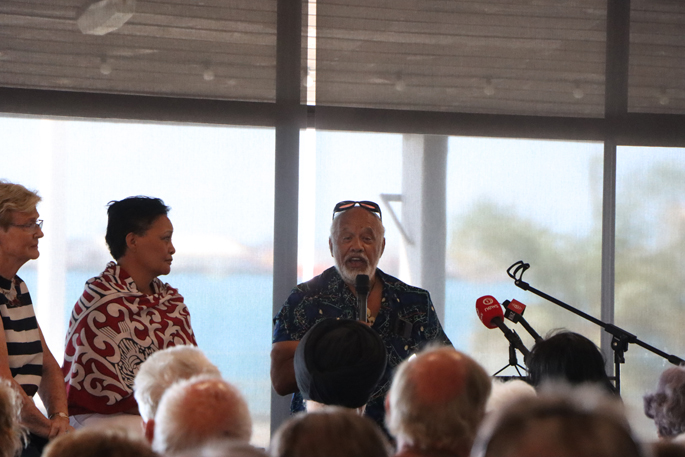 Buddy Mikaere addressing the crowd.