The Tauranga Historic Village is coming alive with vibrant art on Saturday.
The one-day Illuminarti festival organised by The Incubator Creative Hub will feature exhibitions, installations, a collaborative mural, film, food trucks, musicians, street theatre, buskers and live entertainment.
"This event will encourage creative participation, new connections, and a blatant agenda of creative activity," says festival organiser and Incubator Creative Hub director Simone Anderson.
"Illuminarti sums it all up - an antithesis to the mind-numbing negative conspiracy theories, politics, and mass hysteria. In these seemingly dark times, we need illumination through the arts."
Two exhibitions will be launching on the day. One is a group show titled '112' in The People's Gallery - Toi ka rere, with about 140 entries from over 80 artists, with each work being 12x12 inches, or 30cm x 30cm.
Why is this exhibition titled '112'? It's simple really for those who are in the know.
Four years ago, the same inaugural exhibition was called '109' because the opening launch show was on the exact day that the Forresters Hall was opened in Tauranga's Spring St 109 years before, to the very day. The gallery is housed in that building, now relocated to Tauranga Historic Village.
"Obviously the exhibition was called 109 then, and everything was priced at $109. Every year on the same birthday we add a number and a dollar to the price," says Simone. "This is the fourth year, so we are calling it '112'. All the works of art are $112.
"This is a wonderful annual show and is opening at 11am on Saturday November 28 as part of the Illuminarti festival."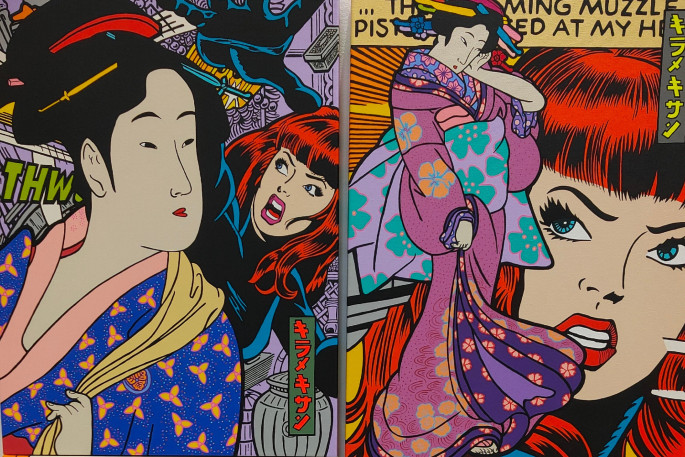 Comic art work by Kiramekisan.
Simone jokes that the 112 exhibition opening will be like the running of the bulls as the public rushes to be first to buy art works.
"A big throng of people rush into the gallery with their red stickers. There's a lot of excitement."
The 112 exhibition will run until December 20.
The second exhibition also launching on Saturday is the first-time solo exhibition by Tauranga comic artist Kiramekisan in The Incubator gallery.
"A spectacular first time solo exhibition of Memoirs of a Salaryman will live up to its name," says Simone. "It will be comical but also display intricate complex technique and colours will switch your visual cortices into overdrive."
Kiramekisan began painting while living in Japan, with his work being influenced by his time there. His exhibition also runs until December 20.
At the Village Cinema the top 15 films from the International Youth Silent Film NZ Nationals will be screened, along with an audio visual live improvisation by Scott Brown, a projection of work by Tauranga Girls College media studies students, and music videos from Grand Bazaar and other local performers.
Illuminarti will also feature outdoor mural works being painted during the day with one large scale collaborative mural work that visitors to the event can participate in.
Illuminarti – Arts Illumination in Action will be taking place at Tauranga Historic Village on Saturday November 28 from 10am – 4pm. Entry is free.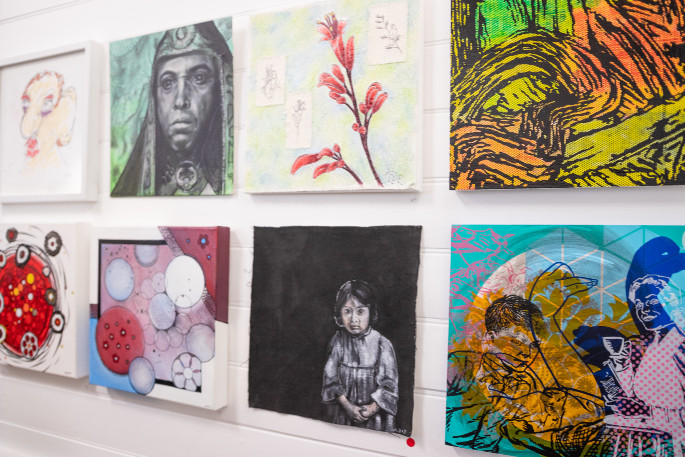 Some of the 112 art works.