One woman, one dog, and a trusty sailboat travelling the world's seas sounds like a winner of a movie plot.

But for the real life solo sailor Elana Connor, her rescue pup Zia and their 1985 Sabre 34 sloop, the venture holds much more purpose than sounding like a blockbuster.

Elana is sailing a figure eight around coastal New Zealand flying a flag for VOYCE Whakarongo Mai, a charity that advocates for children who spend time in foster or whānau care.

The money she raises on her journey, called Voyage for VOYCE, will create a scholarship fund for youth in care to go on the educational 10 day sailing trip, Spirit of Adventure.

It's the first week of Elana's four month adventure. She has spent the last few days sharing her story in the Tauranga community, and visited Tauranga Girls' College on Wednesday.

She will do the same in towns across the country.

Advocating for foster youth is a cause close to home – Elana was in foster care in the US from age 15 to 18.

"I lived in group homes with other kids," says Elana.

"I was lucky in that I had a really great case worker and my Gran – she wasn't able to take me in, but she did visit me while I was in various placements.

"I had a couple of women in my life who really encouraged and supported me while I was in care, and believed that I could do more, and expect more out of my life."

Elana says the narrative presented to children in care is grim.

"Well-meaning social workers are trying to mitigate risk when it comes to youth in care, so the focus is always on survival. But often times that's what their whole lives have already been about.

"When they're transitioned into adulthood, the benchmark is only set at trying to be stable, staying clean and not hurting themselves. It's about surviving, not thriving, and that's what I want to change."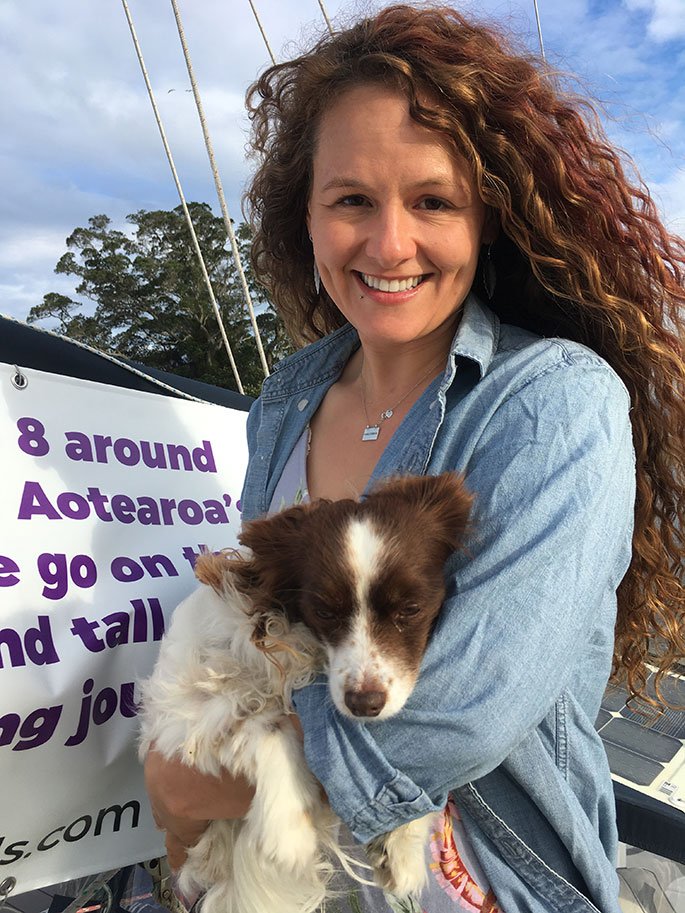 Elana Connor sails with her rescue dog, Zia, at her side. Photo: Brian Rogers.

Elana set sail from California last year, arriving in NZ in December. Everywhere she goes, she spends time learning about how the care system works.

"I spent quite a bit of time in VOYCE's Auckland offices, asking lots of questions and looking at the stats.

"The problems are very similar here – there just aren't enough homes for foster youth, especially teenagers.

"A challenge here that's different from where I'm from is the transition services, which help teenagers move from care to living independently.

"NZ's transition services only went nationwide last year. Before that they were only offered in Auckland. When I was in care in California those services already existed, and that was more than 15 years ago."

The challenges kids in care experience are unique, complex and "hard to advocate for – privacy restrictions around youth in care means you can't really have a poster kid".

Elana hopes her voyage will help the community understand the reality that the 6500 Kiwi youth in care experience.

"The government that we elect is literally responsible for their childhood, and that means every single one of us, all citizens of New Zealand, are responsible too.

"I want to see everyone start to think about the future of youth in care and seek to be more inclusive. If you run a youth organisation, club or sport, you should actively ensure you are doing things to reach kids in care.

"In 3-12 months, 37 per cent of NZ youth in care will have more than one caregiver, so it's up to all of us to make sure they have opportunities despite this."

As well marrying with Elana's own sailing passion, the Spirit of Adventure's short 10 day timeframe is practical and accessible for youth in care.

"It's not about sailing – it's about everything else that comes with living with 39 other youth on a boat who you haven't met before, and working as a team to run the boat.

"It's about facing whatever it is that you're afraid of, and celebrating the incremental progress you make towards facing those fears.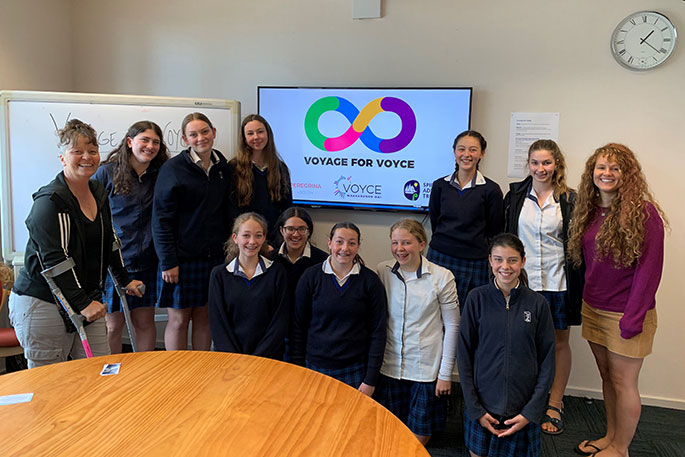 Elana Connor, right, visiting Tauranga Girls' College. Photo: supplied.

Sailing changed Elana's life.

"I grew up doing water activities, but I never thought sailing would be accessible to me because it's so expensive.

"In 2014, I saw a 50 per cent off coupon for a sailing class, went along, and have been hooked since. My club back home are my sailing family. Being around people who support your crazy dreams makes such a difference to your life on so many levels. "

Elana remembers being inspired by women in her club who sailed from California to Hawaii on their own – a trip she later did herself.

"That's what I want to do for kids in care: be an example of what is possible."

And she has. Elana, who is a university educated, world sailing writer and advocate is thriving, not just surviving.

"If somebody makes you feel like your dreams aren't possible, you need to question it, because they probably are."

To donate to Voyage for VOYCE and follow Elana's adventure, visit: https://www.peregrinasails.com/