Faye Suzannah is looking for walls. And wall owners.
The Tauranga-based mural artist, who came from the UK in November with her Kiwi partner and their two-year-old daughter, is keen to put colour onto backyard walls, buildings, garden and business walls.
Soon after arriving, she found herself painting a turquoise, salmon and pink mural of leaves and ferns across a huge wall at Mount Maunganui as part of the Street Prints Mauao – International Street Art Festival.
"I read there was a mural festival the following week, and before I knew it, was involved with artists from around the world," says Faye.
"It was a much bigger, organised event than I had anticipated. Incredible.
"It blew me away in that it was being funded, and that the council and lots of people are up for supporting this in this country."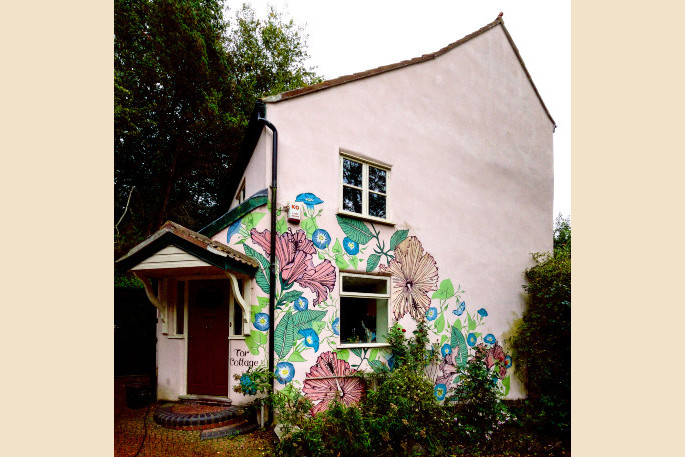 Tor Cottage with one of Faye Suzannah's murals
She met her partner Marcel, a landscape gardener, in London.
"It was 2003 when I was at university. Then we lost track of each other for ten years, as you do when you travel across the world.
"Then Facebook started. I had moved to Brighton on the coast south of England, and he popped up on Facebook saying he was also living there, so we reconnected."
They met for a beer, talking about their travelling experiences.
"We weren't even together before he invited me to go on a trip to India with him."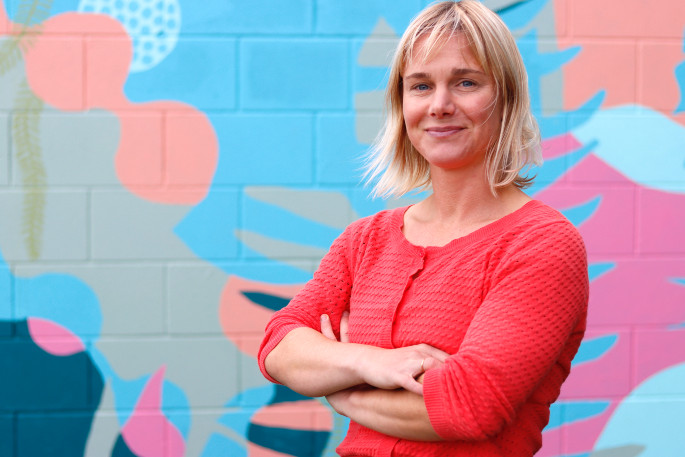 Faye Suzannah. Photo: Daniel Hines/SunLive
The independent world traveller smiles at the recollection.
"​I'd always wanted a big strong man to invite me to a third world country. I think we both expected to go our separate ways after a few weeks because we were quite used to lone travelling but it was actually just really, really great.
"Having a man next to me was one of the most valuable things. I'd never appreciated male company until I was in India and I had this lovely man basically looking after me. And I allowed that to happen, I think for the first time.
"When we got back to Brighton, we just moved in together and we've been together eight years now."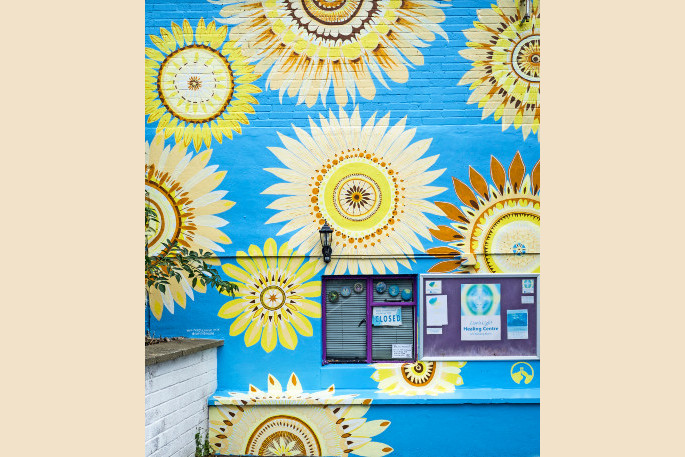 She had visited the South Island once previously, before meeting Marcel.
"We don't know if this is a strange phenomenon, but a handful of female friends from my hometown of Glastonbury have all married Kiwis. So there's quite a lot of Kiwi and Australian connection already within my broad friendship network."
She and Marcel went to live in New South Wales a few years ago.
"Well we tried to, but we didn't last very long there. It was a bit competitive in many senses. But during that time we took a holiday and he brought me back to New Zealand. We drove all around the North Island in his parents' car."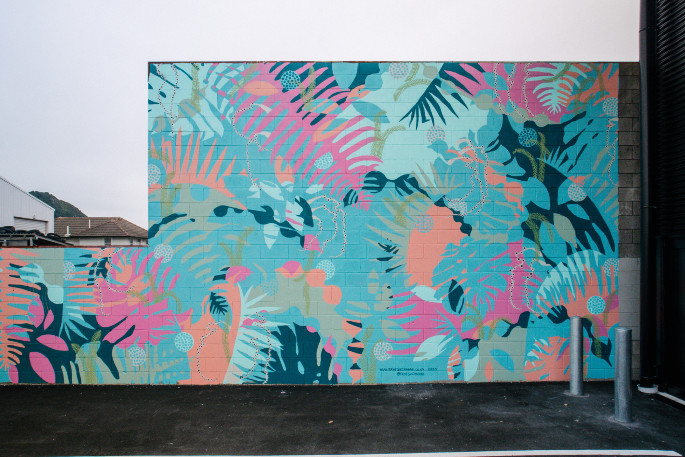 A wall mural painted by Faye Suzannah at Mount Maunganui
They had stopped for a couple of hours, Faye thinks, at Mount Maunganui, where she "did some yoga practise on some grass by the beach" before continuing on the North Island holiday.
"That trip helped give me a good overview of the North Island, and I met his parents. So when he said, "let's go and live in New Zealand", I had a visual clue about what I was up for because I'd actually been here."
She's always been artistic and creative, studying pattern design at university in London and Bristol.
"It was on the cusp of everything turning digital. By the end of my studies, everything was happening on Adobe programmes, so I caught the end of that, as well as being mainly trained in "handmade" image making.
She didn't want to be a fabric designer spending hours on a computer, and left London for Brazil and Argentina to stay with friends.
"My bags got stolen in Buenos Aires. I had to stick around waiting for my paperwork to get fixed up and was stuck in a strange campsite."
She started painting everything big around her, staying on for months.
"Around that time social media was taking off and I realised that if I wanted to make any sort of career, I'd have to be consistent. So I thought that's it, I'm going to paint murals from now on."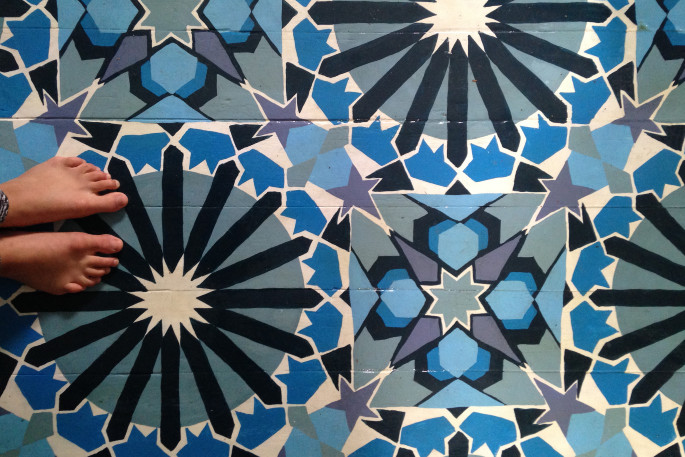 Arriving back in England, she started taking on commissions from friends, family and family friends.
"I did that for quite a while. Then I travelled, meeting Marcel in the meantime, staying in hostels all over the world, and painting murals. People really enjoyed it although I have never earned much money doing it!"
She would like some mural projects to do in and around Papamoa, where she is living.
"I'm looking for walls and wall owners and anyone interested in changing their space, their business space or private space.
"I'm also looking for owners of larger walls who are interested in getting something done which could be funded. There is funding available in this area for arts that benefit the community, murals are perfect for this but I need to have walls and support confirmed before I can go through the application processes."
Faye Suzannah has also been booked to paint a mural for the Bay of Plenty Garden & Art Festival at Tauranga Racecourse and will be live-painting and exhibiting work also at the Bloom in the Bay festival hub.
Until then she will be volunteering at Imprint Gallery in the Historic Village whilst selling and making work on paper. Her work can be viewed on www.fayesuzannah.co.uk