Rotorua is set to benefit from $62 million worth of investment in the region spread over multiple projects that should create jobs and boost the local economy.

Investment for projects was announced yesterday at Te Puia by Deputy Prime Minister Winston Peters and Under-Secretary for Regional Economic Development Fletcher Tabuteau.

"These projects will provide opportunities for economic development in a region that has been hard hit by Covid-19," says Peters.
Tabuteau also visited Kaingaroa Village where he announced a $5 million package to help fund a comprehensive upgrade of the village's infrastructure, facilities and housing.
Further funding and loans were announced for;
· Wai Ariki Hot Springs and Spa project – $38 million
· Taheke Geothermal Power Station – $11.9 million
· St John Ambulance – $11 million
· Rotorua Lakefront cultural overlay – $1 million
· Waiteti Marae renovation – $372,420
Tabuteau says these investments will contribute to building on Rotorua's reputation as a 'short break' visitor destination, supporting visitor numbers in all seasons, and create much-needed jobs for Rotorua.

The projects are being funded by a combination of loans and investments from the Provincial Growth Fund and the Infrastructure Reference Group's (IRG) 'shovel ready' projects.

"The Wai Ariki Hot Springs and Spa IRG funding will go towards the cost of building a 5,000m2 spa complex located on the Rotorua lakefront," says Tabuteau.
The project is part of a $57 million (excluding land) spa development by Pukeroa Oruawhata Group with construction due to get underway in the next 2-3 months.

"This investment will definitely strengthen Rotorua's position as a health and wellness destination and is expected to create 460 jobs," he says.

"The Taheke Geothermal Power Station IRG funding will ensure they can consent and construct an exploratory geothermal well. The well is also the first step to funding recipient Taheke 8C and partner Eastland constructing a power station that will utilise geothermal resources beneath Taheke 8C's land.

"This opens up opportunities for Taheke 8C and its Maori shareholders with ongoing revenue for their own development aspirations with the creation of 190 jobs, while growing Eastland's renewable energy portfolio," says Tabuteau.

"IRG support for St John Ambulance will enable the building of an ambulance hub with modern facilities for emergency ambulances to respond from, training areas, as well as staff amenities, facilities and offices. It will also create 120 new jobs," says Peters.

"The Rotorua Lakefront Redevelopment will fund progress work on a cultural overlay that will provide employment for local artists to create carved pou and information panels," says Tabuteau.
"These will provide a cultural narrative and connect the development on Rotorua Lakefront, Rotorua Museum and Whakarewarewa Forest.

"Similarly, PGF support for Waiteti Marae will enable significant renovations to be carried out, including historical carving work on their Tupuna Whare in Ngongotaha.
"This will create 20 jobs to complete carvings, poupou, tukutuku and kowhaiwhai on the 110-year Tupuna, Ngararanui," says Tabuteau.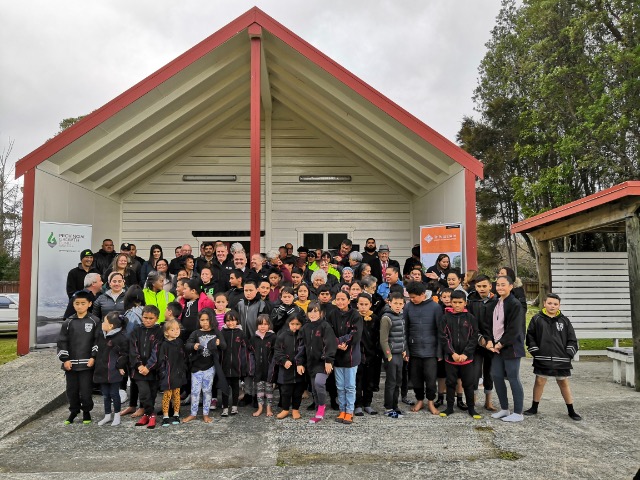 Te Huinga Waka Marae in Kaingaroa where a $5 million local funding announcement was made today.
Tabuteau also travelled to Kaingaroa and explained to residents how the $5 million funding package will benefit them.

"This funding is well overdue. As residents know only too well, decades of neglect, inadequate funding and maintenance mean there is now an urgent need for improvement."
Tabuteau says the money will be spent on refurbishing and building new community buildings, upgrading or constructing new roads, installing new streetlights and underground infrastructure and building new parks and playgrounds.

"Kaingaroa Village will benefit because these workers will be recruited on a locals-first policy, along with a commitment to help them get the training and opportunity to further improve their skills.

"Construction will be over two years and is expected to create more than 100 jobs, while in the longer term, there will be 20 sustainable jobs.

"This project to redevelop Kaingaroa will be transformational and make a real difference to the lives of the people living there...this will bring Kaingaroa's facilities and infrastructure up to par with the rest of the district and allow village residents to enjoy the same level of services as other communities," says Tabuteau.
The funding announced is part of the $3 billion infrastructure package in the COVID-19 Response and Recovery Fund, announced by Finance Minister Grant Robertson and Shane Jones on July 1. The fund is expected to deliver more than 20,000 jobs across New Zealand and unlock investment with a project value of more than $5 billion.