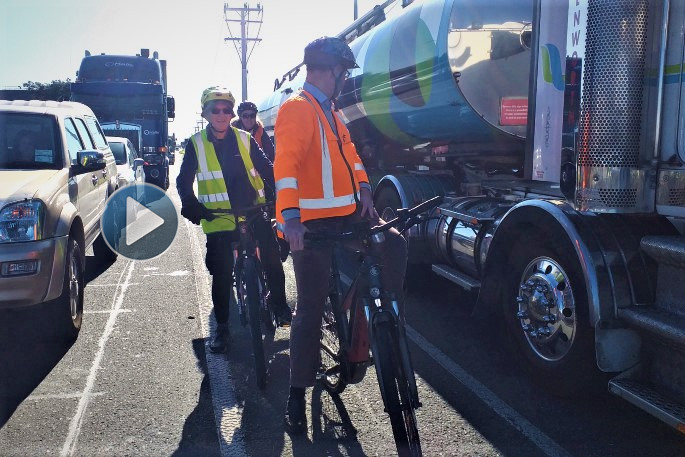 Click the image above to watch the video
Road safety improvements in Tauranga have been described as "a tummy tuck and a boob job" by a city councillor.
Last week, councillors Dawn Kiddie and Steve Morris rode what many call 'the gauntlet' on busy Totara St to get a first-hand idea of the challenges that cyclists face.
"The tragedy here last month has affected the whole community drastically," says Dawn.
"We appear to be having a lot of cosmetic surgery on something like Elizabeth St, which is a boob job and a tummy tuck, where we could be spending a lot of that money on upgrading the infrastructure and roading for the safety of our community."
She says the Council is considering a draft plan and what can be done to fix it.
A cyclist died following a collision with a truck at the intersection of Totara St and Maui St on May 29.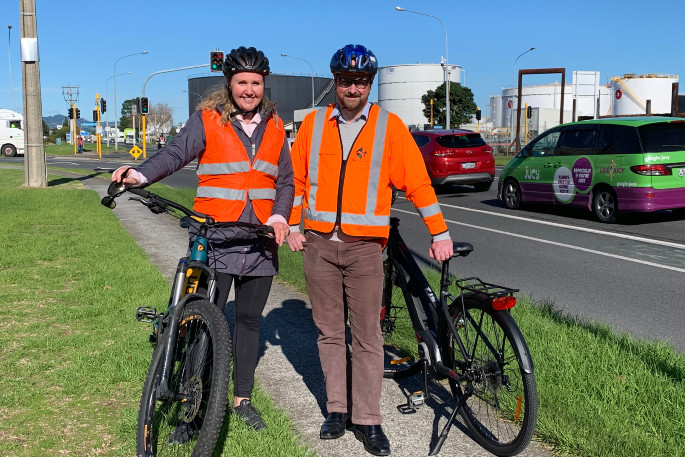 Tauranga City Councillors Dawn Kiddie and Steve Morris
"Council spend hasn't been approved yet, it's still got to go through the draft budget, so it was important to get out here and have a look," says Steve.
"Also, looking at the longer term, widening the scope of the cycleway on Totara St, and taking it from a temporary to permanent solution.
"We've got some ideas for how we can find some money from within the budget to do that, but essentially we wanted to get down there and have a look first."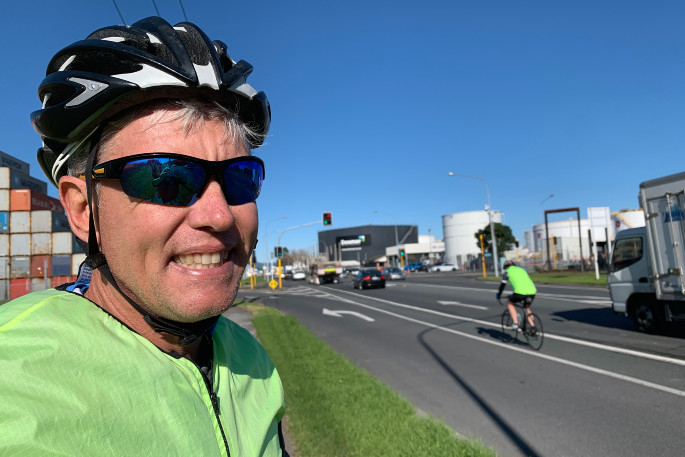 Shane Plummer
Cycling advocates Iain Bibby and Shane Plummer joined the two councillors for the ride.
"Dawn and Steve will get a feel of the commute that cyclists do who go to work in the rain, in the sun strike, or when they're in a hurry," says Iain, who is a member of Bike Tauranga.
Steve had a couple of close calls on the ride from Tawa St to Hewlett Rd.
"If there was a cyclist there with a truck moving into the bike lane, and a van on the other side squeezing into the bike lane as well, then it's definitely an issue."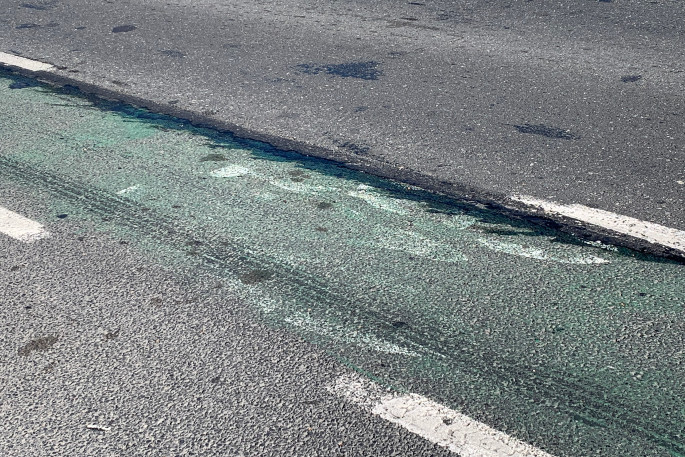 Cycle lane markings on Totara St
Further down near Hewlett Rd, the four stopped to look at the faded cycle lane markings near the accident site.
"It hasn't been kept up in terms of the maintenance. It's a significant accident spot," says Steve.
"We need to look at having the entire cycleway off road here. It's important to have your connection between the Mount and Tauranga but to have it on the road in this traffic is not safe."
Shane says that cyclists have only had about 750mm of safety in a bike lane that's been washed out.
"The bike lane has been neglected for over a year," says Shane.
"If it was painted as it was – green – then possibly the truck driver would have taken notice that he was crossing a bike lane and that cyclist who was in it may have had his life saved.
"We went into the gauntlet which is the scariest situation I've ever seen in my life in a bike lane where you're in between two trucks with less than half a metre either side."
Dawn also found the ride unnerving.
"We've got trucks and cars that go into the cycle lane which is not defined. It's a really scary piece of road," says Dawn.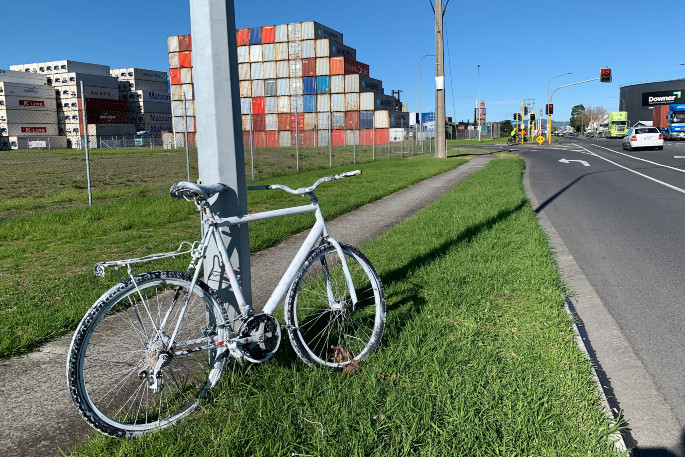 The white bicycle memorial on Totara St