A small group braved the cold this morning to bless the new signage at at Te Papa o Ngā Manu Porotakataka.
The signage for Te Papa o Ngā Manu Porotakataka, what used to be the Phoenix carpark, tells the story, in both English and Te Reo, of the name gifted to the park by mana whenua – Ngai Tukairangi.
Council staff and councillors Dawn Kiddie and Larry Baldock attended along with Mount Mainstreet manager Mandy Gillgren and Ngai Tukairangi whanau.
"I was happy to be there to help the blessing of the plaque and to have a bit more understanding of how that evolved," says Dawn Kiddie.
She says it is good to have the sign so locals and tourists alike can learn more about the local history.
"It is great for tourists who do come in the future to have an understanding. I think that's really important.
"I really think it's great to see what the historical nature of everything is."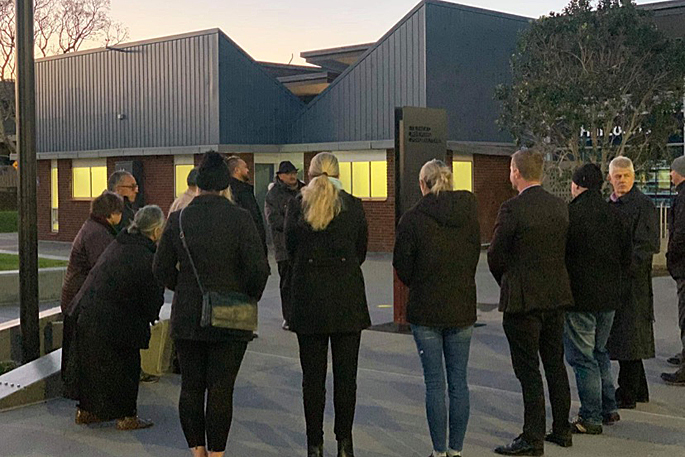 A small group gathered to bless the sign. Photo: Keegan Millar
Kiddie would like to see a heritage trail set up in Tauranga for all the places of significance and says having signage at Te Papa o Ngā Manu Porotakataka is a good start.
The blessing ceremony was spoken in both te reo and English and the sign was read out in both languages as well.