Tauranga CBD is a step closer to becoming one of New Zealand's 'most desirable suburbs' with the opening of the $35m Latitude Residences.
People gathered outside the six-level luxury apartment building yesterday morning for a site blessing, where Mayor Tenby Powell and shareholder and developer Shannon Moyle cut the ribbon.
There are 28 freehold apartments, 27 of which are already sold.
Senior Development Manager from Veros Property, Craig McCormick is stoked with the outcome.
"This is a collaboration we are all proud to be a part of - for the project team and the investors behind it, to be able to deliver a project of this stature for Tauranga.
"This is an excellent outcome that supports a more compact city and provides an alternative housing choice in the area."
Tenby says the scale and quality of this development is exactly what Tauranga deserves.
"It was a pleasure to formally open Latitude Apartments. We need to encourage and enable more such developments in downtown Tauranga to enable people to live in what will become one of New Zealand's most desirable suburbs."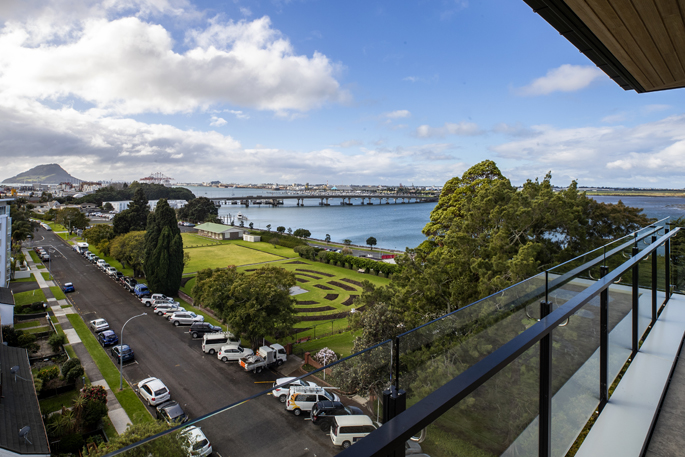 The apartment building provides views across the Tauranga Harbour to Mount Maunganui. Photo: John Borren.
TYBI developer Shannon Moyle says the building looks and feels amazing.
"As the developers we are extremely happy to be complete. The project is a credit to the delivery team, FORM and VEROS and all those that contributed to the process.
"We wish all our purchasers all the best with their new apartments."
The development designed by Ignite Architects provides views across the Tauranga Harbour to Mount Maunganui, and is a three minute walk from The Strand.