"We are met on a great battle-field of …war. We have come to dedicate a portion of that field, as a final resting place for those who here gave their lives…. It is altogether fitting and proper that we should do this."
These were some of the words by Abraham Lincoln quoted today by Tauranga Deputy Mayor Tina Salisbury during her speech at the Battle of Te Ranga commemoration in Pyes Pa.
On June 21, 1864, the little known battle from Tauranga's history has probably done more to shape the destiny of this city than any other engagement of the New Zealand Wars.
A large crowd of people turned up in the long grass and rain at dawn today to commemorate the battle that took place in what is now a paddock near the corner of Joyce Rd and Pyes Pa Rd.

"It was very good, probably the biggest crowd we've had since the 2014 commemoration," says Buddy Mikaere from Ngai Tamarawaho. The 150-year commemoration was held in 2014.
"There were well over 100 people here today. The interesting thing was that there were more Pakeha people here than Maori people which shows how much interest there is."
Tina who has lived in the United States for a number of years, her daughters learning about American history in school, reflected on how the battles at Te Ranga and Pukehinahina – Gate Pa – took place soon after the American Civil war had drawn to a close.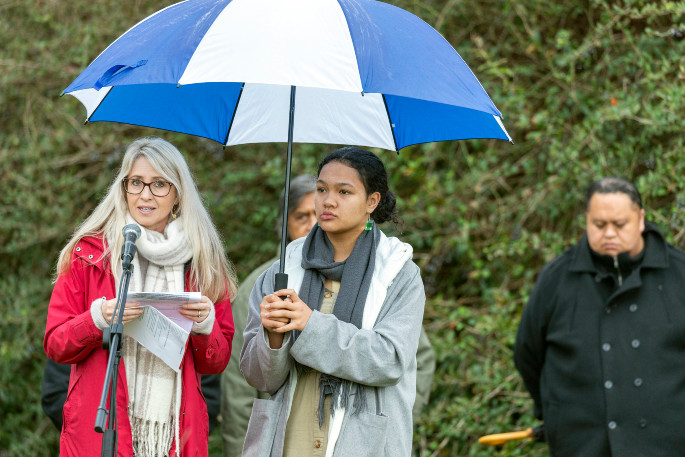 Tauranga Deputy Mayor Tina Salisbury speaking at the Battle of Te Ranga commemoration
"At the Gettysburg battle site, which our family visited, where thousands died, President Abraham Lincoln gave a powerful speech that has echoed down through time," says Salisbury.
"It was a respectful tribute to those who had died in that place, but at the same time made the point, that from such events, we can draw inspiration and turn the great hurts of war into a plea, that the sacrifice of the dead should not be in vain.
"I believe those words are so fitting for us this morning, as we stand on this battle ground."
The Te Ranga commemoration began with an introductory welcome by Buddy, with Bill Nepia from Ngai Tamarawaho opening with a karakia and mihi.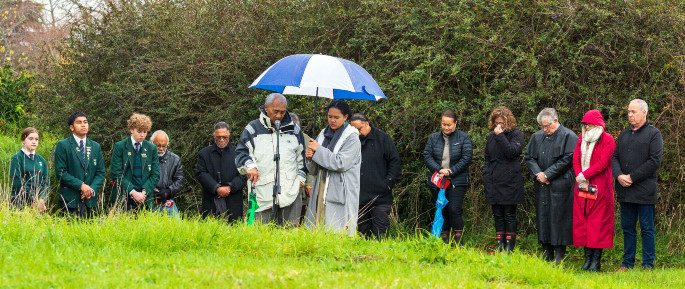 The hymn 'Whakaaria Mai' was sung, later followed by 'Abide with Me' which was also the hymn sung by British officers with Rev. Brown at the Mission House the night before the Battle of Gate pa.
Peri Kohu played guitar while his granddaughter Waiari sang Amazing Grace.
"That was lovely and moving," says Cam Scott, speaking of Waiari's singing. "It seemed to me there was an air of deeper reconciliation this time in spite of the fact there has always been much hurt and anger as arising from the tragic events at Te Ranga."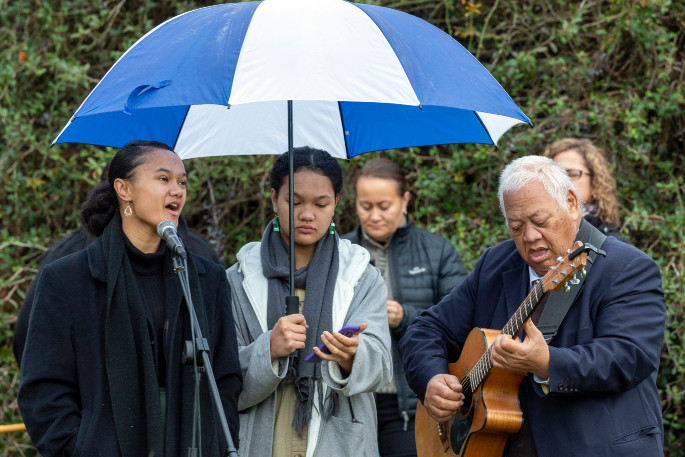 Western Bay Mayor Garry Webber also found it encouraging to see the number of people who attended.
"All ages," says Webber. "A very diverse group of people and quite a moving day.
"The weather wasn't the most ideal, but we had a really good turnout because I think there is a genuine interest in the history of our area."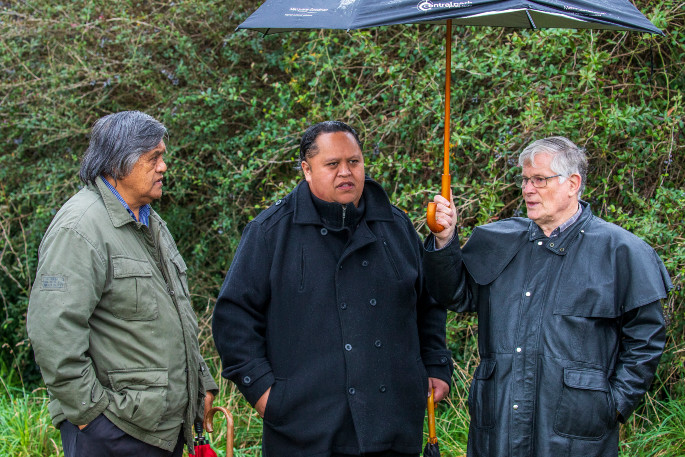 "This is a regionally significant commemorative place in the history of our district, and I know the trust that looks after the property has plans for improving it," says Webber. "I think that's appropriate given its history to our region.
"We should make this site as prestigious as we can but make sure it's simple and elegant while reflecting the magnitude of the event that took place."
The battle that occurred has been described as among the bloodiest of the New Zealand campaigns. In desperate hand-to-hand fighting, British troops exacted terrible vengeance for Gate Pa.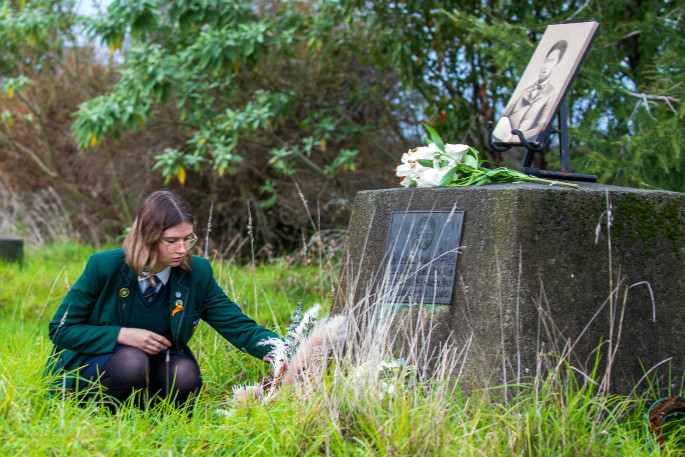 The Maori garrison was unable to hold the incomplete defences and slowly withdrew. When Puhirake, the hero of Gate Pa himself was killed, the retreat became a rout. British cavalry gave chase, but could not penetrate the nearby bush.
More than 100 Maori, including the chivalrous Henare Taratoa, were killed or mortally wounded at Te Ranga, as were 13 British troops. The visiting iwi also suffered heavy casualties, which contributed to their subsequent enthusiasm for the Pai Marire insurgency.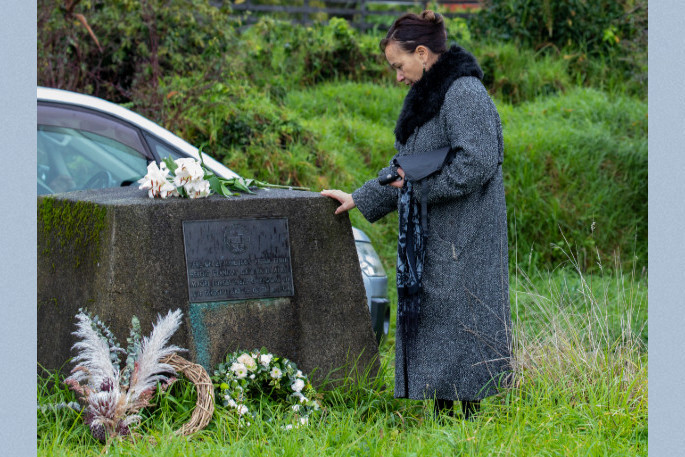 Twenty-seven severely wounded Maori were taken to hospital at Te Papa camp. Fourteen did not long survive the battle and were buried at Mission Cemetery. Among the mortally wounded was Te Tera of Ngai Te Rangi, the only one to be identified in official reports.
About 70 Maori defenders including Puhirake were buried in the trenches at Te Ranga, which is now the large grass paddock.
"It's like the Elms cemetery - incredibly sacred land," says Webber. "I think it's right to lift the profile of Te Ranga, in keeping with its original character. It was a battle field."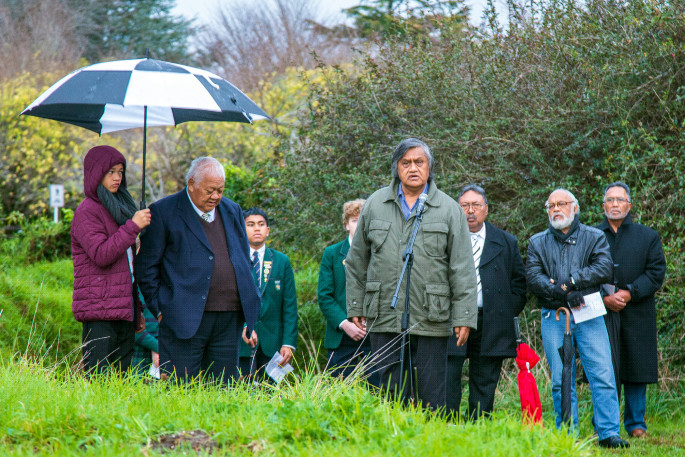 Mia Thomas, the Aquinas College student who won the Te Ranga Aquinas College poetry competition read her poem titled 'He Mate Kohuru – A Treacherous Murder from the perspective of Hori Ngatai'. The poignant words reflect the despair as the Maori garrison realised they were being ambushed by numbers too great, but continue to fight on.
Trevel Gardner-Hano and Nic Scott, also students from Aquinas College read 'Mo te Hunga - For the Fallen'.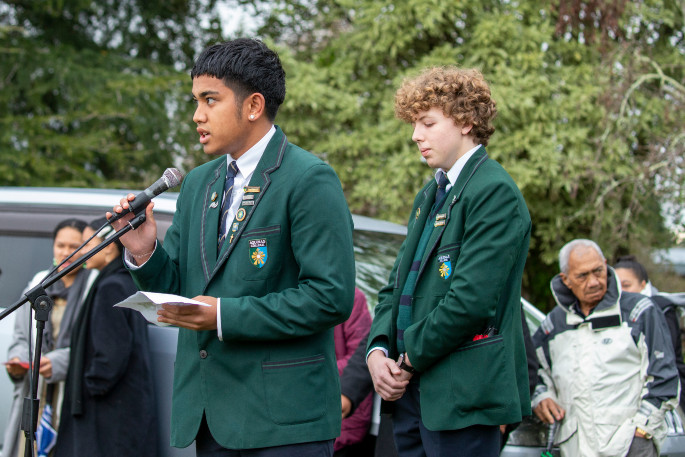 Pastor Leanne Rolleston reflected on Romans 12:13 which encourages people to share what they have with people in need and to show hospitality.
During the wreath laying at the base of the monument, Andrew Graham played a lament on his bagpipes - 'Flowers of the Forest'.
"I was very pleased all around with today," says Buddy, "and it's so good to have the local school taking a bigger role in what happens and in the management of the reserve.
"In discussion with a lot of people, they're saying the reserve deserves an upgrade and we'd like to see something more fitting with what happened here."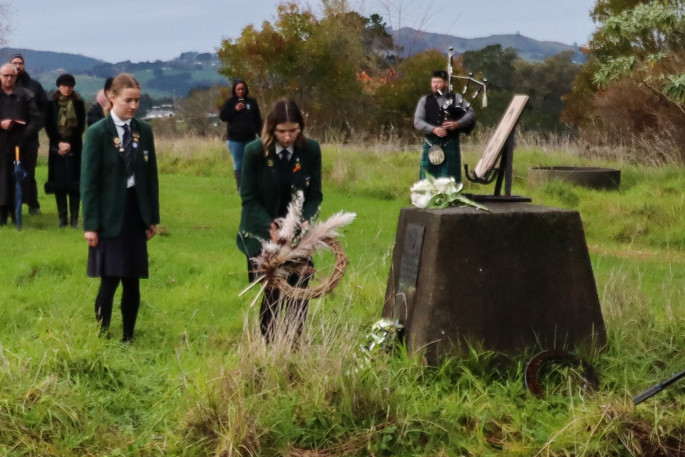 Students from Aquinas College laying a wreath. Photo: Fiona Sullivan
Buddy adds that the Pukehinahina Charitable Trust have had a landscaping plan set aside for the battle field area.
"I think it's time to dust that off and do something with it."
Buddy says that this year "is a real milestone going forward", a feeling that was also conveyed in Garry Webber's reflection on the day.
"The significance of today - when you looks at what's happening in the United States right now - it's a time of coming together," says Webber, who noted that Aquinas College has incorporated more of the local history into their curriculum and were pleased to be involved in the event.
"And the more we bring it to people's attention by promoting the Te Ranga commemoration day, then the better understanding for what we're wanting to achieve, support diversity and bridge the gap between the 'haves' and the 'have nots' to make sure it is a better place for all."
He contrasted 'the kiwi way' with "Mr Trumps way".
"Our way of building a community is far better than what Mr Trump is intending to do right now.
We've just come through Covid, where this wider community and in fact the whole of New Zealand came together to look after those in need regardless of what their background was.
"Today was another example of how we can work together for the betterment of all and how we can make this place better for everyone," says Webber.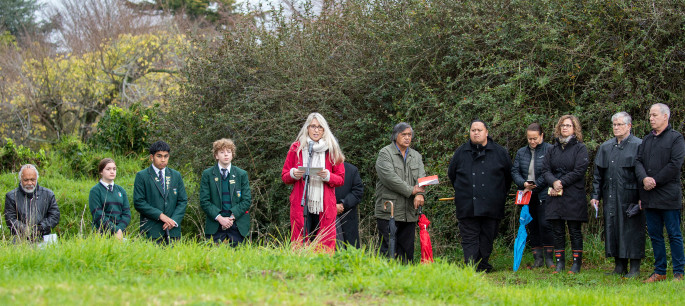 Tina Salisbury's words resonated with many who stood in silent respectful contemplation during the prayers and speeches.
"I commend Lincoln's words to you on this day and in this place. And this is my hope, that as we stand here this morning, on the site where many died, and some still remain, that we too would remember, and honour what they gave their lives for; that we would continue to seek a shared way forward that begins with this foundation, may we now continue to walk this journey towards kotahitanga."
Willy Pearson closed the gathering with a karakia, following which a morning tea was hosted by Aquinas College, rather than at Western Bay District Council as originally planned.
"Aquinas want to host that every year now," says Webber, who is delighted with the increased interest in, and recognition of, the significance of Te Ranga by the college.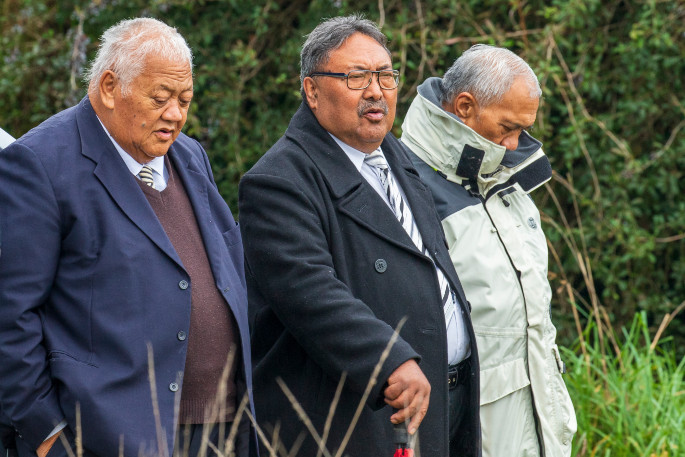 With the increasing demand in Pyes Pa for housing, the more recent streets have some interesting names: Te Ranga Memorial Drive, Puhirake Crescent, Penetaka Heights, Materawaho Way, and others. The choice of these names reflects the determination to commemorate some of Tauranga's most important – and tragic – history., and acknowledges tangata whenua.
Tina Salisbury's quotes from Abraham Lincoln:
"But, in a larger sense, we cannot dedicate -- we cannot consecrate -- we cannot hallow -- this ground. The brave men, living and dead, who struggled here, have consecrated it, far above our poor power to add or detract. The world will little note, nor long remember what we say here, but it can never forget what they did here. It is for us the living, rather, to be dedicated here to the unfinished work which they who fought here have thus far so nobly advanced."
"It is …for us to be here dedicated to the great task remaining before us -- that from these honoured dead we take increased devotion to that cause for which they gave the last full measure of devotion -- that we here highly resolve that these dead shall not have died in vain -- that this nation, under God, shall have a new birth of freedom -- and that government of the people, by the people, for the people, shall not perish from the earth."
Whakaaria mai
Whakaaria mai
Tou ripeka ki au
Tiaho mai
Ra roto i te po
Hei kona au
Titiro atu ai
Ora mate
Hei au koe noho ai
Mo te Hunga – For the Fallen (by Laurence Binyon)
E kore rātou e kaumātuatia
Pēnei i a tātou kua mahue nei
E kore hoki rātou e ngoikore
Ahakoa pehea ingā āhuatanga o te wāi te hekenga atu o te rā
Tae noa kia te aranga mai i te ata
Ka maumahara tonu tātou ki a rātou
Ka maumahara tonu tātou ki a rātou (Mātou katoa – muted)

They shall not grow old, as we that are left grow old
Age shall not weary them, nor the years condemn.
At the going down of the sun, and in the morning,
We will remember them
We will remember them (Mātou katoa – muted)
Abide with me
Abide with me, fast falls the eventide
The darkness deepens Lord, with me abide
When other helpers fail and comforts flee
Help of the helpless, oh, abide with me
Swift to its close ebbs out life's little day
Earth's joys grow dim, its glories pass away
Change and decay in all around I see
O Thou who changest not, abide with me
I fear no foe, with Thee at hand to bless
Ills have no weight, and tears no bitterness
Where is death's sting?
Where, grave, thy victory?
I triumph still, if Thou abide with me…
'He Mate Kohuru – A Treacherous Murder'– from the perspective of Hori Ngatai, a poem by Mia Thomas.
They tell me to dig,
I dig without spirit,
This is not where the Pa should be
Kari, Kari, Kari
I hear the enemy
They've come early,
Our defences are woefully lacking
Kari, Kari, Kari
Their numbers are too great
We are not prepared
We must wait for the others
Kari, Kari, Kari
This is an ambush
We lay down our tools and reach for our weapons.
Enough! We fight
Patu, Patu, Patu
The enemy advance
Their weapons are mighty
They are ready
We are not
Pako, Pako, Pako
We fight with honour
We fight with mana
We fight with hope
Kakari, Kakari, Kakari
Our brothers are falling
Our comrades are late
Victory is impossible
Taui, Taui, Taui
Puhirake lays lifeless
Taratoa has passed on
Kua hinga nga totara haemata
Taui, Taui, Taui
We must retreat if we are to survive
Too much loss
Too much suffering
Kua parekura te hoariri e tatou
He Mate Kohuru – A treacherous murder.