As I stood at Tauranga Airport I wondered what the next week would bring. It was Tuesday, March 17 and we were filming three scenes of a pilot for a new comedy series.
The news of Covid-19 had begun to raise concerns, with 11 confirmed cases in New Zealand, and the health system was gearing up and readying in case of a wider outbreak. People arriving from overseas were being asked to self-isolate.
It was only later that I realised travellers wouldn't be seeing another welcome quite like ours for a while. Our director Anton Steel called "Action" and two of our main characters flew into each other's arms at the baggage carousel. To say what happened next would give away the plot, but there was much stifled laughter as the serious fun of comedy took place.
Our local film crew had taken over the arrivals area and conveyor belt at Tauranga Airport. Outside our taxi and rather eccentric looking taxi driver waited. We had extras scattered through the airport, all in on the action.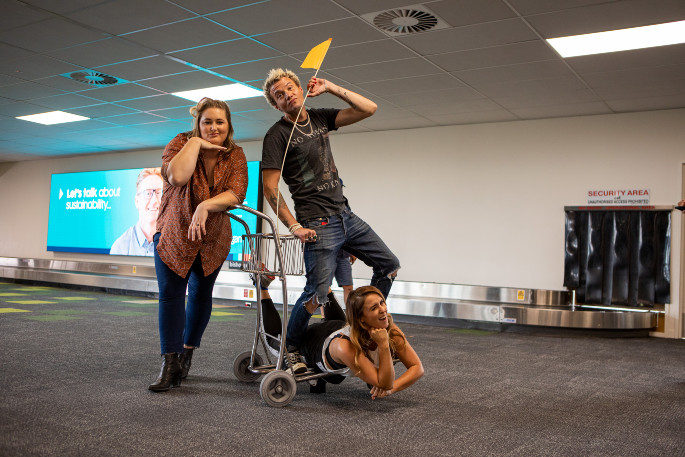 We were shooting the pilot for 'Chloe and The …' - an online regional comedy series written by Mount Maunganui writer Alyssa Stringfellow. Alyssa also stars in the series as Chloe, a woman who just can't seem to sort out her chaotic life. She is joined by some well-known faces including Survivor Nicaragua runner up Tom Patterson, and Luci Hare from the television series Mean Mums and Auckward Love.
To bring people and equipment together like this takes a great deal of planning and was done with the help of Film Bay of Plenty. The cast and crew of 47 people was made up of local talent and the pilot was shot over three days with the support of Priority One, Tauranga City Council, Tauranga Airport and the Millenium Hotel, Rotorua.
Three days doesn't sound much, but the pre-production work had been going on for weeks, with locations, permits, casting, rehearsing and many meetings to work out all the required elements of lighting, sound, props, costumes and camera angles.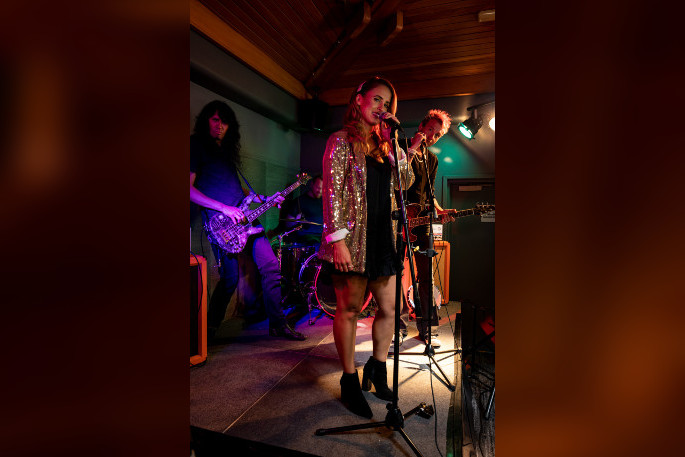 I'd come on as a location scout. My job was to find a cruise ship we could film on, a beach bach near Mount Maunganui or Papamoa, and an office and bathroom. Being a local helps, as I knew who I needed to talk to about getting on board a cruise ship, but also knew there were many necessary details and people to liaise with.
A phone call came in – "Sorry but we can't let anyone on board any cruise ships now, because of coronavirus, we just don't know what's going to happen."
I love the challenge of solving an impossible situation. The script required a number of scenes to be filmed aboard; how would we do this? I checked out some of the Mount Maunganui rooftop swimming pools. Could we film against the sky creating an illusion? Google became my friend as I raced through countless photos of hotels in the region.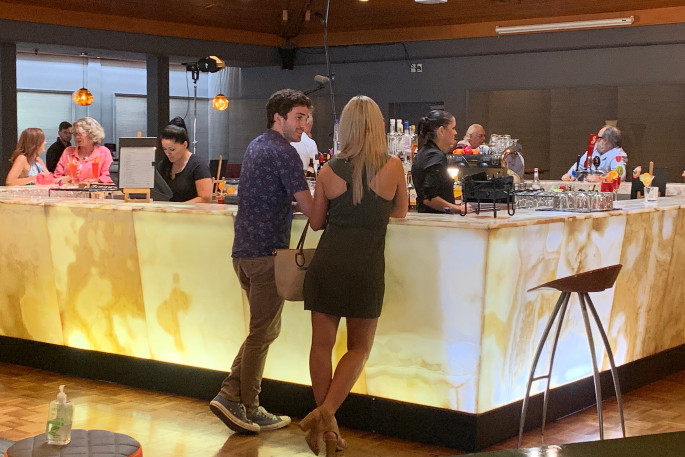 The producer Paula Jones phoned. "Check out Millenium in Rotorua."
I drove over and met Anton there; he was smiling. I quickly saw why. In front of us, inside this top hotel - a bar and swimming pool. Perfect. The management was superb, also making available to us one of their offices and a bathroom to film in.
We filmed there on Monday March 16, meeting all of the hotel's newly introduced health and safety measures. I now know that a week later we wouldn't have been able to film there at all; the updates on coronavirus quickly taking the nation to Alert Level 2 on Friday March 20. We had only just scraped in.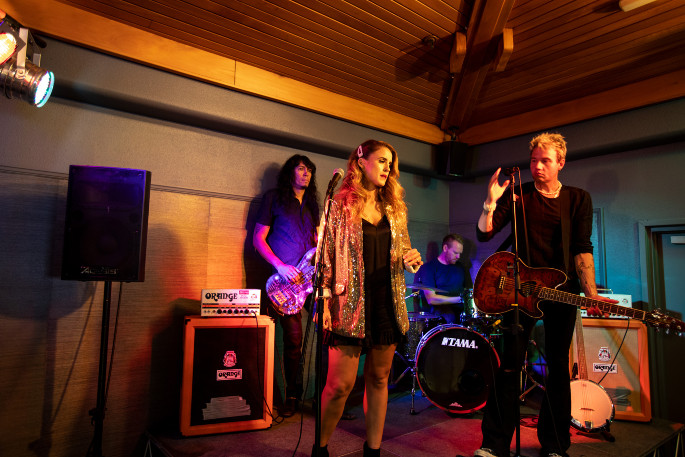 Our extras had been recruited mostly from Facebook, as we'd put out a call asking for various characters such as a honeymoon couple, a vegan hippy, a cheerleader and a retired cruise ship couple, and they all came dressed for their part.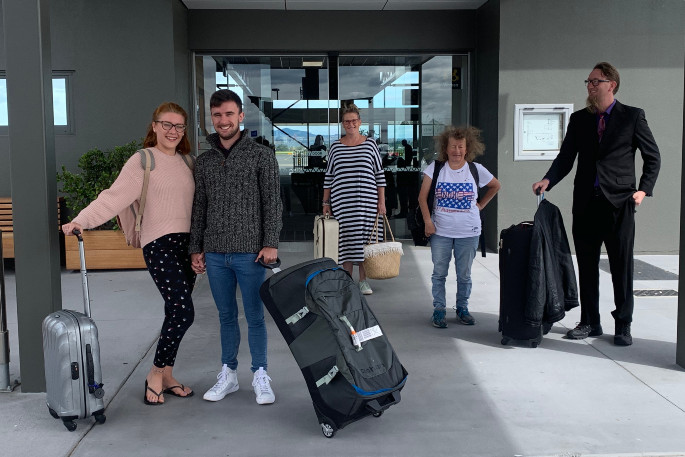 Some of the extras, at Tauranga Airport.
After driving around Mount Maunganui and Papamoa, I'd narrowed down five possibilities for Chloe's beach bach. Our top choice - a bright yellow bach in Papamoa - was perfect.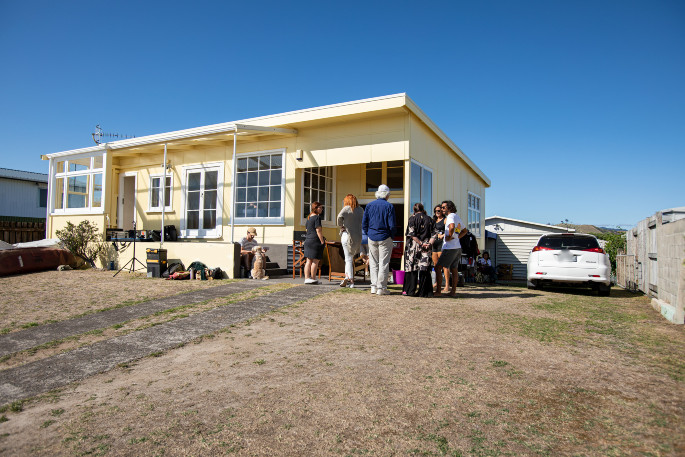 The owner was a delight, allowing us to take out his furniture and bring in our own. Flyers announcing our activity were delivered into letterboxes around the neighbourhood, the sun came out, and finally at the end of a long day, Anton called 'That's a wrap!'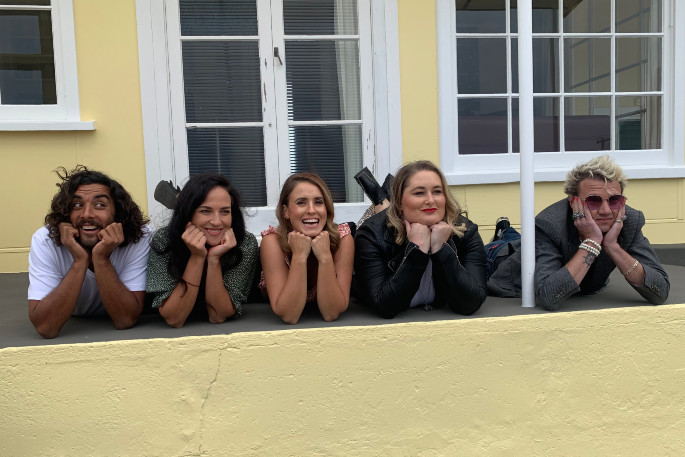 Coming out of Alert Level 3, every production big or small taking place in NZ will be required to register on the Screensafe website, including small web videos. This will assist the Ministry of Health with contact tracing and WorkSafe with monitoring.
For our production of 'Chloe and The …' , it is the first time a regional series has been proposed for the Bay of Plenty and the production team hope to have the pilot online in June.
I'm still amazed that we managed to film the pilot before all filming around NZ would be shut down. My father used to say 'Wonderful are the workings of the wheelbarrow' and I know what he means. Good planning, hard work, lots of luck and we got there.
To follow updates on the series follow @ChloeAndThe on Instagram and Facebook.