A petition to reinstate a rescue helicopter based in Whitianga has reached more than 46,000 signatures, exceeding the goal of 30,000.
The petition was started in January after the Ministry of Health decided not to base a helicopter in the Coromandel over the summer as part of its 10-year modernisation programme.
For 10 years, a helicopter has been based in the town for around eight weeks over the busy summer holiday period.
Coromandel Rescue Helicopter Trust chairman Brian Bowering told SunLive the decision to remove the helicopter is extremely disappointing.
"To have no helicopter here is just absurd with the population that's here at the moment, the place is heaving with people and we just haven't got it here," he said, speaking about the Coromandel and nearby islands over summer.
He says the aircraft would have several callouts a day when it has been stationed there fulltime.
"We can get to anywhere on the [Coromandel] Peninsula quicker than anybody else can. And because the crew is sitting here waiting for a call, they don't have to be paged to come in, they're off the ground in minutes and gone."
Response time is critical in an emergency situation, he says.
The community raised $1 million for a purpose build facility for the helicopter with a house for four crew members.
MP for Coromandel Scott Simpson has accepted the petition from organiser Stephan Bosman on behalf of the Coromandel community
It was an honour to be the first person to sign Stephan's petition when it was launched in January, Simpson says.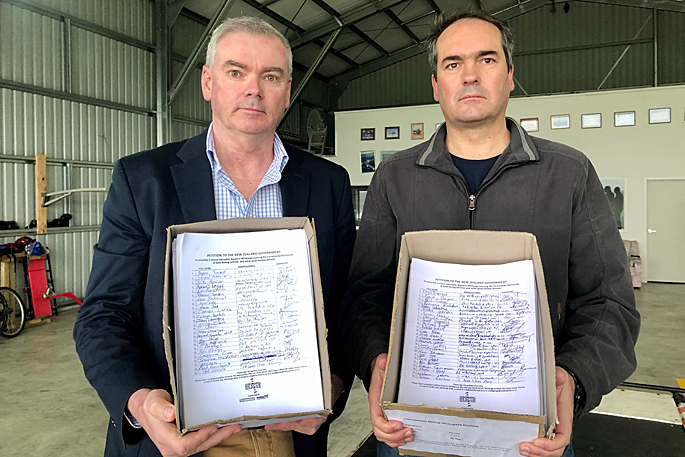 MP for Coromandel Scott Simpson and petition organiser Stephan Bosman. Supplied image.
"It's an even greater honour to have now formally received it from him along with more than 46,000 other signatures. That's almost the population of Invercargill.
"The 46,439 signatures on this petition represent the anger, the frustration and the sense of betrayal of local Coromandel people and visitors alike.
"The petition is a clear message to the Government that speaks to the passion, energy and hard work of the volunteers who organised and helped collect signatures from all around the Coromandel region.
"The people of the Coromandel need a chopper based in Mercury Bay at the Coromandel Rescue Helicopter Trust's hangar over the summer months and at long weekends. The Government need to bring it back."
Simpson will present the petition to Parliament on behalf of Stephan and the community.