NZ's most prestigious film festival, the Documentary Edge International Film Festival opens on June 12, becoming Australasia's first major film festival to take on the challenge of Covid-19 by going fully digital.
In a full line-up of over 70 films, a record number of filmmakers will present their world premiere screenings at this year's Doc Edge.
Also NZ's largest Oscar-qualifying festival, Doc Edge will run nationwide for the first time, giving kiwis the opportunity to experience a documentary film festival from the comfort of their own home.
Over the past 15 years, the Doc Edge Festival has brought the world's best documentaries and filmmakers to our shores. While 2020 will look different, the quality of award-winning films will continue to set the bar high.
In a year when everything is out of kilter and Covid-19 is dominating news cycles, these films focus on ongoing challenges: crusading journalists, unscrupulous spin doctors and corrupt politicians, the struggles of refugees, meatless diets, new religions – and how to swim with a polar bear and survive.
"Reaching out in times of isolation enables us to express humanity at its best. We're passionate about bringing important stories to everyone," says Directors Alex Lee and Dan Shanan.
For more information and to keep up to speed with the 2020 season as more events and films are added, visit:
www.docedge.nz
, or follow Doc Edge on Facebook, Twitter and Instagram.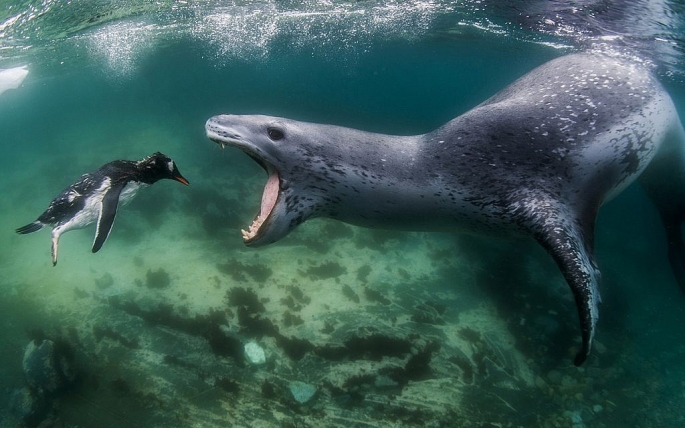 A penguin faces a leopard seal. Photo: Amos Nachoum