A Black Lives Matter march was held in downtown Tauranga this afternoon with about 25-30 people meeting in the rain to stand in solidarity with other groups across New Zealand.
Organised by Cheree Gray, age 14, and Serena Sanchez, age 16, the local crowd gathered at 3.30pm on The Strand and marched with placards 'from the angel wings painting on The Strand to the Railway Crossing'.
"We organised a peaceful protest in honour of George Floyd," says Cheree.
The signs have 'No Justice no peace' and 'Black Lives Matter' and 'Disarm the police'.
"It's important to recognise the lives that have been lost in the last 400 years," says Serena. "The injustices needs to stop right now, and we're here to stand in solidarity for everyone who has lost their life, and everyone who is afraid to walk out of their house every day because of this."
Cheree says racism is everywhere.
"In our schools, and in this protest. Some of the people in these cars have yelled at us. It's engrained just like in America," says Serena.
"We are showing up and standing up across Aotearoa New Zealand - Auckland, Christchurch, Dunedin, Wellington, Palmerston North, Waitarere, Hamilton and Takahiwai - to recognise that what is going on in the US is not only about George Floyd," says BLM Solidarity Auckland Spokesperson Shalane Williams.
Shalane says that the Black Lives Matters Solidarity Auckland Group acknowledges the legitimate grievances that the black community has in the US and stands in solidarity with them.
"This has been an ongoing epidemic which has seen the consistent persecution of the black community. The same white supremacy that has led to the disproportionate killing of black people in the US by police exists in NZ today."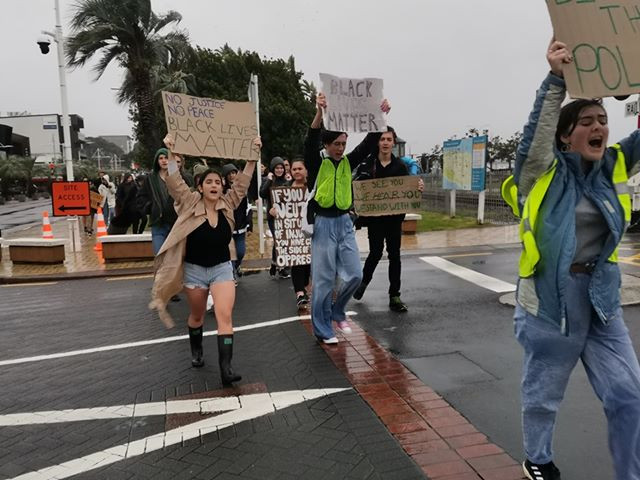 Black Lives Matter march in downtown Tauranga. Photo: Supplied
The group are keen to focus on that this is not just an American issue, but a humanitarian issue.
"We want to draw attention to the fact that we pride ourselves on being a nation of empathy and kindness and the deafening silence from the government and media does not reflect that. In fact, it is complicit in what's happening.
"The intention is for this to be a peaceful and respectful protest. We are simply here to draw attention to the plight of our brothers and sisters in America and stand in solidarity with those in the NZ African Diaspora community who share in this trauma."
The organisers are thinking they will plan another protest.
"We want to keep bringing the Tauranga people out. I think it's important to acknowledge that this is a great cause," says Serena.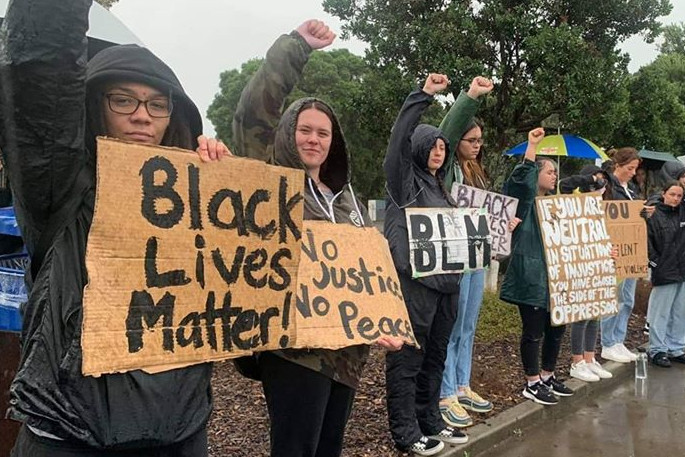 Black Lives Matter protesters. Photo: Moana Radio Tauranga Facebook