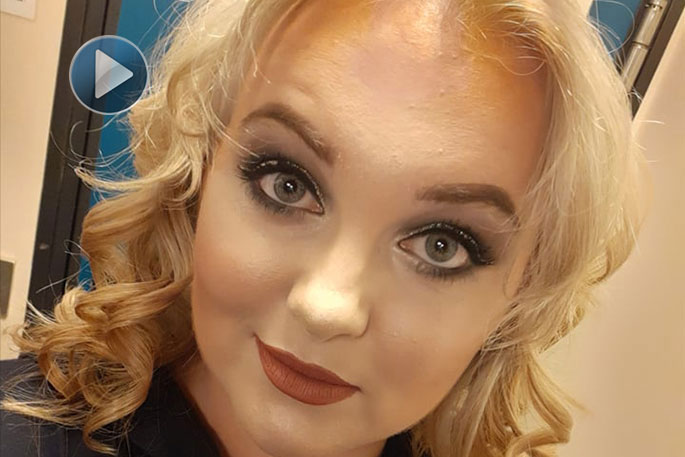 Click the image above to watch the video
Jasmine Manwell is staying in a tent on her mum's lawn in Tauranga. She tested positive for COVID-19 on March 24.
"My mum has made it very comfortable for me, it's more glamping," says the 23-year-old.
Jasmine says she is the Bay of Plenty's sixth person to test positive for coronavirus and wants her message to get through to her local community to self-isolate and stay home.
"It's not a nice virus, it's very aggressive. I have many family members in the house so I would rather stay away from them."
Jasmine works for an overseas tourism company and, along with other employees, lost her job due to coronavirus, returning immediately to NZ.
"On the second flight I had a dry throat and I just thought it was from the air conditioning on the plane, but at home I developed a sore throat."
She found her trip back to NZ a scary experience and made sure to wear a mask, gloves and long sleeves through the airport, going into self-isolation immediately on her arrival.
"Luckily I took it seriously because after that I got a phone call saying I was positive," says Jasmine.
"I never would have guessed that it would have been me. If you think about it, and the number of cases in New Zealand, it may seem high but it's also very low compared to the amount of people that populate New Zealand, which makes it even more scary that I happen to be one of those people who caught the virus.
"It's lucky I did wear gloves, mask and things through the airport, because I quite possibly caught it before I left to fly back. We're not sure at this stage where it came from, but it also possibly helped protect other people as I went through the airport, as I already had it."
She arrived home in Tauranga having absolutely no idea that she was soon going to become very unwell.
"My mum picked me up from the airport in a hazmat suit and mask and she had googles on. First I thought it was quite funny seeing her wearing that but I understood why and I took it very seriously as I have a huge houseful of family members, and two nephews under the age of six.
"Mum set me up a cool tent in the back yard and she makes my meals for me. After I got home, I started to develop a sore throat, so she took me to the drive-through."
Tauranga opened the Community Based Assessment Centre – CBAC –at the Tauranga Racecourse last Tuesday. This Friday the COVID-19 drive-through testing centre will be relocating to Baypark.
"I sat in the back seat of the van while she drove me to get tested," says Jasmine.
"Again, we both wore zip up suits, everything, the works, just in case. We take it a bit more seriously than other people seem to. And again, we were very lucky that we did, because I could be protecting and saving my own mother's life as well.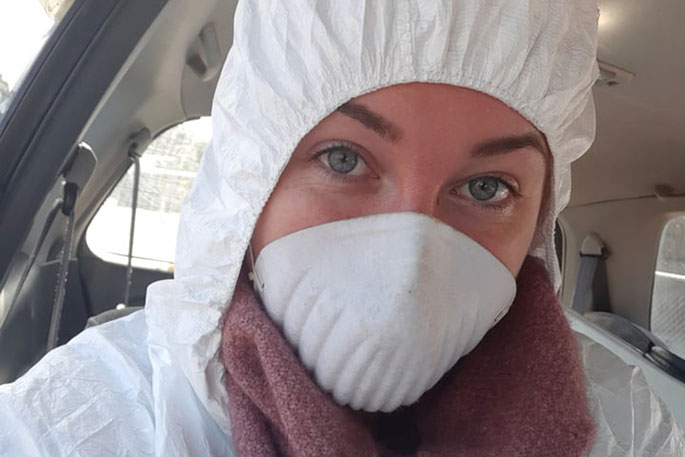 Jasmine at the drive-through Community Based Assessment Centre for her Covid-19 test which turned out to be positive.
"Two days later I got a call to say I was tested positive."
From there, Jasmine found that she quickly deteriorated.
"I got very bad body aches, all my muscles and my joints were very sore, I couldn't move very well out of my bed."
She had to stay isolated in the tent outdoors away from the rest of her family and started to experience "up and down" fevers and episodes of confusion and anxiety.
"Overall, it does make you … they say there's a symptom of feeling anxiety and confused - that's very true. Like I find it hard…difficult to have a conversation with the nurse over the phone because I just felt so confused, like I can't make sense of what I'm saying sometimes.
"It's very difficult to put the message across to some people about actually how serious this is. And I never would have thought that I would ever get it."
She has a message for the younger population.
"At the end of the day you could be one of those very few people who catch something as aggressive as this. I understand that a lot of people think it only affects older people. And even for myself, this virus affects me very differently every day. And it does give me anxiety because my body feels a way that I've never felt before. And it is scary not knowing what's happening.
"The other day I couldn't wake up, I couldn't get out of bed, because my muscles and my joints were so sore. Even the muscles in my jaw were so sore, I could hardly open my mouth to eat, because my body was fighting this virus," says Jasmine.
"It seems unreal when they tell you that you have this virus yet suddenly it hit me, and my body really felt like it was trying to kill it off. It just shows that even someone in their 20s, that's how your body has to behave, to fight something like this.
"So even when you're young, fit and healthy, it still is very worrisome to know what's happening and what's going to happen."
Jasmine's family of eight, in the house across the lawn, are also in complete lockdown. It's taken a toll on all of them, Jasmine says.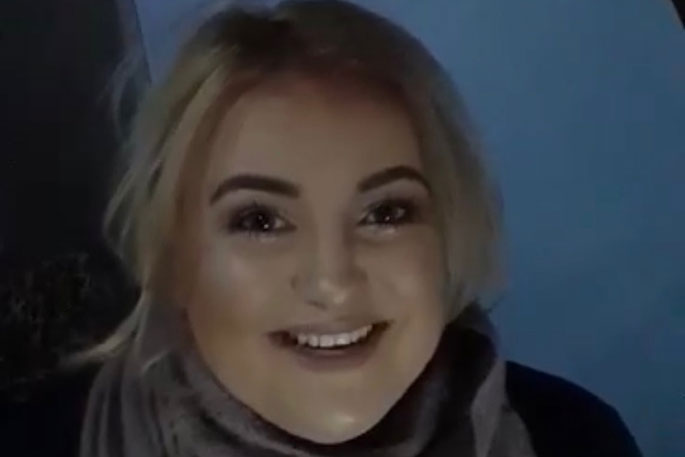 Jasmine Manwell inside her tent singing a song the night before she found out she had tested positive for COVID-19.
"My sisters, their partners, their kids, my mum – all of them are in the house and they cannot leave, they can't even go for a walk, not even to the supermarket. But we also follow those requirements and do it, staying home, because we don't want to affect our community. We can't get our groceries; we have someone bring them to us.
"So, we are all completely isolated and I'm completed isolated away from my family. My mother brings me meals, but we stay two metres away from each other. Mum will come and talk to me from the top of the deck so that she's far away from me."
In Jasmine's video on Facebook, she was self-isolating in her tent, unaware that the very next day she would learn she had tested positive for COVID-19.
"That was me the day before I deteriorated," says Jasmine. "After that, I dropped very quickly, and it was quite scary how quickly it affected my body."
Over the past week, there has been an average of about 120 people per day visiting the CBAC at the Tauranga Racecourse. From Friday, the CBC will be open at the Trustpower Baypark Stadium, 81 Truman Lane, Mount Maunganui from 9am – 6pm seven days a week and will be able to manage up to 500 people per day.
Interviewed by Rosalie Liddle Crawford,
(NZCS (Paramedical), Cert. Med. Microbiology, Spec. Immunohaematology)
Email: Rosalie@topshelfdesign.com