A vehicle has been successfully stopped by Police in Welcome Bay this morning after the driver sped through Te Puna and Bethlehem. He has now been arrested.
The orange ute was seen dangerously overtaking other vehicles and taking to the wrong side of the road before it was finally brought to a halt near a bus stop on Esmeralda St.
Callers to SunLive reported that the vehicle was seen speeding on the wrong side of Tamatea Arikinui Dr /State Highway 2 between Bethlehem and 15th Ave about 9.50am.
"He came straight at us going in the opposite direction," says one caller. "We came under the Waihi overpass going towards Bethlehem. He was on our side of the road coming straight at us.
"I feel like I can hardly breathe."
The vehicle had been seen speeding through Te Puna heading towards Tauranga overtaking other vehicles and driving on the opposite side of the road.
Police were observed following the vehicle as it approached the Wairoa Bridge where some drivers pulled over to keep clear. The vehicle, which one caller says appeared to be a dark burnt orange ute was also seen travelling on the wrong side of the road as it passed through Bethlehem. Police appeared to have abandoned the pursuit at that point.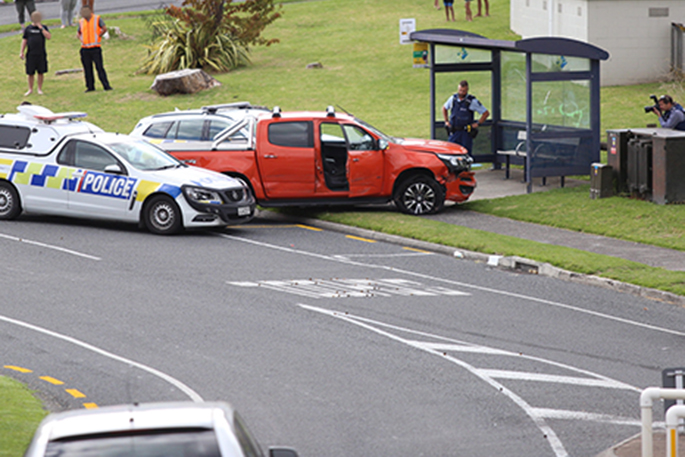 Police report that they attempted to stop the vehicle at the intersection of Grace Rd and 15th Avenue about 9am.
"The vehicle fled from Police, heading north," says a Police spokesperson.
"Unit followed as the vehicle headed out to the Omokoroa area, then turned back toward Te Puna. The incident was abandoned due to the manner of driving."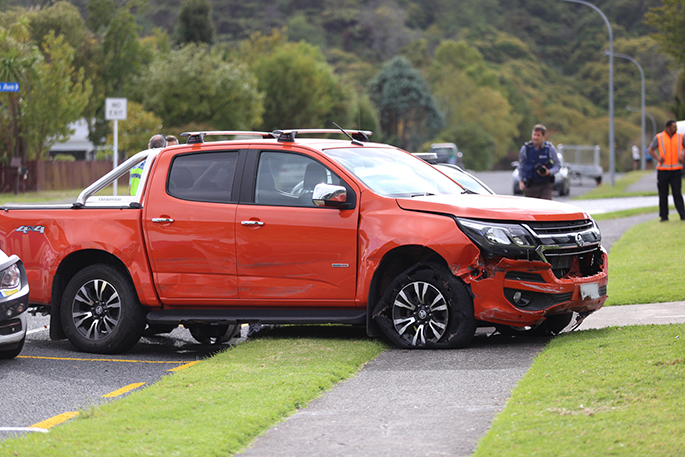 The ute travelled on through 15th Ave out to Welcome Bay where it was seen by a resident driving around the block near Welcome Bay School and Arawata Ave.
"He was going around the block doing loops and on his rims going pretty silly speeds. The Police pushed him off the road, ramming him with their bull bars," says a resident.
The vehicle was stopped near a bus stop on the corner of Esmeralda St and Arawata Ave.
"The guy took off running and tried to jump fences but the Police dog got him.
"There was a lot of yelling as well. A person drove past yelling saying he was driving dangerously and nearly killed her kids. It was a pretty crazy scene.
"The police drove off with him quite quickly."
The Police brought the vehicle to its final stop using spikes.
"At 10am the vehicle was spiked in the Welcome Bay area and one person was arrested," says a Police spokesperson.
A 29-year-old man has been charged with failing to stop and is due to appear tomorrow in Tauranga District Court.