Roger Mabbett was driving along Portside Drive a few months before Christmas when he noticed a small sign on the side of the road.
Puzzled, he went to check it out.
"It had 'museum' on it, and I thought: 'we don't have a museum in Tauranga'," says Roger.
"So I drove in, got out, walked over and thought: 'whoa this is a museum to the Rhodesian forces'. "When I told other people they didn't know anything about it."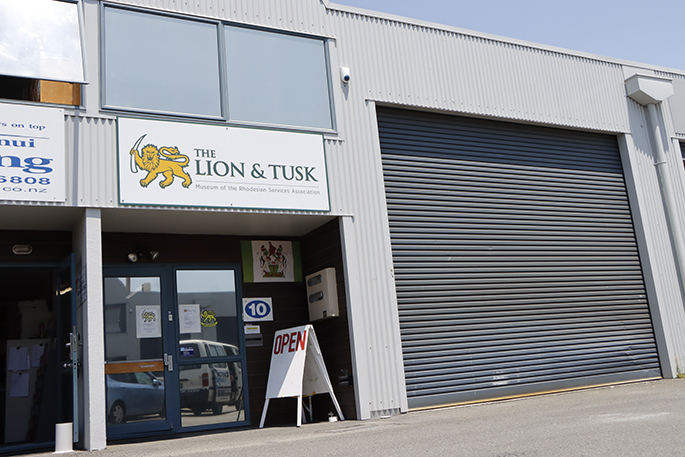 Roger had found 'The Lion and Tusk' – a museum of the Rhodesian Services Association, which was established on May 1, 2018, in a unit at Mount Maunganui.
I went to meet him there and he introduced me to some of the hardworking people who are running it.
Diana Bomford, Tony Fraser and Hugh Bomford
Walking in, like Roger, I went: 'whoa' as I stood stunned at the massive collection of artefacts. Over the next hour, I met with Tony Fraser and Hugh Bomford and was given a tour of what is the largest Rhodesian military museum outside Africa.
The Lion and Tusk Museum and the Rhodesian Forces Archives Project contains Rhodesian military history records and exhibits of uniforms, medals and equipment from the Pioneer period, Matabele War, Mashona Rebellion, Anglo-Boer War, World War One, World War Two, Malayan Emergency, Korean War, Aden Conflict, Nyasaland Emergency, Congo Border, Rhodesian Bush War, Commonwealth Monitoring Force and Op Agila.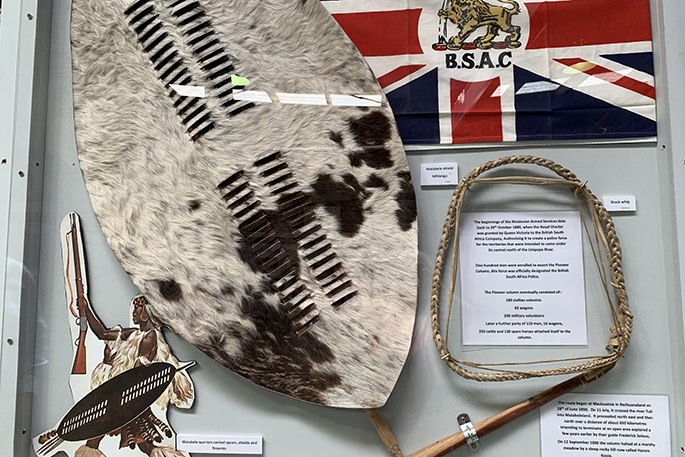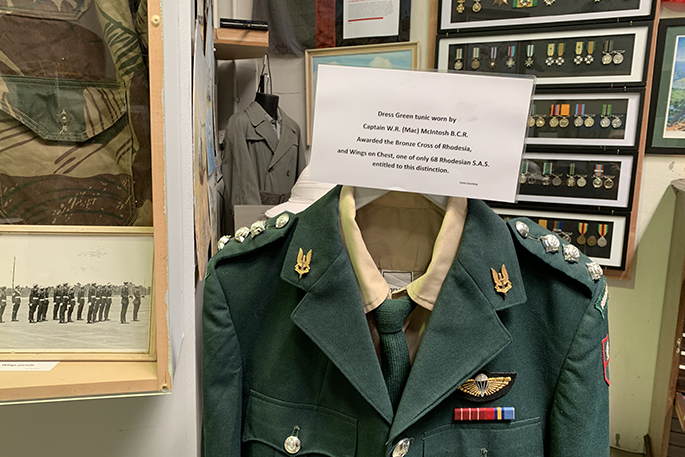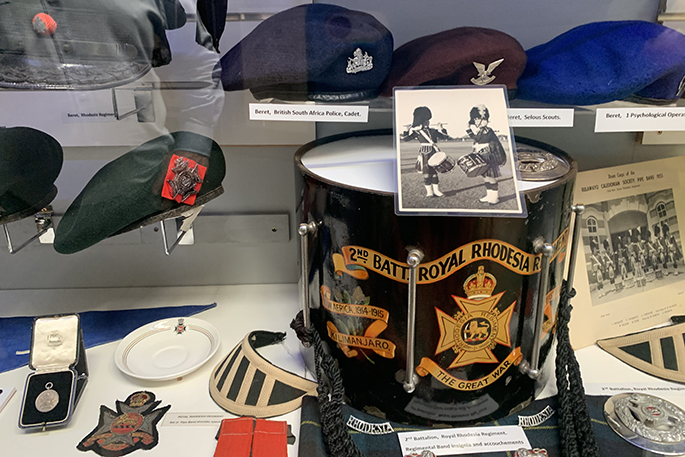 Upstairs is an extensive library, with a memorial area at one end with Rolls of Honour rescued from Zimbabwe. Downstairs an Alouette III helicopter nestles amongst glassed custom-made displays filled with the dazzling exhibits.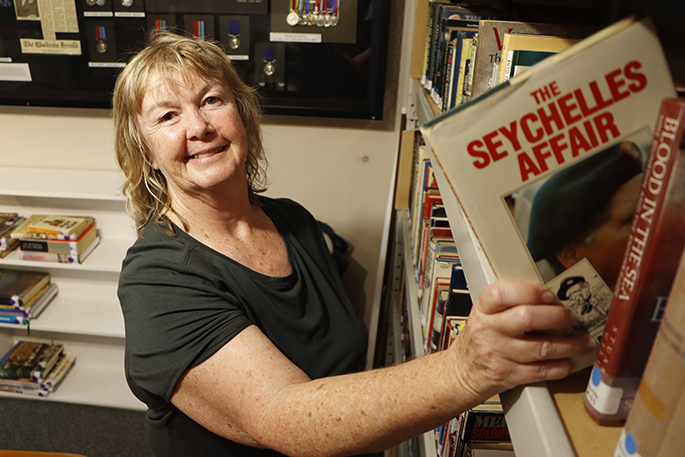 Diana Bomford in the large library upstairs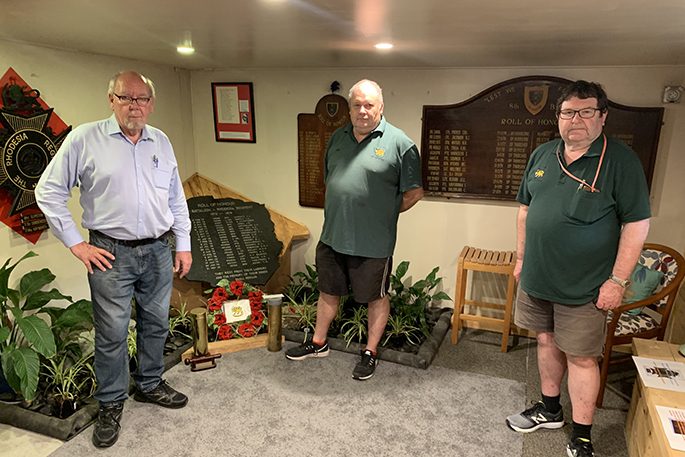 Roger Mabbett, Tony Fraser and Hugh Bomford in the memorial area.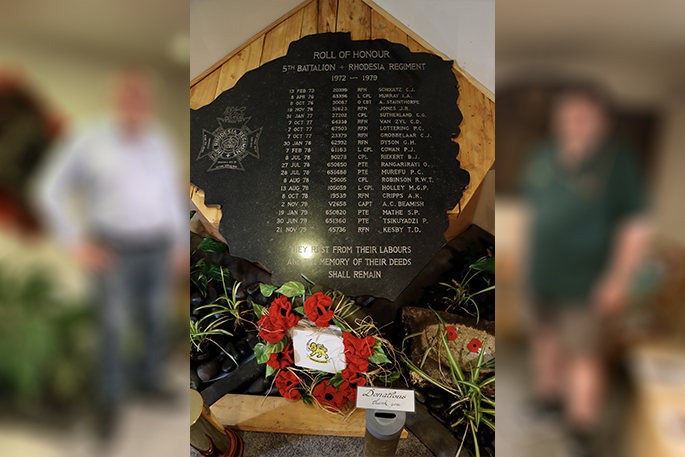 There's a private collection of beer mugs showing the cap badge and stable belt colours of every Rhodesian Army unit, donated by Hennie Shoeman.
There are ammunition pouches, a British 1944 water bottle and cup, machetes and bayonets and a silk escape map covering Italy and Yugoslavia issued to Sgt Reg S.J. 'Bok' Parsloe who served in the Rhodesian S Patrol Long Range Desert Group.
"Thousands of people have donated over the last 18 years," says Tony. "The artefacts, objects and memories help keep everything alive and we'll be able to pass it on to our children who come after us."
I pause in front of one display and watch part of a war film. Nearby are numerous paintings of aeroplanes by Digby Sinclair; framed rows of medals, berets, caps, helmets and hats; shields, a marching drum from the 2nd Battalion Royal Rhodesia Regiment, dress uniforms, and flags hanging from the rafters above. Nearly hidden amongst it – a small fridge packed with biltong, droewors, borewors and cans of drink.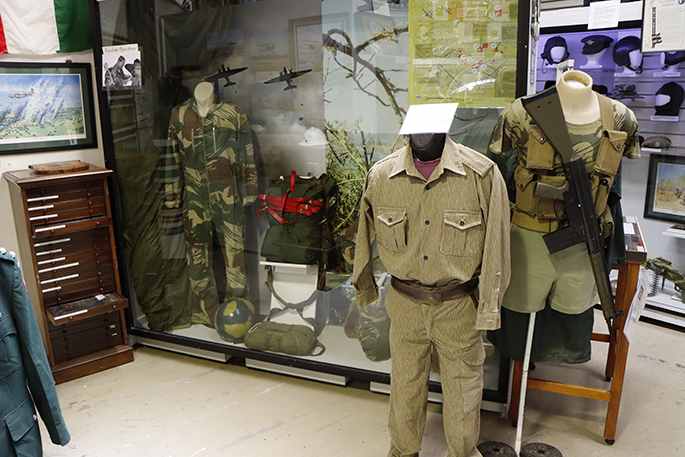 Roger had met two cruise ship passengers who were happily browsing the movies and artefacts.
"When I said that I would take them back to the cruise ships at no charge, I was told that this was the number one of the land-based activity options, in their opinion, and that they had no links with Africa."
Hugh's wife, Diana, is one of the volunteers who help run it, ensuring it is open to the public from Thursdays to Sundays.
"The first time Tony came around to our place, Hugh had his trunk out - of his army stuff - and the next minute there's a pile on the floor," says Diana. "Basically it was Tony's connection with the army here that helped get this started."
Tony, born in Rotorua to NZ Maori parents, joined the New Zealand Army in 1979 when the conflict in Rhodesia was coming to an end.
"We'd just sent 74 peacekeepers to monitor the elections and the gathering of the insurgent forces that were outside the country," says Tony.
"After my initial five years of regular force service, three of us decided we'd like to go and see these countries that we'd learned about, but had never visited. So we went to Africa and walked and hitchhiked from Kenya to Johannesburg.
"I was quite taken by the Rhodesian – Zimbabwe people. They looked after me. I returned to New Zealand with a wife from Zimbabwe, met up with the Bomfords, and decided that I should give back some of the kindness that Zimbabwe/Rhodesia showed me."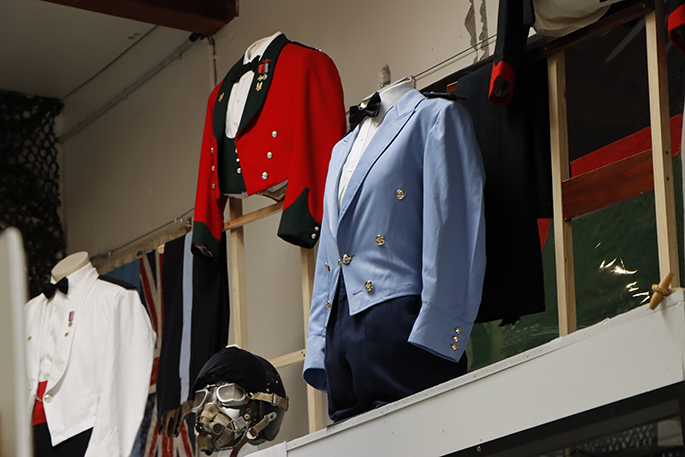 The Rhodesian Services Association was formed in the early 2000s from a basis of people who served, or whose family served, in forces loyal to Rhodesia.
At a social event in NZ, the Commanding Officer of the 6th Battalion (Hauraki) Regiment, Lt Col John Dick ED, invited the association to form a museum display as part of the unit's history room.
In 2006 the Classic Flyers Museum invited them to form a display in their museum and in May 2018 the Lion and Tusk – Museum of the Rhodesian Services Association was opened to the public in Portside Dr and is now the focal point for social gatherings, ANZAC and Memorial Day commemorations.
Roger Mabbett at the front entrance desk
During the summer, barbecues are fired up in the carpark outside for get-togethers.
"People come from all over – Hamilton, Auckland," says Diana.
"It's all about the whakapapa, parents bringing their kids," says Tony. "A lot of our Rhodesian servicemen's sons and daughters have joined the NZ Armed Forces. We've had a few go over to Afghanistan and Timor. There's a couple in the navy."
And people just turn up, like Roger, who lived for a while in Africa, and is overjoyed at discovering this museum of treasures amongst us.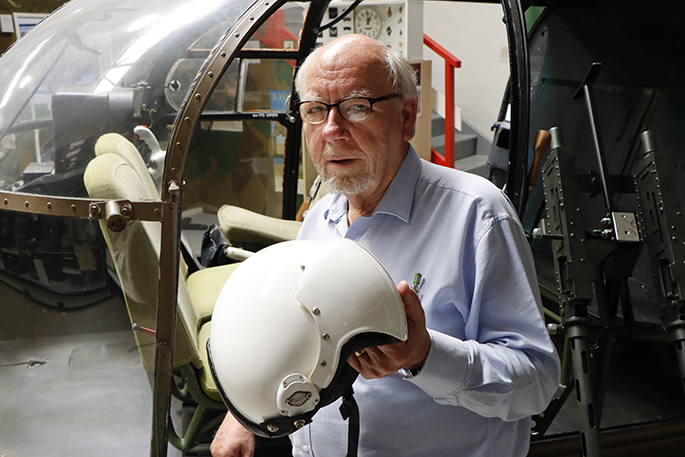 Roger Mabbett