'Completed shocked. Completely surprised," says Robyn Hays, stunned on learning she has won first prize in the 2020 Trustpower Photographic Exhibition.
From thousands of entries, judges last night announced Robyn Hay and her photo 'My Favourite Things' as the first place winner, awarding her $5000 in cash in the fourth year of the region's largest outdoor photographic exhibition.
"The lady in the image is my mum," says Robyn. "She's a 77-year-old woman. Her home was destroyed in the Christchurch earthquakes so she moved out to a rural property and built that unit. And she's very much made it her home.
'That's her with the chickens, and the chicken poop, and everything else she's cluttered around her. But that's her. She's a crazy 77-year-old from Manchester. This is who she is, it's so nice to have a picture of who she is, forever."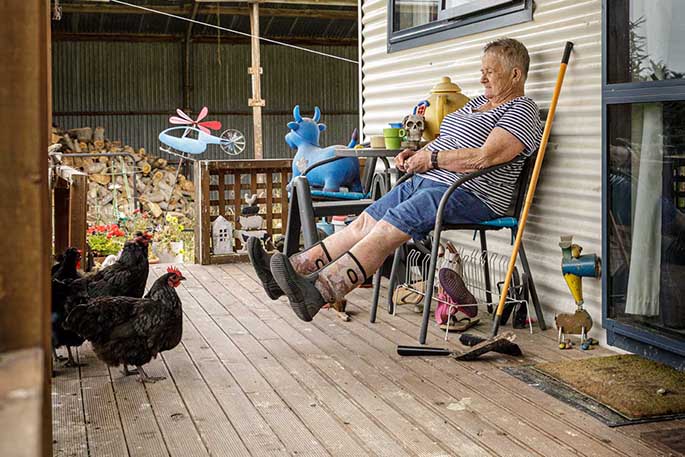 'My Favourite Things', by Robyn Hays.
Friday evening's prizegiving saw the announcement of the top 20 finalists including the top four who share the $10,000 cash prize pool and receive features in The Weekend Sun and UNO. Magazine.
Project Manager Sally Cooke says the judges had a challenging task narrowing down the top 20 images.
'Every year we are blown away by the increasing quality of the images we receive. This year was no exception. It makes the judge's job incredibly difficult," says Sally.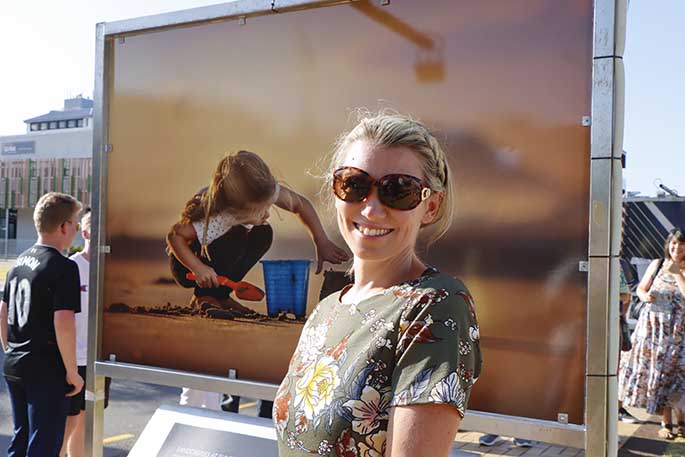 Kerry Hutchison won second place with her image 'Sandcastles at Sunset'
Second place winner Kerry Hutchison was also thrilled to learn her photograph had been selected by the judges.
'I'm really, really excited. I genuinely didn't expect this and really overwhelmed actually," says Kerry. 'It was one of those beautiful evenings and we decided spontaneously to go down to the beach. I literally grabbed my camera at the last minute and I'm so glad I did.
'It's amazing. We'd only just moved up to Tauranga. The beautiful sunsets we get here are just amazing. My little girl was just in her own little world and doing her thing and I captured a few photos. This is one of them.
Making her new home in Tauranga, Kerry says she is enjoying the lifestyle here.
'The weather is amazing. There's a lot about Tauranga that I love," says Kerry.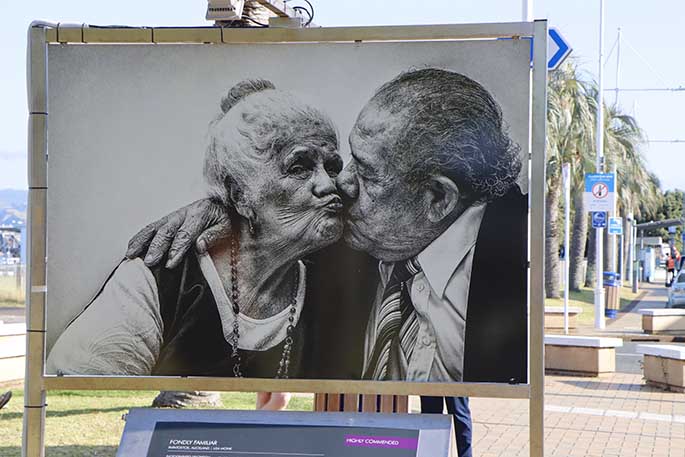 Lisa Monk's highly commended photograph 'Fondly Familiar'
This year's judging panel comprised Carolyn Schofield from Trustpower, Jenny Rudd from UNO. Magazine and Millie Newitt from Downtown Tauranga.
'Judging the Trustpower Photographic Exhibition is always a great way to start the New Year," says Carolyn. 'It's so exciting to see the variety of ways in which the theme has been interpreted.
'The winning images all capture intimate moments of people who are completely at home with where they are in that moment, or powerful scenes that connect us with the feeling of home. They all convey a sense of comfort and familiarity."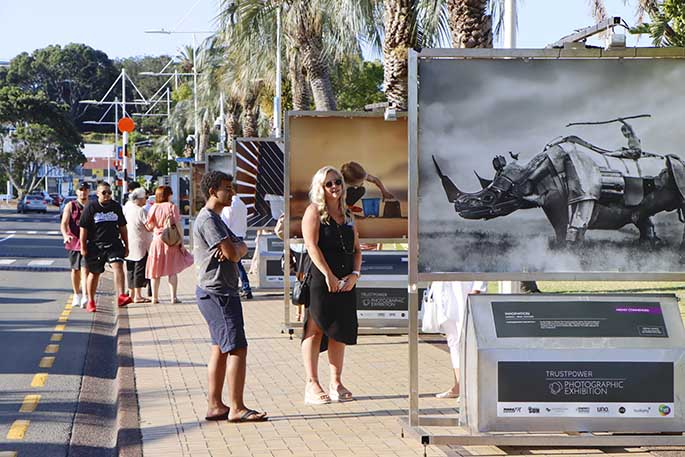 All 20 finalists are displayed on large panels along The Strand
This year's theme of 'Home' played an important role in selecting the winning images. Jenny Rudd says this theme was a wonderful thing to be on the lookout for.
'Home seems like a fairly abstract idea but when you look at the finalists' images, there are some commonalities," says Jenny. 'Regardless of where home is, we all feel the same when we're there."
The winning photograph, captured by Robyn Hay, was a standout for the judges.
'Of all the photos I looked at, I had the strongest emotional connection with this one," says Millie. 'It's such a raw, honest reflection of the theme.
'The home portrayed in the image reflects a relaxed, well-loved space and that's what makes it so powerful. Home doesn't need to be anything fancy; it just needs to be where we feel the most comfortable and connected."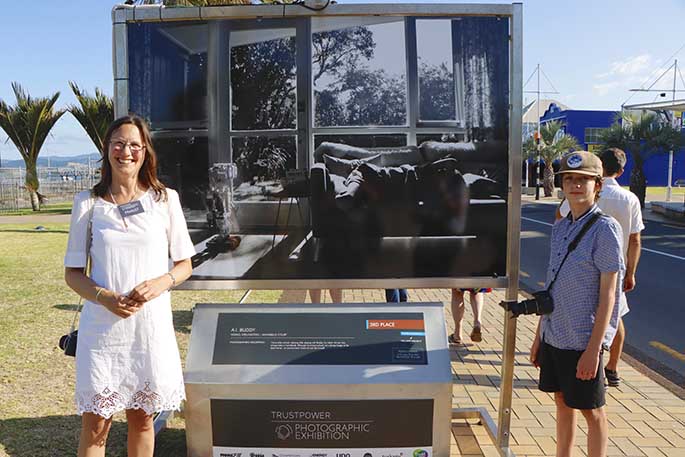 'A.I. Buddy' by Annabelle Court who won third place, pictured with her son Eddie who was the subject of her photograph.
Annabelle Court from Wellington won third prize with her photograph 'A.I. Buddy'.
'I'm very excited. We almost didn't make it here today," says Annabelle. 'We drove up from Wellington since 8 o'clock this morning and got caught in traffic, arrived at two minutes to five. It was very worth it.
'The photo was taken in our living room. That's my middle son Eddie who was laying on the sofa after a long day at school. He is always happy to come home and he was playing with his robot. I've usually always got a camera slung around my shoulder and capturing the moments.
'Home is really a place of sanctuary where I feel my kids should feel comfortable and be themselves. A place of comfort and togetherness as a family."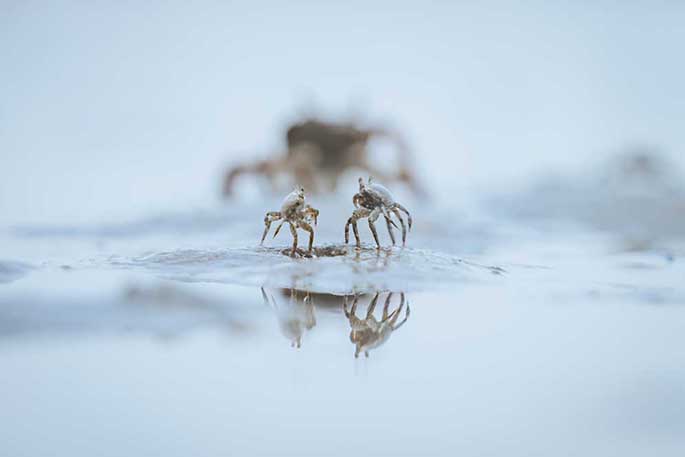 'Crab Stand-Off' by Caleb Walsh received a Highly Commended Judges Pick award.
The second place, third place and Highly Commended Judges Pick images, 'Sandcastles at Sunset' by Kerry Hutchison, 'A.I. Buddy' by Annabelle Court and 'Crab Stand-Off' by Caleb Walsh also received exceptional praise from the judges.
'I can feel the peace and utter belonging in the people that are featured in these images," says Jenny. 'I would like to particularly commend the Highly Commended Judges Pick winner. These teeny crabs face each other in a stark pearly landscape, out of which looms another larger specimen. I can't tell if it's a friendly approach or something more sinister. I wonder what happened next?"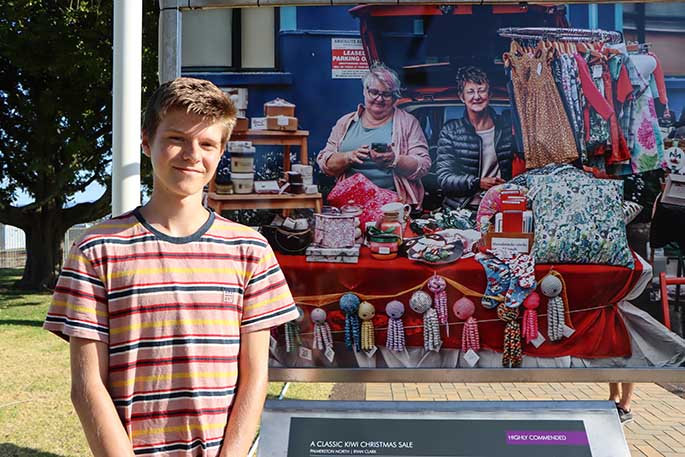 Ryan Clark with his highly commended photograph 'A Classic Kiwi Christmas Sale'.
Ryan Clark received a highly commended as one of the 20 finalists.
'It's really cool, especially being 14," says Ryan. 'It's nice to know younger people can still participate in this stuff.
'My image was taken in Palmerston North. It was the Christmas sale. I saw these people at the boot of their car selling all these clothes. I thought it was a cool photo and snapped it. The colours pop, the character in the ladies, the coloured hair. I do a lot of videography as well and like doing a bit of both. I love photography."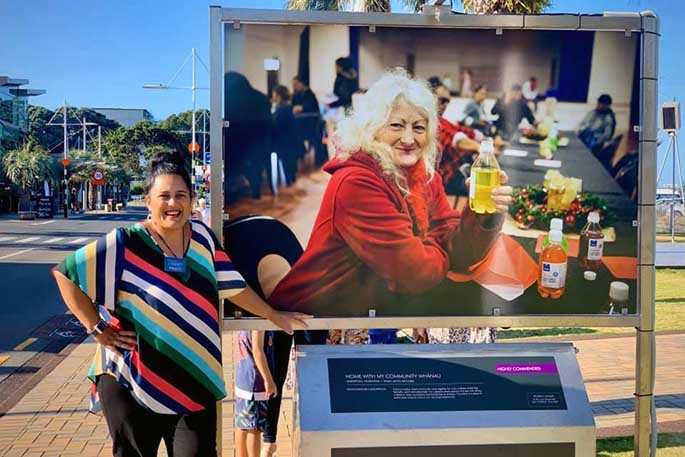 Tania Lewis-Rickard, with her highly commended photograph 'Home with my community whānau'. Photo: Supplied.
''Home with my community whānau' is the title of my photo submission of a beautiful lady named Rosie, who comes to our Greerton community meal 'Kai Aroha'," says Tania Lewis-Rickard who was one of the 20 finalists.
'What is important to me in this photo is whānau, turangawaewae, community, connection, kotahitanga, aroha, manaakitanga, a place of belonging.
'This photo is my tribute to all the homeless women, displaced families and homeless people; who only ever want....a home."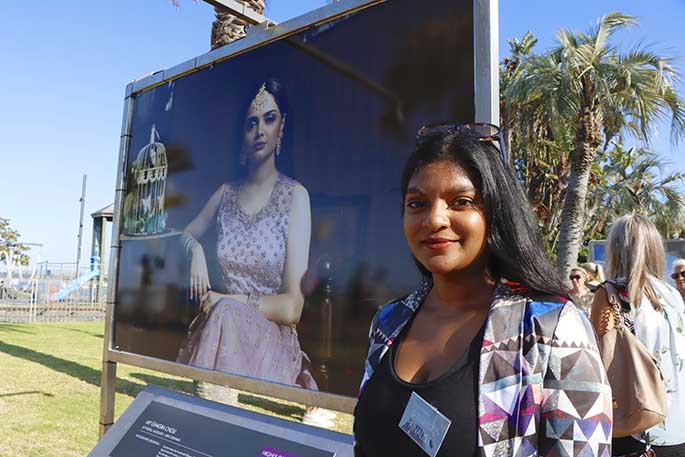 Abhi Chinniah with her highly commended photograph 'My Ghagra Choli'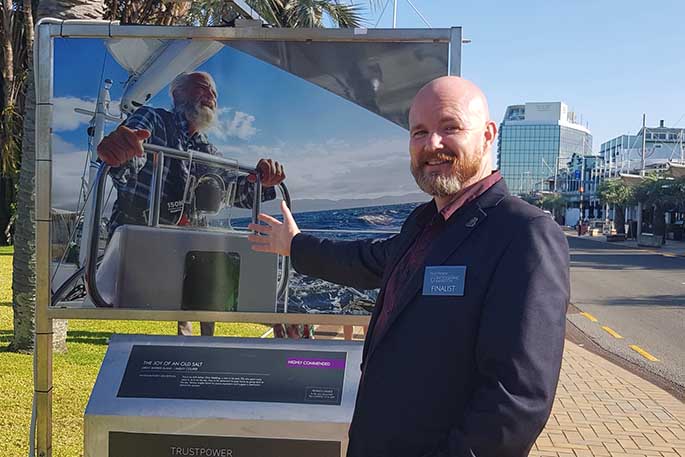 Harley Couper, with his highly commended photograph 'The Joy of an Old Salt'.
Robyn's winning large-scale image, sponsored by Priority One, features alongside the 19 other finalists in the Bay's largest outdoor photo exhibition which opened on Friday night on The Strand and acts as a showcase of New Zealand's creative talent.
"'Life is not a dress rehearsal," says Robyn. "You've only got one shot. I'm totally grateful to all the sponsors of the competition. Thank you very very much. It's going to enable me to buy a new lens for my camera."
Sally Cooke says the exhibition brings such a buzz to the city centre.
'We just love bringing this exhibition to life every year and seeing the excitement on people's faces as they walk up and down The Strand, admiring the photos."
This year's full list of winners is (full name followed by photo caption):
1st Place $5000 – Sponsored by Priority One:
Robyn Hay – 'My Favourite Things'
2nd Place $3000 – Sponsored by Tauriko Business Estate:
Kerry Hutchison – 'Sandcastles at Sunset'
3rd Place $1500 – Sponsored by Holland Beckett Lawyers:
Annabelle Court – 'A.I. Buddy'
Highly Commended Judges Pick $500 – Sponsored by Sharp Tudhope:
Caleb Walsh – 'Crab Stand-Off'
Highly Commended (in no particular order):
Abhi Chinniah – 'My Ghagra Choli'
Tania Lewis-Rickard – 'Home with my Community Whānau'
Kate Regan – 'Nuts and Bolts'
Brad Crocker – 'Imagination'
Rose Secker – 'Arm and Wing'
Klara Langova – 'Coming Home'
Arka Gupta – 'Sunset on Lake Hawea'
Clay Dixon – 'Happy Place'
Lisa Monk – 'Fondly Familiar'
Juliano Baby Amorim – 'Happiness is in Front of the House Door'
Harley Couper – 'The Joy of an Old Salt'
Matt Taylor – 'Storm in a Bathtub'
Michaela Broodryk – 'Golden Love'
Ryan Clark – 'A Classic Kiwi Christmas Sale'
Jessica Handley – 'Just Chilling at Home'
Roger Smith – 'Tui in the Cherry Tree'
While you're enjoying the exhibition, vote for your favourite image to be entered to win dinner for two to the value of $120 at Macau Restaurant. On each photograph, you'll see a People's Choice number - simply text CHOICE and the corresponding number of your favourite image to 559.
The exhibition is run as a partnership initiative with Trustpower, Downtown Tauranga, The Weekend Sun, MediaWorks, UNO. Magazine, Tuskany, Priority One, Tauriko Business Estate, Holland Beckett Lawyers and Sharp Tudhope, and with support from The Big Picture and Energy Services. It runs until April 5th on The Strand as a free community event. For more details go to www.downtowntauranga.co.nz