It's a tunnel hulled inflatable boat with a 50 horsepower outboard engine that all up only weighs 150kgs. It is capable of doing speeds over 100km/h, but one gust of wind could ruin your race very quickly.
That is thundercat racing and is one of the cheapest forms of motorsport there is.
The Thundercat Racing New Zealand national series has taken place throughout the Coromandel and Bay of Plenty from January 3 and wrapped up on January 8.
For the past 18 years, the national series used to take place over the North Island over the span of 10 weeks, but race director Chris Brown says last year they started doing it in the Bay of Plenty and Coromandel in the space of a week.
Chris says this year's national series was "absolutely awesome".
"Doing it all in one area, from Whangamata, Waihi, through to the Mount, it just makes it a far more epic event.
"What we did find this year and what we've had the last few years, is that people in those areas are starting to know we're there and our crowds were just getting bigger and bigger and bigger. So we really pull a lot of spectators down and got a lot of community support.
"That's awesome for us, because it's great to see all those people returning back to the beach – kind of what we used to have in our heyday."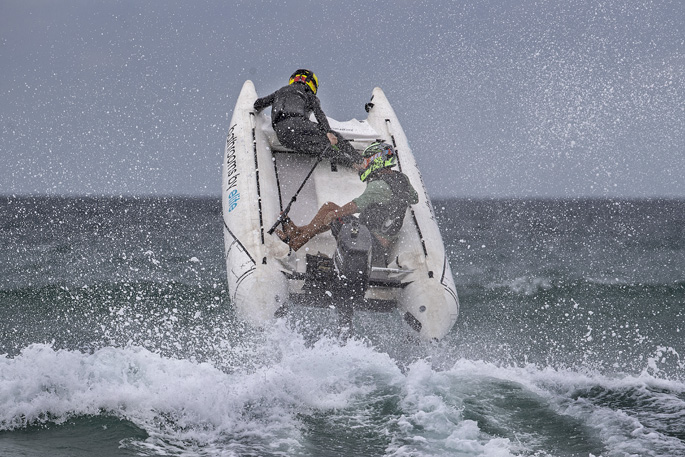 He says as far as the events go, the surf cross was a bit flat throughout the week, but Tay Street on January 8, "turned it up".
"We saw a lot of good action, a couple of flips and the battle for third – there were three boats that were all one point apart but the third place went to a local team from Katikati."
They also ran enduros as well and did two laps around Matakana Island, leaving and finishing at Anzac Bay.
"So much happened during that race," he says.
"The wind picked up and a tornado ran through it with 40 to 50-knot gusts, which actually picked one of the boats up out of the water and turned it upside down in the air.
"We had a pod of orca come through and we had to direct the racers around to make sure we didn't upset them, so that was unique.
"It was a 116km race and we were just contenting with stuff that we would not normally have even fathom having to worry about during an endurance race but it made for a spectacular race.
"We also had the Mayor Island enduro, where they left from Whangamata and went out, around Mayor Island and then back again, in about 25 to 30-knot winds, with just big swells, big winds.
"We had two boats flip. One out the back of Mayor Island and one up course in Pauanui, but they both managed to get upright and get going again.
"Overall, the whole week has just gone spectacularly well I'd have to say. The community support here has just picked up and the people on the beach make us feel welcome, the surf club makes us feel welcome, and it really is a great event."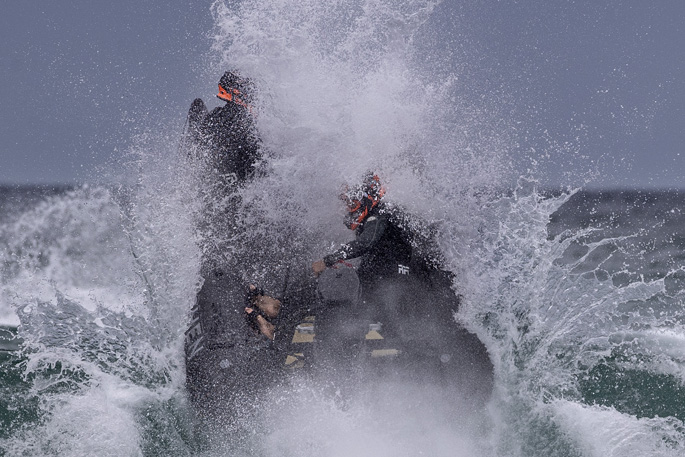 In the national series, the two codes they race are surfcross and endurance racing.
Surfcross is where they race a W circuit right in close to the beach. It is all within 200m of the shore, and the whole race takes place within the surf line.
Chris says there is a lot of high speeds, high jumps, you are pulling three Gs around the corners and finishing with a sprint finish.
"The other part is the enduro race where you are taking a boat that weighs 150kg, and at 100km/h you're heading out for somewhere like Mayor Island, and hoping you can hold onto it long enough to get back to the beach again."
Chris says one of the great things about thundercat racing is that it is the cheapest motorsport you can do.
"Despite the fact that it's one of the most action-packed motorsports, you can get a full race-winning package for about $15,000 and it'll cost you a couple of grand to run an entire season."
Chris says for anyone looking to get into Thundercat Racing, is to head to their website.
"Have a look around. There's a committee there and all the pictures are online. Pick the one you like the look of the best and give them a call.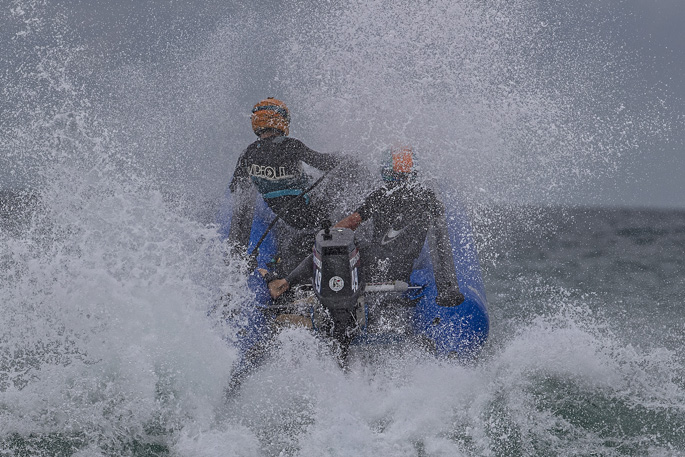 "One of the things with this sport is its fun. What we're trying to achieve is a fun, safe, affordable, community racing. Basically, anybody you talk to in the sport, as soon as you've arrived, they're all going to be saying how do we help you? What can we do to help you buy your boat? We'll help you set it up. We'll help you build your props. We'll help you learn how to race it.
"We had a brand new team at Tay Street, it was their first national series ever. They went upside down, flipped their boat, pulled it up on the beach and by the time they got it on the beach there were probably 10 other races there ready to help them get back on the water.
"There is not a racer in this sport that will not be keen to take them out for a test."
Chris says they couldn't have done the national series without support from sponsor Demon Energy who has been on-board with them for years. This year, they also got local Tauranga business Pacific7 on-board and Chris says they are the reason they got media coverage.