Three Kiwi crews are in the top ten as the final race of the Hyundai 49er, 49erFX and Nacra 17 world championships in Auckland gets underway this morning.
Peter Burling and Blair Tuke are exactly where they want to be, at the top of the leaderboard, with Logan Dunning Beck and Oscar Gunn, and the third Kiwi crew of Isaac McHardie and William McKenzie joining the top ten from a starting fleet of 88 boats.
Provisional rankings after the Race 7 of the 49ers have Peter and Blair in the lead with a total score of 75, Logan and Oscar in sixth place (118) and Isaac and William in tenth (144) as they enter the final race.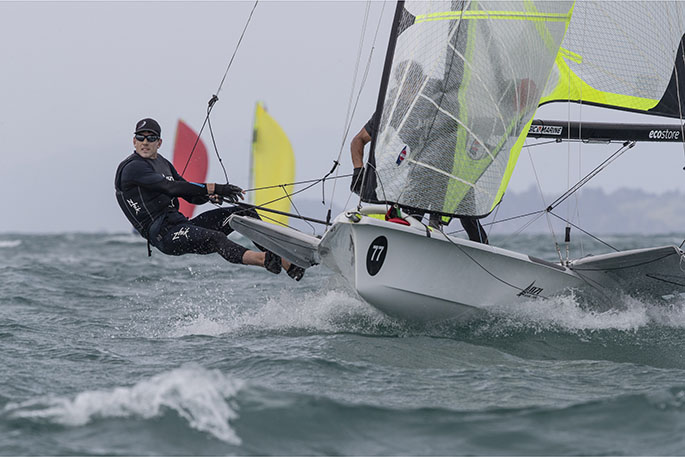 Logan and Oscar posted three good scores yesterday – second, eighth and seventh – to sit only six points off third place, meaning that this NZ combination is also gunning for a medal in the 49er.
The third Kiwi crew of Isaac McHardie and William McKenzie have an outside chance of a medal from their position in ninth.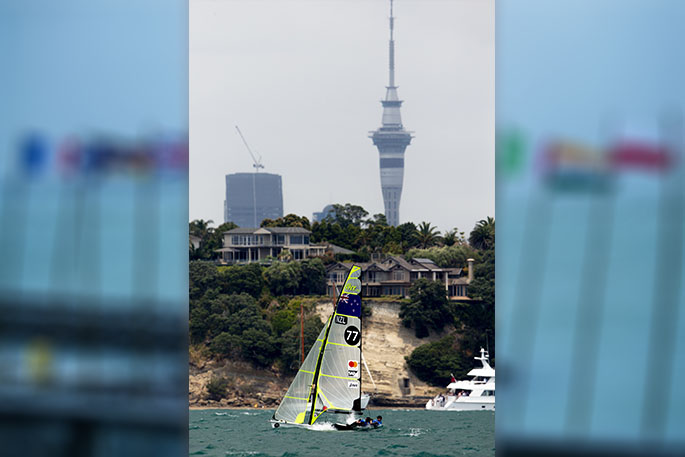 Peter Burling and Blair Tuke on the water in Auckland. Photo: Sailing Energy
Every inch counts as they battle it out on the 'high seas' as they chase the medals this morning.
Alex Maloney and Molly Meech have had a frustrating week as they finished 11th, 13th and fifth on Saturday to lie seventh overall and the Olympic silver medallists will need everything to fall their way if they are to collect a medal.