Western Bay of Plenty leaders are welcoming a proposed urban growth partnership with central government that will further enhance its collaborative approach to planning for the sub-region's future.
The partnership will be similar to the first urban growth agreement announced by the government in the Waikato earlier this year and is strongly connected to the government's urban growth agenda.
Transport Minister Phil Twyford met with Tauranga City Council mayor Tenby Powell, Western Bay of Plenty District mayor Garry Webber, Bay of Plenty Regional Council chairman Doug Leeder and mana whenua representative Buddy Mikaere.
During the meeting Phil initiated discussions about formalising a sub-regional spatial planning partnership between central government, the Western Bay's local councils, and mana whenua that would include an integrated vision and associated work plan.
Tenby says it was exciting to hear about Phil's appetite for a formal partnership with the sub-region and acknowledged it will require a commitment by all local leaders to look at new and innovative ways of doing things.
"This partnership presents us with an opportunity to really think outside the square as we develop plans for how people can best live, work, learn, play and move in the sub-region over the next 50 years.
"The commitment and big picture thinking we are applying today will become our legacy for the future generations of tomorrow."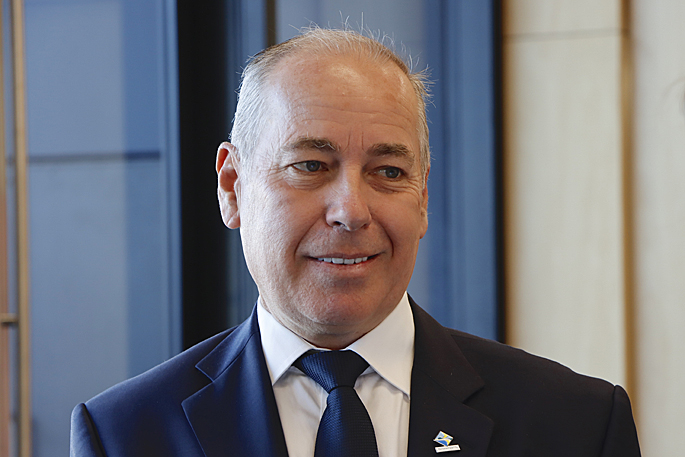 Tauranga City Council mayor Tenby Powell. Image: Daniel Hines/SunLive.
Garry says these initial steps towards establishing a partnership with central government is positive affirmation that the collaborative approach and commitment being shown by the region's leaders is paying off.
"Through SmartGrowth and the current programme of work being undertaken within the Urban Form and Transport Initiative, all councils in the Western Bay have recognised the need to step back and consider what the sub-region as a whole needs in terms of housing, transport and urban development.
"Having all leaders at the table with Minister Twyford last week really showed our commitment to work collaboratively and focus on solutions, together.
"Mana whenua play a critical role in this partnership and we remain committed to enhancing the way we are working with local iwi to support their needs as well."
BOPRC chairman Doug says he is looking forward to discussing details of the partnership further with Phil and other senior ministers.
"The parties will look to sign a memorandum of understanding for the partnership outlining how the government, local councils, mana whenua and other key partners will work together and what the agreed next steps will be."