Kia ora and welcome to Sunday. Me whai wa ki te noho tahi me to whanau me o hoa.
Today we are expecting some cloudy periods with occasional showers and northerlies. There is an expected high of 22 degrees and an overnight low of 17 degrees. Sunset is at 8.21pm.
The weather forecast for the week ahead is similar to today, with temperatures in the low twenties during the days and occasional showers during the week. For those who like to garden, this could be your week for planting lots of summer loving edibles.
There's a lot happening around the Bay of Plenty today, so how about getting out there and enjoying the outdoors, or head indoors for some live music.
Baycourt Community and Arts Centre is the place to be today from 2 - 4pm to experience the Opus Orchestra present 'Song of the Earth', featuring international tour de force Simon O'Neill, and also a very special commissioned work by Ross Harris. Check out more information here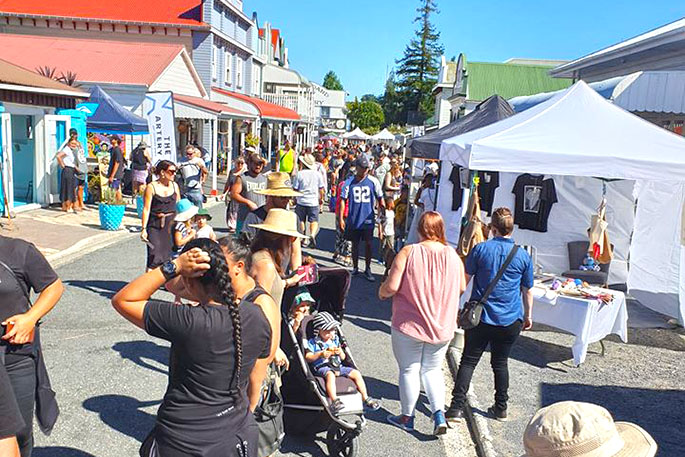 At Tauranga Historic Village, the Bethlehem Te Puna Lions are running their ever-popular village market from 8am – 12pm.
While visiting the Historic Village, be sure to come check out Clare Birch's first solo exhibition 'PrettyUgly' at The Incubator. The exhibition runs until December 21. More here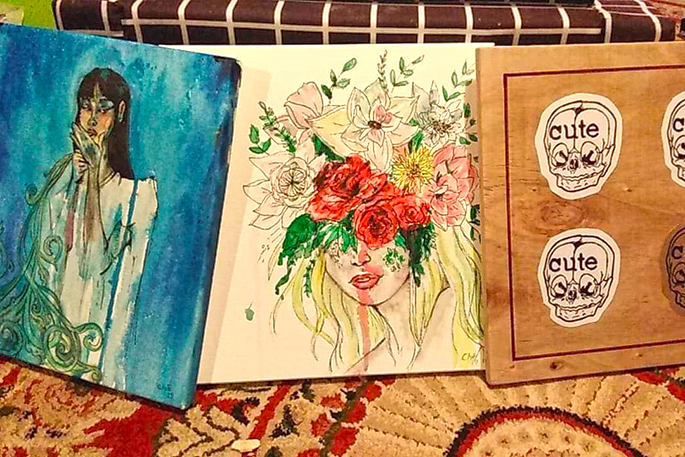 The Annual Group Show '111' at The People's Gallery Toi ka rere, near The Incubator at the Tauranga Historic Village is also happening. Packed with art by many local artists, all works are $111 each. Check out more information here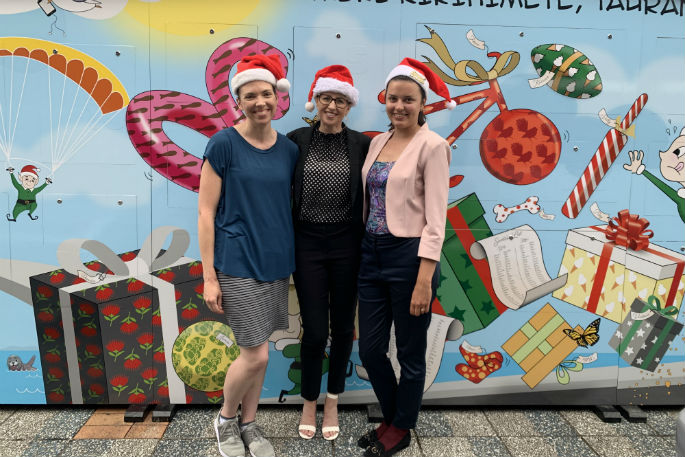 Emma van de Molen from Downtown Tauranga, Tauranga City Councillor Tina Salisbury, and artist Karolina Ferbei at the Giant Advent Calendar. Image: Rosalie Liddle Crawford
In the Red Square in downtown Tauranga, the Giant Advent Calendar will be launched at 10am followed by The Great Rock Hunt at 10.30am.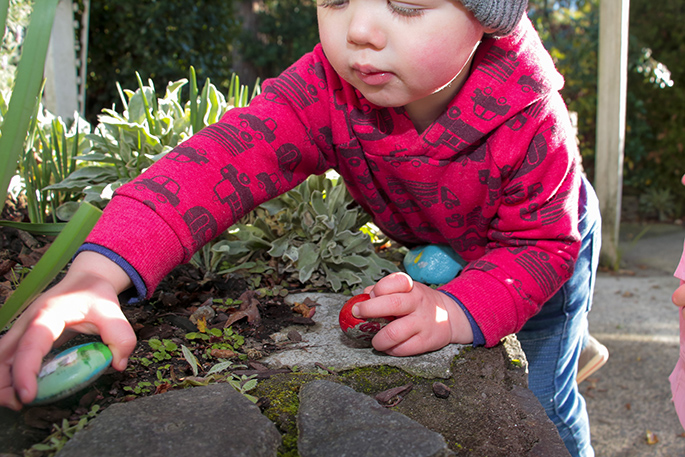 Theodore Burkhart looking for painted rocks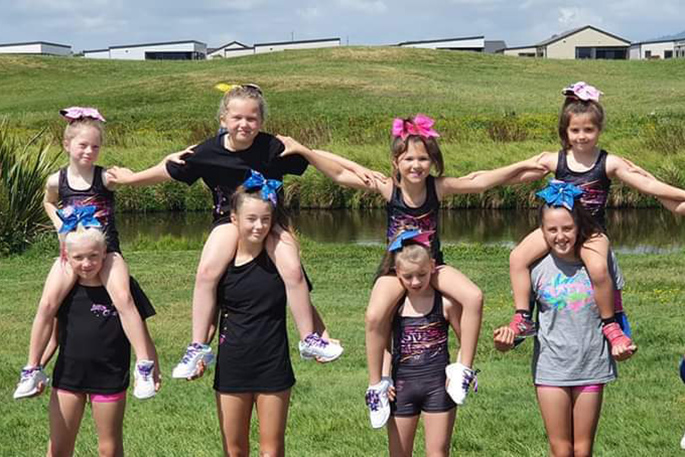 If you want to be a part of one of NZ's fastest growing sports, come and give cheerleading a go today at the Mount from 9am – 12pm.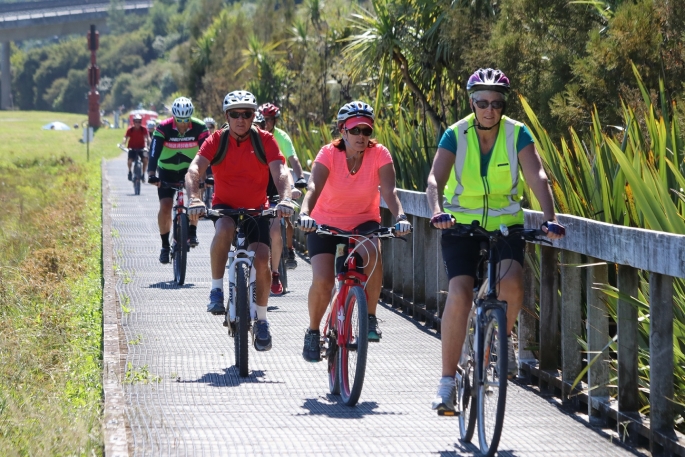 Come for a cycle or walk today in K Valley. Bring your favourite people and have some fun from 10am - 12pm. There will be plenty of things to enjoy, such as funky bikes, kids' activities, exploring the track and a sausage sizzle - with a gold coin donation for Assistance Dogs. If you're bringing your bike, be sure to decorate it as there will be prizes for the most creatively decorated bicycles. This is a free dog-friendly event. More information available here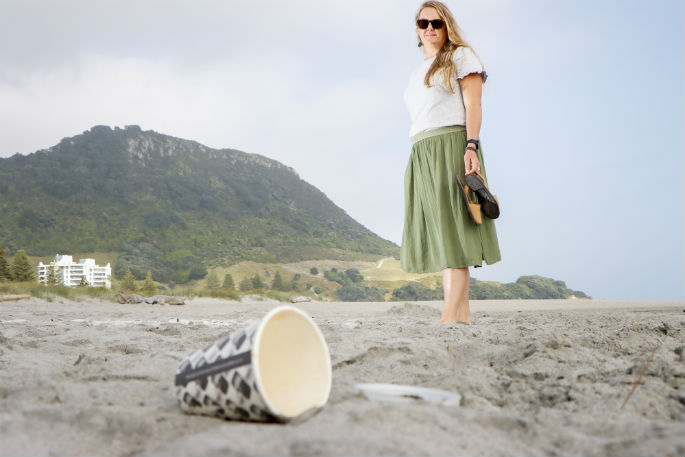 Brenna Roband is organising a beach clean-up at Mount Main Beach today. Photo: Bruce Barnard.
At the Mount, come and help with a beach clean-up from 3pm – 5.30pm, starting at the base of Mount Drury. More information here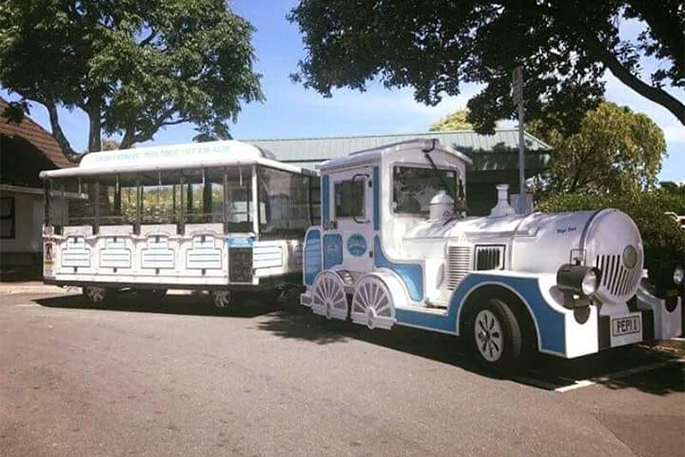 Next to Coronation Park is the Pepi Toot train which will be out about today and tomorrow from 10am – 2pm with 30 minute rides, leaving from Salisbury Ave outside the Spongedrop Cafe. All aboard! Toot! Toot!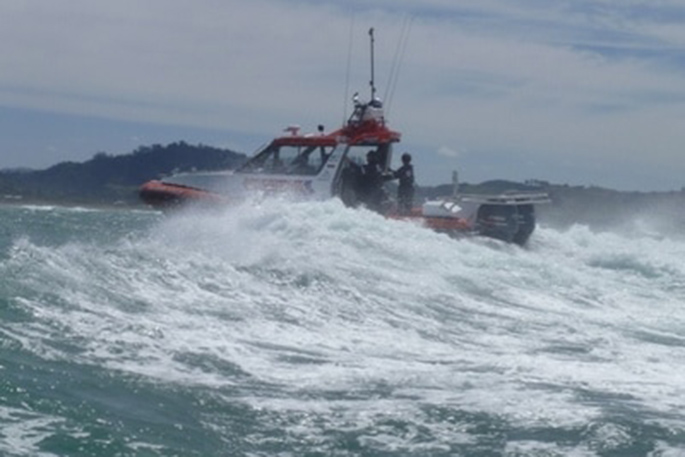 Do you know how to get your boat across the Bowentown Bar? Come and learn how to cross it today at 10am. You'll go out on a crossing with the Waihi Beach Volunteer Coastguard crew on Gallagher Rescue. They'll share their local area knowledge and show you how to tackle it safely. More information here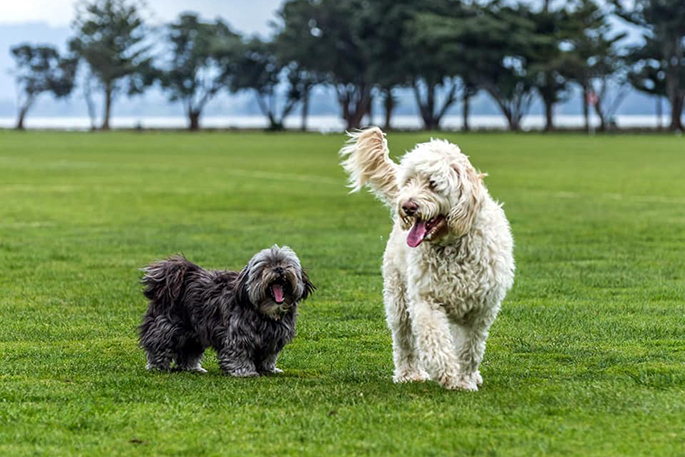 The BOP Oodle Club are having a Christmas Playdate today for dogs at Fergusson Park form 2-3pm. Bring your dog along dressed in a Christmas theme. There will be a prize for best dressed Christmas dog.
Te Puke Gymsports are having a photo fundraiser today from 9am – 2pm. Come and get a family photo, with proceeds going to the gym.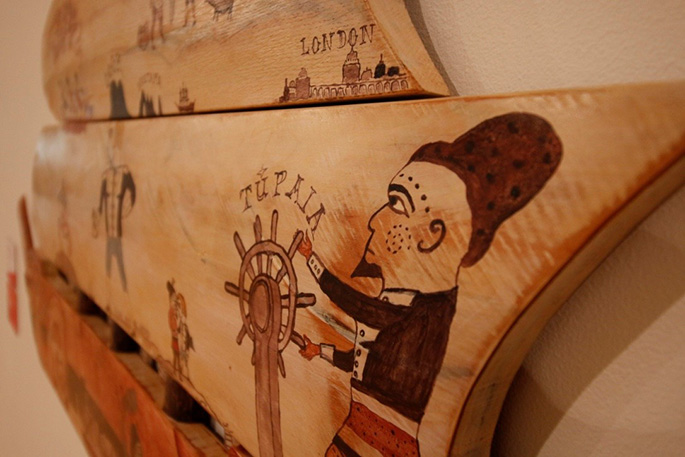 The Miles Art Award is now open for entries. Submissions are online. This is the sixth instalment of the biennial awards, with the exhibition to be held at the Tauranga Art Gallery from March 14 – June 7, 2020. Check out more information here
Are you needing immigration advice? Today from 10am – 2pm, David Fisher will be giving free valuable advice. For more information click here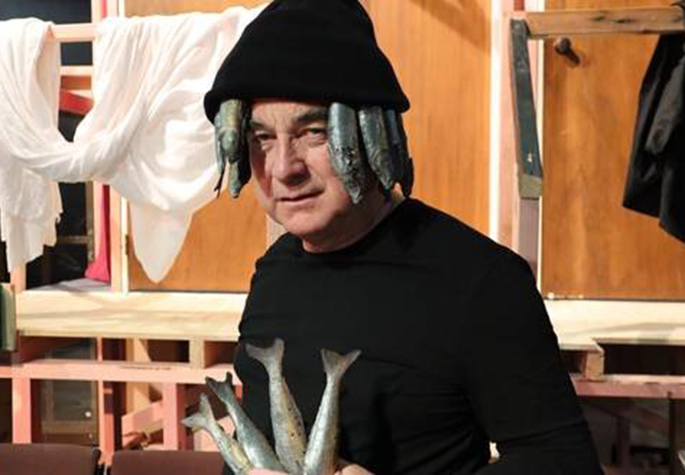 Greg Brownless in 'Noises Off'
More of Tauranga's actors are on stage tonight in the place 'Noises Off' at 16th Avenue Theatre. The show runs until December 7. Hailed as one of the funniest plays of all time, the Olivier Award-winning 'Noises Off' gives us a window into the inner workings of theatre behind the scenes. More here
For more of what's happening around the Bay:
111 Annual Group Exhibition
Presented by The Incubator, Historic Village. 30x30cm works from the Bay's most sought after artists on display every day until Dec 21st at The People's Gallery.
---
Advent Carol Service
St Peter's Chancel Choir advent procession. 7:30pm St Peter's Anglican Church, Victoria Rd, Mt Maunganui. Beautiful music & readings for advent. Free/koha.
---
Bopmpbc Dec Race Day
Club Champs on today at the Thunder Valley Lake just down from the Crossing. Come & watch the boats race for trophies.
---
Croquet
Tauranga Domain, Cameron Rd, 12:45 for 1pm start, Sun, Tues, Fri. Beginners welcome. Peter 571 0633
---
Golf Croquet
At Croquet Mt Maunganui, 45 Kawaka St; Tues, Thur, Sun; 9:15am for 9:30am start. Ph Nev 07 575 5121
---
Historic Village Market
17th Ave, 1st & 3rd Sunday of each month, 8am-12pm, wet or fine. A Bethlehem Te Puna Lions Project. Ph Bernie Allen 021 0422 612
---
Hot Diggity
NZ's only all female bluegrass band & kitted out in the finest 40s/50s vintage style. At the Jam Factory, 17th Ave. Doors open 1:30pm. $15.
---
Katikati Tramping Club
Tramp, Franklin Rd to Tui Mine track 8am start, hard. Ph Peter 07 863 8781 by Fri 7:30pm Easier option also planned.
---
Ladies Night
Classic kiwi comedy about local blokes down on their luck who decide a male strip show is the perfect way to make some quick cash! 8pm at Baycourt. Go to www.baycourt.co.nz for tickets.
---
Mah Jong Te Puke
Thursdays & Sundays 12:45-4pm. All players visitors & beginners welcome (free lessons). Te Puke Lyceum club rooms, 8 Palmer Pl. Ph 027 430 6383
---
Ninja Knits Hook Up
Social knitting group of mad yarn bombers, sultry stitchers & happy hookers. First Sunday of month, 9am-12pm, The Incubator, Historic Village. info@www.theincubator.co.nz. Ph 571 3232
---
PrettyUgly Exhibition
The first solo exhibition of lowercase g AKA Clare Birch, PrettyUgly in The Incubator Gallery, 17th Ave. Multi media visual art exhibition. Open daily until Dec 21.
---
Radio Controlled Model Yachts
Sun & Thurs 1:30-4pm, in pond behind 24 Montego Drive Papamoa, sailing Electron Yachts for fun. Adult beginners welcome. Graham 572 5419
---
Song Of The Earth
Opus Orchestra, featuring international tour de force Simon ONeill, & also presenting a very special commissioned work by Ross Harris. Baycourt 2pm. www.baycourt.co.nz for tickets
---
Sunday Stitch Workshop
Textile Art casual get together. Create treasures with Kristy Clegg. First Sunday of month, 10am-1pm. $10. The Artery, Historic Village. Info@www.theincubator.co.nz. Ph 571 3232
---
Tauranga City Brass Concert
Celebration concert at St Columba Church, Cherrywood. 4:30pm. Music from the movies, soloists, band & organ. Pre concert entertainment. All welcome.
---
Tauranga Fuchsia Group
Annual Show Art/Craft Centre Elizabeth Street West today 9am-3:30pm. $3 entry. Fuchsia plants for sale
---
Tauranga Organ Keyboard Society
Meets 1:30pm at Carmel Country Estate Social Centre, 11 Hollister Lane, Ohauiti. Play or listen. Organ EL900 or Clavinova 405. Ph June 574 2204
---
Tauranga Underwater Hockey Club
Have a go at underwater hockey at Baywave at 5pm. No experience needed. Just come with your togs & we'll provide the gear. https://www.sporty.co.nz/taurangauhc emailtuwh@gmail.com
---
The Sociables
A group of males & females in 30s/40s/50s age group that meet up to dine out or go for bushwalks etc. Ph 022 012 0376
---
Travel Friendship Force
Interested in international travel with home hosting? Tauranga Western BOP Friendship Force is part of a worldwide organisation! Ph Barbara 574 5711 or Jonathan 572 2091
---