Tractors, marchers and even a Stupid Robot Fighting League contraption took to the main street of Te Puke today for the Seeka Te Puke Float Parade.
The kiwifruit capital of NZ celebrated Christmas and the 60th anniversary of the renaming of kiwifruit under a blue sky and plenty of sunshine.
The judges awarded the DMS ProGrowers Supreme Theme Prize to Rangiuru School, who they felt best expressed the theme of the parade – kiwifruit and Christmas. As well as receiving the Te Puke Jewellers trophy for supreme winner, the school also won the Ultimate Motor Group - Education category of the parade.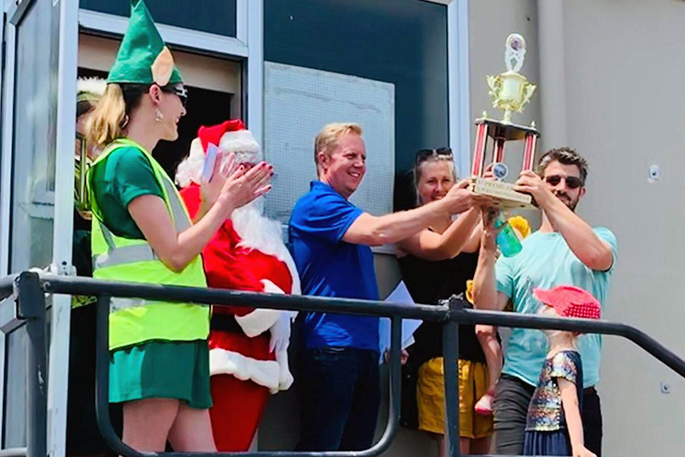 Rebecca Larsen and Santa with MP Todd McClay awarding the Te Puke Jewellers trophy for the DMS ProGrowers Supreme Theme Prize to Rangiuru School principal Mike Gullick accompanied by wife Emily and daughter Lark. Photo: Supplied
"We were super stoked when we took out the school category and then when we were announced as the winners of the supreme award we just felt over the moon," says Rangiuru School principal Mike Gullick. "It's great to see the judges really appreciated our eco-friendly, natural approach to the kiwifruit Christmas theme."
"The judges said they were impressed with Rangiuru Float's use of natural materials and environmental message," says Epic Te Puke's marketing manager Rebecca Larsen.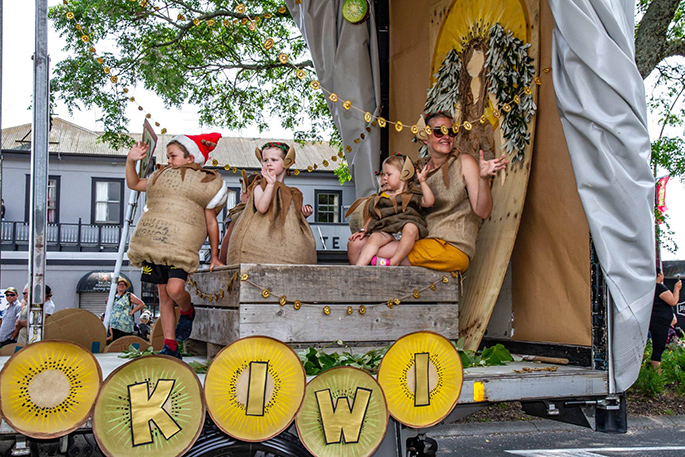 The Rangiuru School float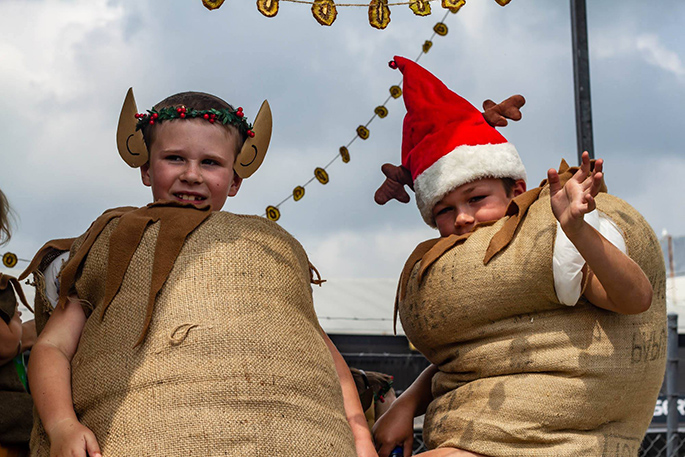 Pupils from Rangiuru School on their winning float
Te Ranga School won second place in the Ultimate Motor Group – Education category, with Fairhaven School in third place.
Rebecca was delighted to see that the weather dial was turned to 'fine' for the parade, as last year it had to be postponed.
"It was a fabulous day, brilliant weather the floats were fantastic!" says Rebecca.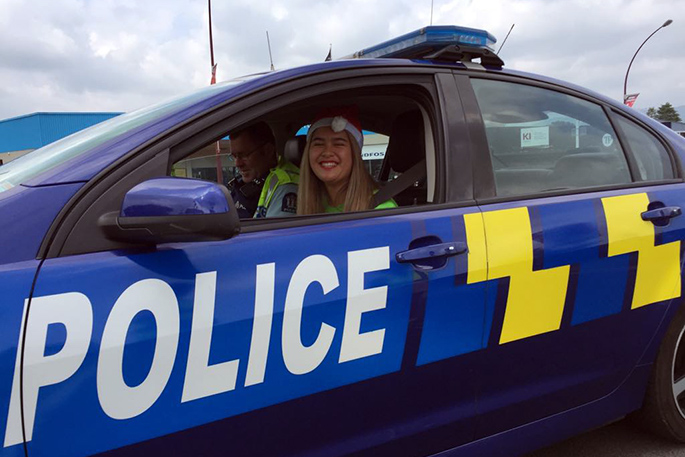 Te Puke Ambassador Awatea Waaka in the police car
Te Puke's Kiwifruit Ambassador Awatea Waaka, who plans to become a Police woman, opened the parade with Police Sergeant Mike Owen, while Hollie Snell rode with Santa on his float.
This time last year, Hollie was on life support following a car accident on November 18, 2018.
"Last year we actually did a haka for Holly after the parade, to show her family the support from our community," says Rebecca.
"Nobody really thought she was going to make it. It was a really horrible time for the family, but this year she's coming along with us, which is amazing.
"Each year we have a tradition of having a young battler on our Santa float. Usually a child who is deserving of a special experience, who may have gone through something difficult. We want to give them a magical experience.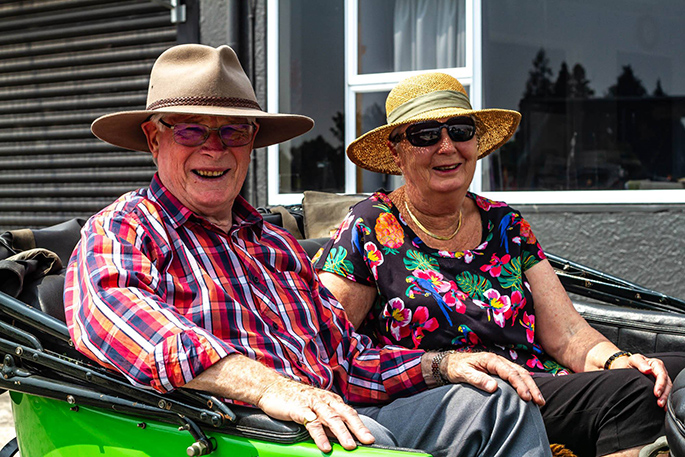 Western Bay of Plenty Mayor Garry Webber and his wife Carole riding in the parade
The AFFCO Rangiuru - Community Organisations category of the parade was won by Te Puke Scouts, with Te Puke Toy Library in second place and Te Puke Baptist Church coming third.
The Zespri International - Business and Commercial section was won by 4 Woods ECE, with second place going to St Andrews Preschool, and third place to Cool Logic.