One afternoon in late September I discovered the Sumer Gallery while walking through the Waihirere Lane, an alleyway between Wharf St and Spring St. I was taking a short cut on my way to the library.
Tauranga art lover Pete Morris had already added me to the Sumer database so I'd been receiving their gallery email updates, and had been meaning to go find it. I couldn't recall ever seeing a gallery tucked away down the lane, but there it was, the exterior walls featuring a wall painting by Jan van der Ploeg.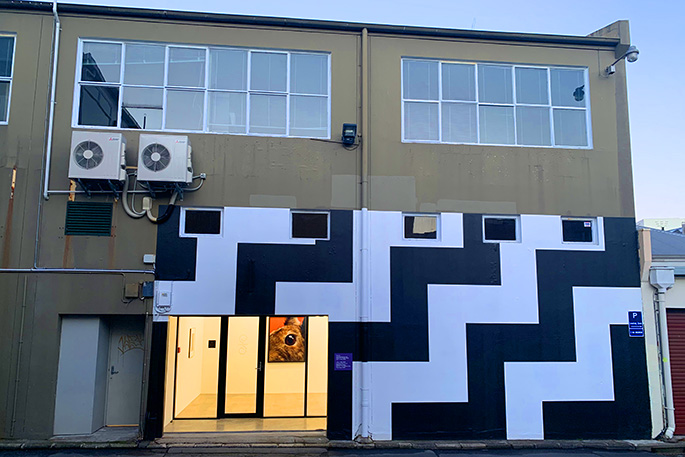 Exterior wall of Sumer Gallery features a painting by Jan van der Ploeg
"We opened in November last year," say Sumer directors Daniel du Bern and Courtney Lucas.
Sumer is simply a stunning commercial art gallery presenting contemporary art from established and emerging artists working both in New Zealand and internationally.
I find myself stepping into a space that is beyond exceptional. It could be Melbourne or Wellington, yet, wonderfully, it's here.
Their September exhibition showcased works from Michael Lett, a leading gallery from Auckland, including Dan Arps, Shane Cotton, Simon Denny, Kate Newby, Michael Parekowhai, Sriwhana Spong and Peter Stichbury.
"We were looking for a space for a couple of years, and then this place came up. We thought it was ideal," says Daniel.
He's right, it's perfect.
"We wanted to do a top flight gallery here."
It's clear that Daniel and Courtney take themselves seriously, and are showing serious works. I love it.
Now a new show hangs at Sumer. Along the walls hang dappled and softly sensual works by Raukura Turei. The colour palette shows a merging of subtle shades that seem to flicker as light plays across the textural pieces. A fluid vibrancy in her artworks emits life and gentle intimacy.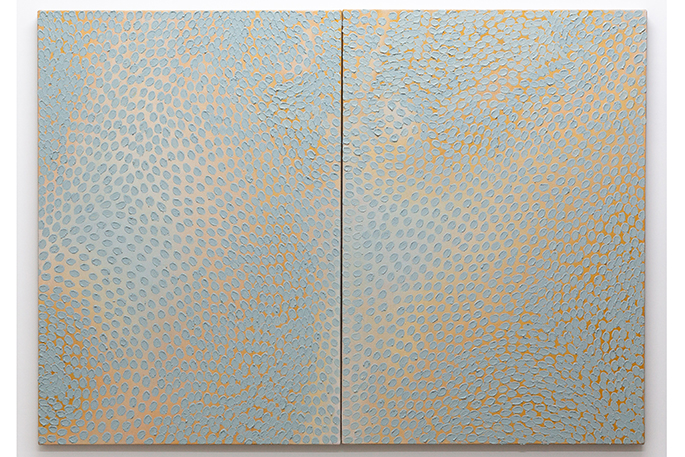 A protean creator, Raukura is a conversant and multi-disciplined artist, architect and designer based in NZ. She received her Master of Architecture from the University of Auckland in 2011 and registered as an architect with the NZRAB in 2015.
Her art work has been exhibited throughout New Zealand including Objectspace, Auckland and the Adam Art Gallery, Wellington and internationally at the Tokyo Art Fair, in March 2019.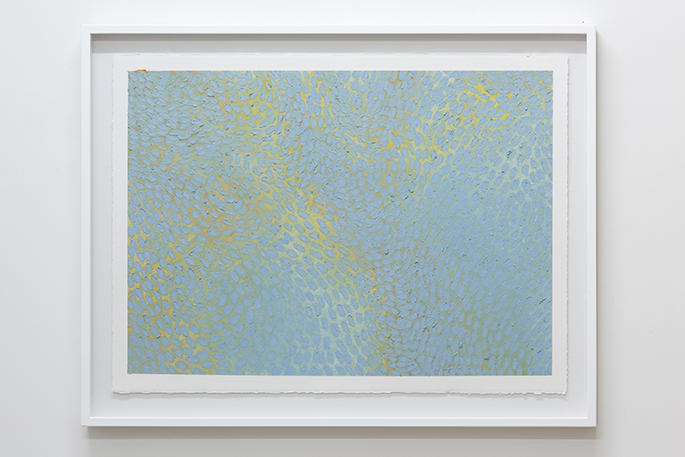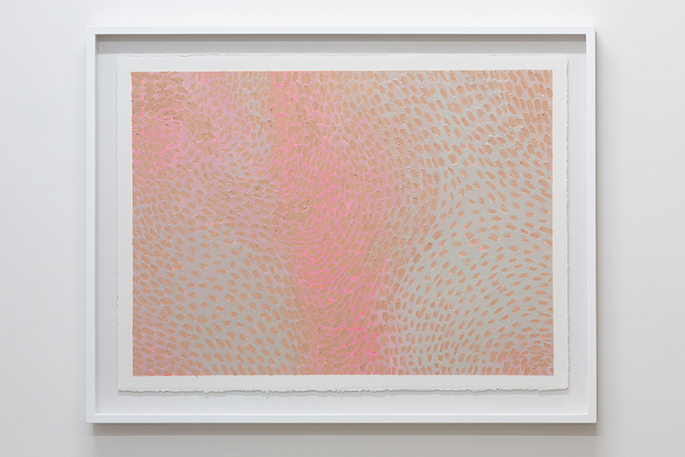 In her artist statement about her series 'Te poho o Hine-Ruhi', on show at Sumer until mid-November, Raukura states it "concerns itself with female sexuality and body sovereignty, through the act of self-scrutiny (of my own skin); with the intention to engage and empower other women".
There is movement - a dance - through the work, with tonal plays of colour expressed through large stippled patterns and softly graded glowing shadows.
The artist has used uku kahurangi or blue clay, known also as 'aumoana' which she has collected from the banks of a river that flows into the Hauraki Gulf.
"Working with this clay connects me to my tipuna," says Raukura. "The whanau recount stories of their Kuia using it as a clay mask for the skin. The aumoana was coated on the bodies of the Karohiroh i— the Light Dancers — during their performances, in which they emulated the movements of atua, such as Hine-te-Iwaiwa, Tane-Rore, Hine-Ruhi and others."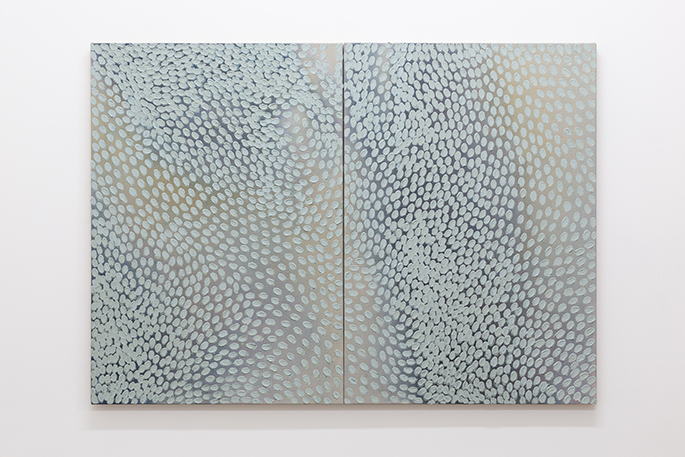 Connections to traditional ways of making, in her own practice, are evident in the direct use of the hand in the making process. After being collected, clay is soaked and rubbed to a soft sludge and an acrylic binder is added to form a pliable paint medium, which is robust and inert once dry. The clay is applied, with either the fore finger or palm in repetitive mark making.
Several layers of clay build up a textural quality to the surface. The meditative qualities of the process are reflected in the colour fields of light and shadow which evoke landscapes, a body, skin, dappled water and the flickering light of dawn.
"The duality of two states of being, merging at a point of transition as one bleeds into the other. I liken this state of dissolve to the works of Joseph Turner whose watercolours atomised form in a dissolve of sky and sea. The dissolve of the body into a landscape," says Raukura.
Her soft saxe azures, salmon pinks and hushed sage greens soothe and relax the mind and draw the eyes into the deeper layers.
The quality of work that Daniel and Courtney are introducing to the Tauranga public through their gallery has been quietly growing an appreciative following amongst local art collectors.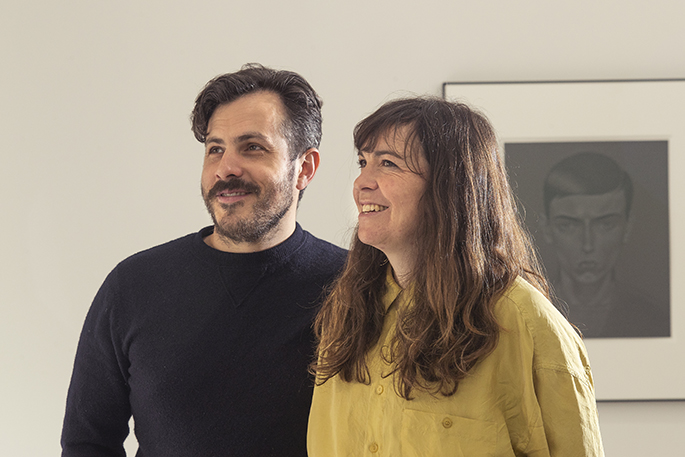 Sumer directors Daniel du Bern and Courtney Lucas. Photo: John Borren
"I was working as an art adviser for private clients here, and we decided that it would be a great opportunity to get this space. And so here we are," says Daniel.
Courtney works as a picture framer and Daniel has an art services company which offers art advisory, installation and fragile transport.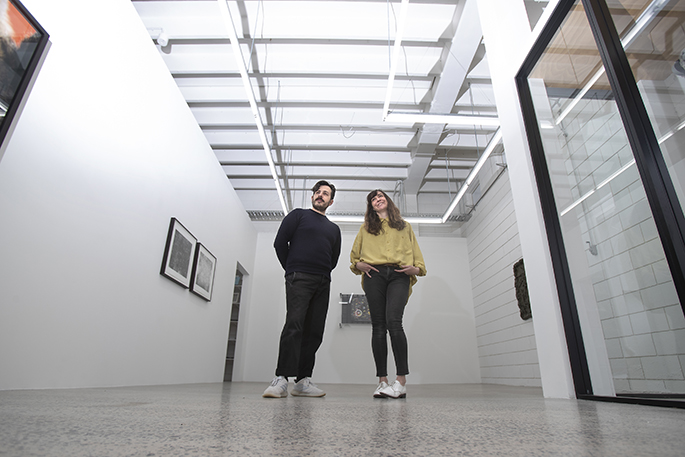 Sumer directors Daniel du Bern and Courtney Lucas. Photo: John Borren
Sumer –www.sumer.co.nz - is open Wednesday to Friday from 10am – 3pm, and Saturday from 11am – 2pm. I've now subscribed to their website, liked their Facebook page and found their Instagram.
Raukura Turei's exhibition 'Te poho o Hine-Ruhi' runs from October 19 to November 16, 2019.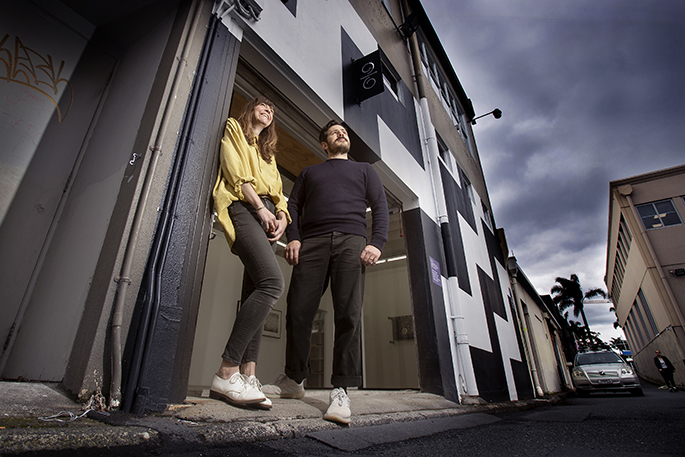 Sumer directors Courtney Lucas and Daniel du Bern. Photo: John Borren