One hundred and twenty years ago in 1898, a group of ladies gathered to stitch together in the Fencible Cottage at The Elms. Linking that past to the present, on September 20 2017, Faye Laing, a long-time member of the Tauranga Embroiderers Guild inserted the first stitch for a historical panel that features The Elms and commemorates Tauranga's early history.
The panel is one of about 90 panels being stitched by groups around NZ as part of a project to depict the history of NZ in stitch.
In 2010 Otago businessman Fred Haslan approached then President of the Otago Embroiderers' Guild, Jeanette Trotman, with the embroidery idea. The Tapestry Trust was formed.
Almost 20 panels have been completed, many of them by embroiderers who are members the Association of NZ Embroiderers' Guilds.
Each group was asked for panel concepts before a designer put pen to paper. The final design was approved by the stitchers before being drawn on the specially woven wool produced by a Lower Hutt mill.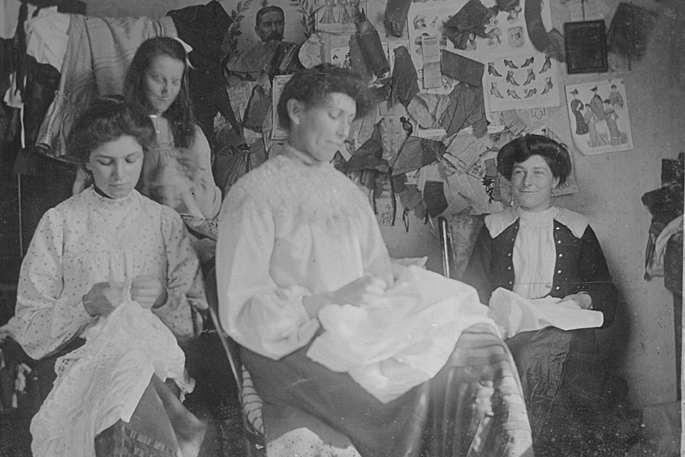 Sewing party 1898 in the Fencible cottage, Tauranga. From left Horne, Davies, Maria Harvey, nee Bickers, Connie Norris. Reference: Tauranga City Libraries Image Number: 01-617.
Tauranga's panel has taken members of the Tauranga Embroiderers' Guild two years to complete.
"We would like to thank the staff at The Elms for their willingness to let us stitch in the Fencible Cottage, where it is recorded that local women stitched in the late 19th Century," says guild member Linda Inglis.
"How wonderful to follow in their footsteps. As we embroidered, the work has been enthusiastically viewed by many school groups, cruise ship passengers from all over the world and locals.
"We have enjoyed the collaborative nature of the project, which has given some members the opportunity to work on a public work for the first time."
The completed tapestry will be on display at The Elms from Wednesday November 13 to Sunday November 17.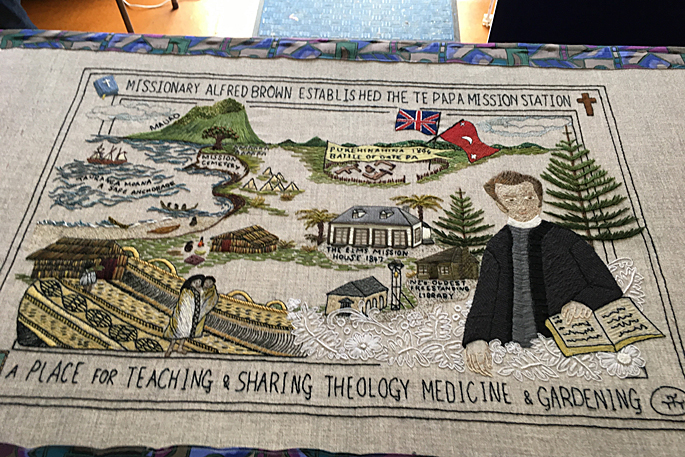 The completed tapestry