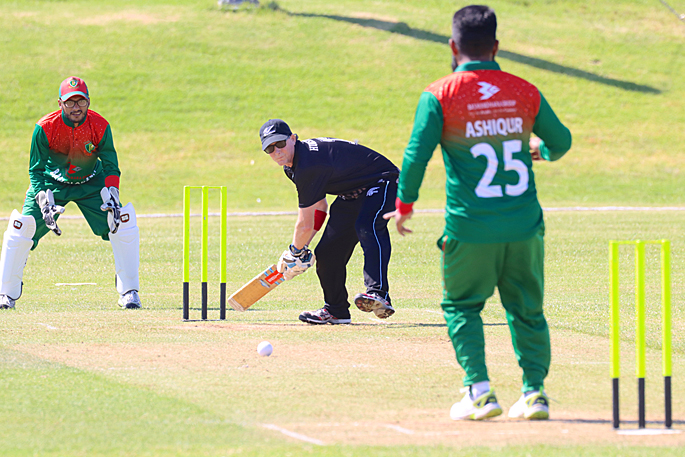 Click the image above to watch the video
It looks like a regular game of Twenty20 cricket between New Zealand and Bangladesh but it has one major difference - the players are blind.
This is the first international series the Blindcaps have hosted in New Zealand and they are excited by the opportunity to play in front of friends and family at Blake Park in Mount Maunganui.
Blind cricket relies heavily on sound, the ball is plastic and contains ball bearings so it rattles when moving and the players call when bowling or throwing to each other.
The wickets are metal so they make a distinct sound when hit and the stumps are painted so players with a higher level of sight can see them.
Players are categorised by their level of sight, B1 have no light perception in either eye and are unable to recognise the shape of a hand at any distance, B2 can recognise the shape of a hand up to a visual acuity of 2/20, B3 players have visual acuity from 2/20 up to 6/20 or a visual field of less than 20 degrees.
The team of 11 must consist of a minimum of four B1 players and a maximum of four B3 players.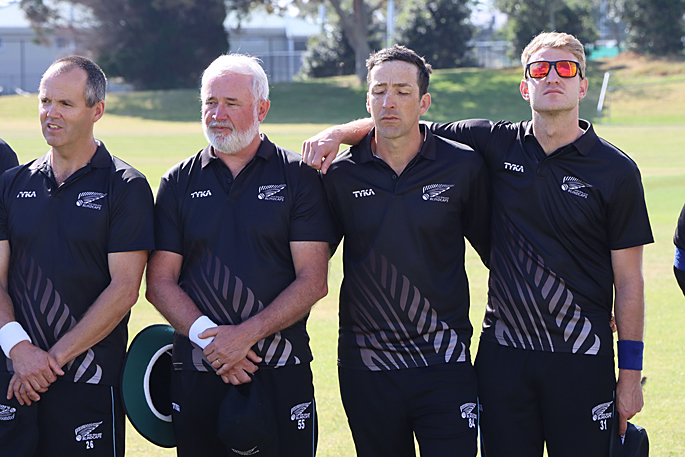 Blindcaps captain and coach, James Dunn has been playing for 20 years and this is the first time he's played for the Blindcaps at home.
"It's a big thing inviting Bangladesh over here. To actually play at home in front of friends and family is great."
James is classed as B2 and has tunnel vision.
"It's like looking through a pinhole or paper towel roll and that's less than a five degree field.
"So technically it's good for cricket when you're batting because you're looking straight down the pitch but out in the field you're sort of listening then tracking with the eyes.
"I've got to work the eyes and ears together."
He says communication on the field is key to a successful game.
"If no one's talking, that's when accidents happen and we don't like the accidents.
"Bowling wise is always communication from the keeper, he's talking all the time. So the ones that can't see or can barely see just track on to him, lock onto him with ears and eyes."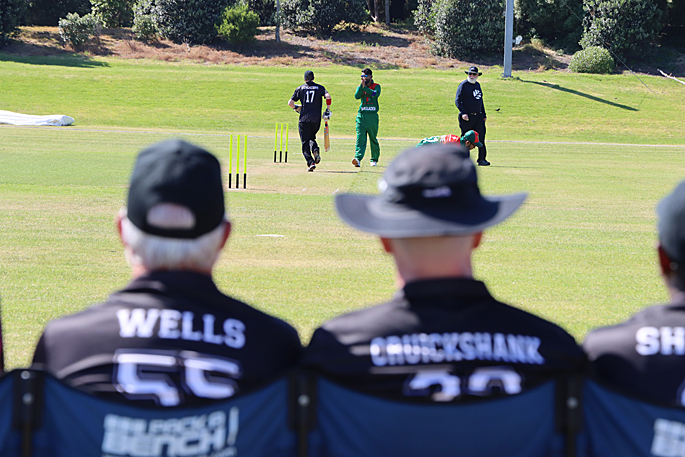 The teams are playing five T20 games from today until Sunday at Blake Park.
Bangladesh player Nazmul Kabir says the team is excited to tour a country outside of Asia.
"We're very looking forward to this match and this tournament actually, we have travelled a lot because we have travelled more than 23 hours to get here. We are very eager to play this game"
The team has been preparing for the last five months for the match. They are in New Zealand for six days and will visit a few other places before heading home.
Umpire for the matches Chris Ive says umpiring blind cricket is similar to sighted cricket except for the verbal cues and where the ball bounces on the pitch.
"There's a lot more things that to look at, so when the bowler is a bowling up they're going to say play before they release the ball.
"So that's something you can listen to, you've also got to watch where the ball bounces because it has to bounce either side of the halfway line."
Chris has been involved with blind cricket in Australia since 1990 and did the first world cup in 1998, he says blind cricket is growing internationally.
"Blind cricket around the world has risen to really big heights so much so that most of the Pakistani and Indian players are professionals. The world is open for blind cricketers."
Blindcaps vice-captain and New Zealand Blind Cricket board chair Donna McCaskill is heavily involved in organising the tour and says they invited Bangladesh because they knew they would be able to get the support to tour.
"It's an opportunity for our players to have their families watching them, but it also proves to us that we can host an international team beyond Australia."
The Blindcaps are self-funded so use crowd funding through Givealittle and fundraising to pay for tours. They are touring South Africa in February 2020 as well.