The Mount Maunganui little blue penguin population appears to be in trouble, as chicks and eggs are disappearing.
"It's quite worrisome what's happening," says Western Bay Wildlife Trust Chairperson Melissa McLuskie, as she returns from monitoring the penguins' burrows.
"This breeding season the penguins are not doing very well. We've noticed a decline in the number of nesting birds and we've also found nests that have had eggs and chicks go missing. They're most likely being predated on by some unknown predator."
In the past there has been issues with cats and dogs on Moturiki Island and Mauao, but the wildlife trust are not quite sure what is causing the population of little blue penguins to be decimated this time.
"We are suspecting it is a cat but it's possible that it could be some other predator or a combination of predators."
The wildlife trust is needing to urgently raise funds to establish an effective monitoring programme so they can investigate and learn what is happening.
There are other serious issues too. The penguins are also having to deal with the continual dumping of rubbish and fishing lines.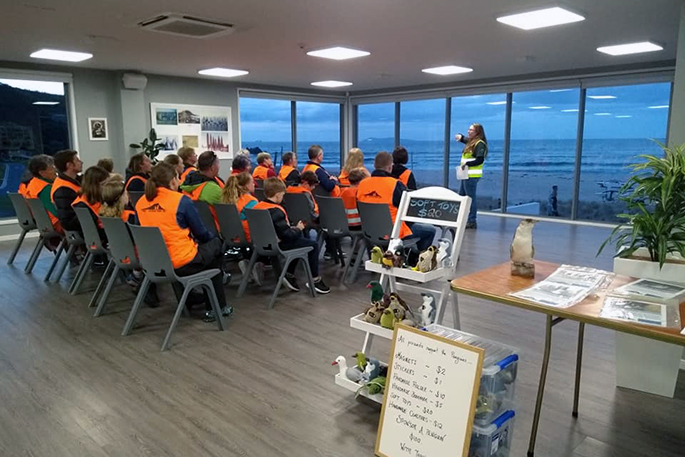 Western Bay Wildlife Trust Conservation Week night tours briefing at Mount Surf Club.
"Maia, an adult penguin named for her bravery, was sitting directly on top of two large shards of glass from broken bottles and a fishing line. That's also where her chick was the week before. Maia lost her baby!" says Melissa.
That chick has now gone, probably taken by a predator Melissa thinks.
"I have found quite a few nests with plastic in them that are in areas where it would be very tricky for the plastic to be blown into, so it's looking like the penguins are possibly using plastic to build their nests."
The season started off quite hopeful for the monitoring team. On August 27, the Western Bay Wildlife Trust reported some good news.
"We're so excited to announce we have our first penguin eggs of the season," wrote Melissa in a Facebook post. Less than two months later and the newly hatched chicks have gone.
The trust has a long-term Department of Conservation permit to monitor the little blue penguins.
"The research that we are doing is to try and help us understand the population status of our penguins and any threats that they are facing," says Melissa. "We need that information to be able to protect them. At the moment we are building up the micro-chipped population because that enables us to keep track of the individuals, especially when it comes to their breeding."
The costs of undertaking research are high though, and the wildlife trust needs help.
"There's a lot of cost involved for us to do the work that we're doing and much of that cost is equipment and manpower. We do our best with the resources we have and are so grateful for our dedicated volunteers and supporters."
Apart from financially supporting the Western Bay Wildlife Trust through their Givealittle page, there are three immediate ways that people can help keep the little blue penguins safe.
Keeping cats indoors at night is an easy helpful action.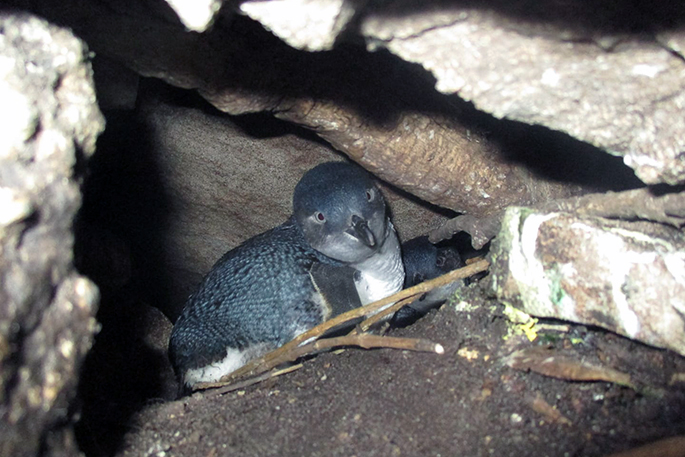 A little blue penguin in its burrow.
"Then they can't go out and hunt wild life. We suspect a cat is possibly taking the chicks and also predating on other wildlife. We really need monitoring equipment put in place so we find out exactly what is happening."
In the meantime, owners micro-chipping their cats means that the pets are then easily identifiable as domestic cats.
"The second way to help protect the little blue penguins is for Mount Maunganui residents to get involved with backyard trapping through Predator Free Bay of Plenty. This will help reduce the pressure of rats or any other mustelids that are around."
With the sponsorship by Bay of Plenty Regional Council, Tauranga City Council, Western Bay of Plenty District Council, Envirohub, NZ Landcare Trust, Bay Conservation Alliance and the Department of Conservation, Predator Free Bay of Plenty gives away traps to those living in Tauranga City and the Western Bay. The goal is to have 12,000 traps in the backyards of one in five houses, in order to see a significant impact on pests, and the return of native birds. Predator Free Bay of Plenty community groups have been started, but so far there are none based at Mount Maunganui.
"Predator Free Bay of Plenty has targeted Tauranga suburb by suburb so we're hoping to push that at the Mount too over the next little while," says Melissa.
The third way that people can help is to become more aware of the dog ban zones.
"I find that almost every time I go nest monitoring I need to advise somebody who's walking their dog right next to breeding areas," says Melissa who says that near Moturiki is a main problem area.
"I'm sure most people would actually hate to be responsible for their dog killing a baby penguin.
"Being responsible when out fishing, picking up trash whenever you see it and being mindful at home about reducing your waste can really help make a huge difference to a penguin like Maia."
To help raise much needed funds for Western Bay Wildlife Trust to safeguard the future of little blue penguins at Mount Maunganui, a Givealitte page has been set up. Anyone can also become a member of Western Bay Wildlife Trust or Sponsor-A-Penguin on their website www.westernbaywildlife.nz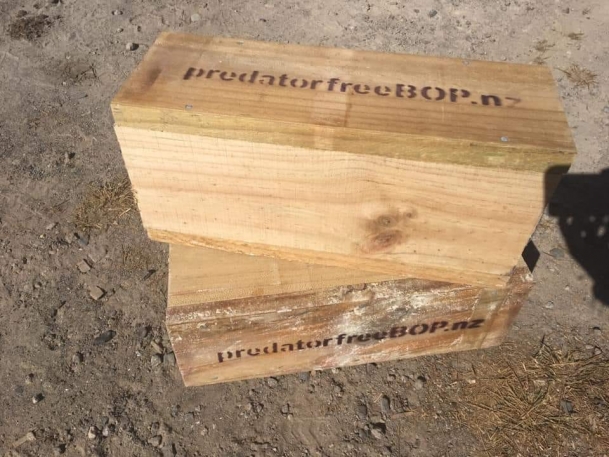 Predator Free BOP traps which are available free to Tauranga, Mount Maunganui and Western Bay residents.