Stan van den Hoven, Chris Eves and Joe Johnson are set to make their Steamers debut today against Manawatu at Tauranga Domain.
The match will be the final Mitre 10 Cup Round Robin game for 2019 and is a 'don't miss' for Bay of Plenty rugby fans.
To add to the excitement, there will be a double header against Manawatu with the Volcanix kicking off at 12.35pm followed by the Steamers game at 2.35pm.
The Manawatu Cyclones have a tough job ahead as they go head to head in the Farah Palmer Cup match today against Bay of Plenty. The Cyclones need to win at least one of their last two games to ensure they don't drop from the premiership down to the championship. They are last in the premiership, without a win, and suffered a big 50-26 loss to Auckland last weekend.
Layla Te Riini will make her debut against the Manawatu Cyclones today in this Volcanix final round robin home game.
Bay of Plenty Volcanix are in fifth place ahead of Manwatu and will be playing defending champions Canterbury in the final round.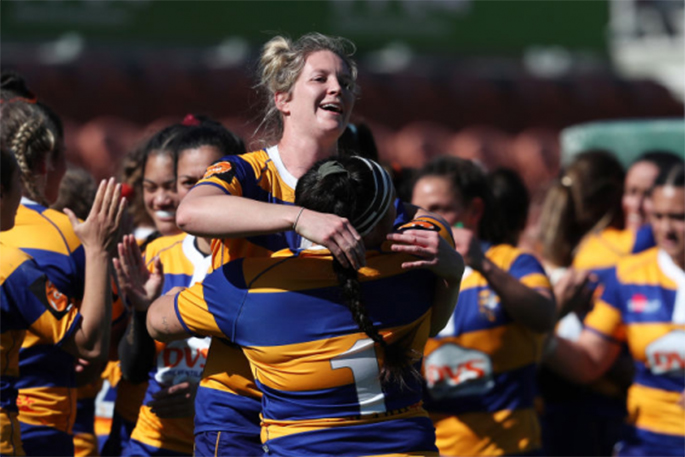 Volcanix
Volcanix coach Rodney Gibbs says he'll know by 2pm Saturday if having a week off affected his team for their clash against Manawatu.
Rodney's side got their first win of the Farah Palmer Cup season, narrowly beating Waikato 26-21, two weeks ago. The coach says, it's a 50/50 call whether last week's bye will benefit or hinder their progress.
"It's hard to say whether it's hurt us or not. We had built quite nicely up to our win over Waikato. We had a couple of reasonably close losses and then that win. It would have been nice to keep a little bit of momentum.
"But on the other hand, we are at the point of the season where we have a couple of little niggles. So, it's good to have the break. I'll know more on Saturday afternoon, whether it's been good or not."
What the coach is happy about is how his team has stayed focused and hungry for their clash. The side will open the Double Header at Tauranga Domain on Saturday at 12.35pm. Then, the Steamers will take on Manawatu at 2.35pm.
"You can't fault the girls. Their enthusiasm has been great all year. They have never dropped their heads and haven't gotten too despondent about a close loss. They pick themselves up quick and they enjoy the game.
"It's just about trying to provide a forum for them to get better, and if they can do that and come out and enjoy doing a bit of hard mahi, it then comes down to them on the day. So, if we can continue doing that and I'm seeing progress on a weekly basis, then that's great."
Rodney has stuck with pretty much the same team that claimed the Chiefs' Country Cup off Waikato.
"It's not too far away from the team that played Waikato. We've had a change or two on the bench because we have a couple who have niggly injuries."
The coach will look to give debutant Layla Te Riini an opportunity in the midfield, after Azalleyah Maaka injured her ankle in their win over Waikato.
Rodney says, the side has gained a lot of confidence from their win.
"I think the main thing for the girls is the confidence. When you get on the right side of the ledger, that creates confidence and belief - knowing that they can do it.
"All the teams are pretty close. We probably got outplayed a little bit by Auckland in the first half of that game. But outside of that, to this point, we've been pretty competitive."
The coach says Manawatu will be a good challenge for the Volcanix.
"They have got some pretty good footballers and good midfielders. Obviously, Selica Winiata playing at 10, is very clever. So, we are going to have to be good at retaining possession. If they get enough possession, they're going to be pretty dangerous."
Volcanix midfielder Layla Te Riini makes her debut and halfback Jade Tuilaepa reaches a special milestone, when she plays her blazer game on Saturday.
Mitre 10 Cup Championship – Bay of Plenty Steamers v Manawatu
Steamers coach Clayton McMillan says his side isn't getting ahead of themselves as they prepare for their clash with Manawatu.

Currently, the Steamers (31) sit second on the Mitre 10 Cup Championship Table, three points behind Hawke's Bay (34). The side has the potential to take the top spot if they beat Manawatu and Hawke's Bay lose to Tasman.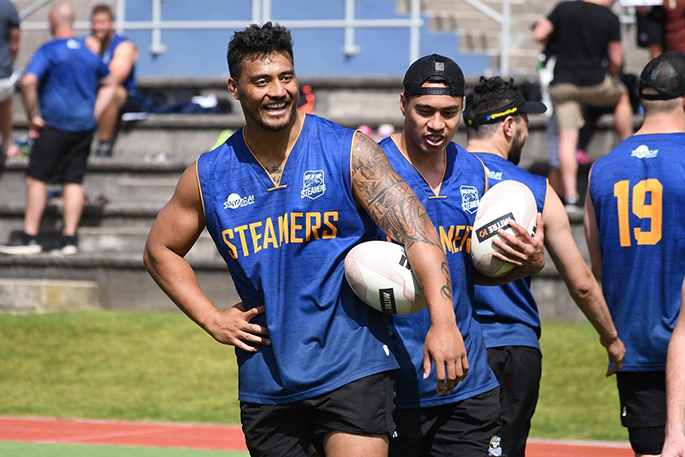 But McMillan says the side is purely focused on their game against Manawatu at Tauranga Domain today at 2.35pm.

"I'm not too focused on where we finish on the points table. We know we can take the lead. But ultimately, we must keep performing to make that a reality.

"So, we can't worry about what's happening with Hawke's Bay. We just have to respect the opposition teams we have over the next couple of weeks and not become complacent."

Clayton says it was important not to get too far ahead of themselves.

"Our experience in the past has seen us start the season well and then we've dropped the ball, or we have not started so well and come home with a wet sail.

"We want to avoid both those situations and get consistency with our performance and take one game at a time. That has been our focus this season."

Stan van den Hoven, Chris Eves and Joe Johnson will make their Steamers' debut from the bench and McMillan says, the trio has shown great commitment to the team, biding their time for an opportunity to get a chance to play.

"They are naturally excited. But they have prepared this week, the same way they have every week. It's not easy to be involved with a team and not being named week in and week out.

"But they have shown great commitment to training and community engagement. Their teammates are excited for them because they know how hard they have worked to earn their spot."

Clayton says he is expecting a tough encounter against Manawatu.

"They are the most improved side in the competition over the last couple of weeks. They had a slow start to the season. But they have started to find some form, they had a good victory over Canterbury, down there, which isn't an easy feat.

"They are a much-improved side and have a smart coach and a really good roster. If they can keep all their players out on the field, they will be a threat."
Other Bay of Plenty Rugby matches this week:
Round One of the Te Hiku o te Ika; Northern Region Maori Rugby also kicks off today at Rotorua International Stadium. The matches start at 12pm.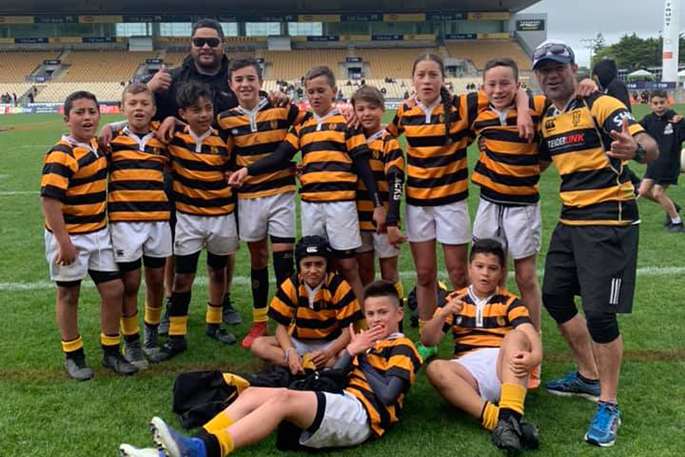 Waikite U11s
This week the Waikite U11s took out the NZ Junior Sevens Tournament in New Plymouth.
"They won every game beating teams from all areas of the North Island. They had so much fun and represented the club with true passion. What a way to end the rugby season," says fan Stevie Wall on the Waikite JRC Facebook page.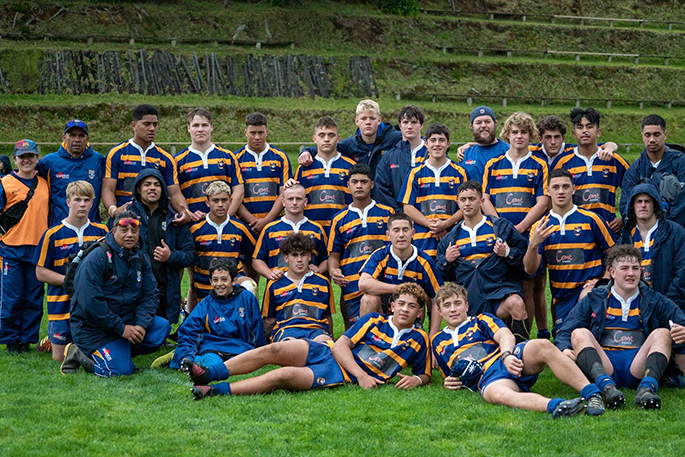 Bay of Plenty Under 16s team
The Bay of Plenty Under 16's wrapped up their season at the University of Waikato Chiefs Region Under 16 Tournament held in New Plymouth this week.
University of Waikato Chiefs Region Under 16 Tournament results:
Monday September 30:
Counties Manukau 28 vs Bay of Plenty 8
Tuesday October 1:
Bay of Plenty 12 vs Waikato 33
Thursday October 3:
Taranaki 17 vs Bay of Plenty 27
Bay of Plenty Volcanix
1. Angel Mulu (10)
2. Luka Connor (29)
3. Janina Khan (35)
4. Karli Faneva (4)
5. Kelsie Wills (4)
6. Kendra Reynolds (C) (29)
7. Tynealle Fitzgerald (VC) (8)
8. Natalie Delamere (11)
9. Jade Tuilaepa ** (14)
10. Arorangi Tauranga (3)
11. Autumn-Rain Stephens-Daly (20)
12. Layla Te Riini * (0)
13. Danielle Paenga (4)
14. Natalie Walford (4)
15. Sapphire Tapsell (24)
16. Lily Florence (24)
17. Baye Jacob (22)
18. Braxton Walker (10)
19. Tracey Lemon (3)
20. Christie Yule (23)
21. Tania-Rose Raharuhi (18)
* Denotes debut
** Denotes blazer game – 15 games
() Denotes games played
Team subject to change
Bay of Plenty Steamers
1. Aidan Ross (C) (32)
2. Kurt Eklund (8)
3. Ross Geldenhuys (16)
4. Baden Wardlaw (16)
5. Alex Ainley (6)
6. Aaron Carroll (17)
7. Hugh Blake (32)
8. Hoani Matenga (16)
9. Richard Judd (25)
10. Kaleb Trask (12)
11. Joe Ravouvou (6)
12. Chase Tiatia (43)
13. Mathew Skipwith-Garland (15)
14. Emoni Narawa (9)
15. Pryor Collier (3)

16. Nathan Vella (5)
17. Tevita Mafileo (7)
18. Chris Eves* (0)
19. Stan van den Hoven* (0)
20. Abraham Papali'i (4)
21. Joe Johnson* (0)
22. Leroy Carter (7)
23. Jason Robertson (11)
* Denotes debut
** Denotes blazer game – 15 games
() Denotes games played
Team subject to change
Game Details:
Bay of Plenty Double Header
Saturday October 5
Gates open at 12pm

Farah Palmer Cup:
Bay of Plenty Volcanix v Manawatu
Kick-off 12.35pm

Mitre 10 Cup:
Bay of Plenty Steamers v Manawatu
Kick-off 2.35pm