Give the Bay of Plenty Steamers an hour to clean up your backyard and they can do just that.
Alongside Good Neighbour, members of the rugby team helped tidy up a family in needs backyard, filling up three skip bins of rubbish, a skip full of metal and a skip full of concrete.
The owner of the property has been going through a bit of a hard time since his wife died around seven years ago. His daughter says that her mum was the one that was always out and about in the garden.
Steamers Lock Baden Wardlaw says the boys are happy to help out where they can in the community.
No. eight/lock Hoani Matenga says it's all about getting a bit of Mahi done.
'It's also a bit of training done to with some rocks.
'It's bonding but it also feels good when you're giving back to the community and to people that need a bit of help," he says.
Project manager for Good Neighbour Todd Rowling says their aim is to get out into the community and help those people that are really struggling, to provide them with a bit of encouragement and some hope.
'So we come when they are overwhelmed with their lawns or their rubbish or it could be even shifting house, and just bring in a whole lot of volunteers.
'We came to this family and they just needed a lot of help. The dad has been struggling a little bit since his wife died some time ago and just a lot of household good had accumulated.
'We have a great association with the Bay of Plenty Rugby association and they provided the Steamers which came and gave us the man power to really smash this project out," says Todd.
The property owners daughter says it was just amazing watching the backyard transform before her eyes.
She says she is usually quite talkative but she couldn't find the words to speak.
'Thank you just isn't enough," she says.
'We are just giving back to the community. We are pretty big on trying to do that and play our part," says halfback Luke Campbell.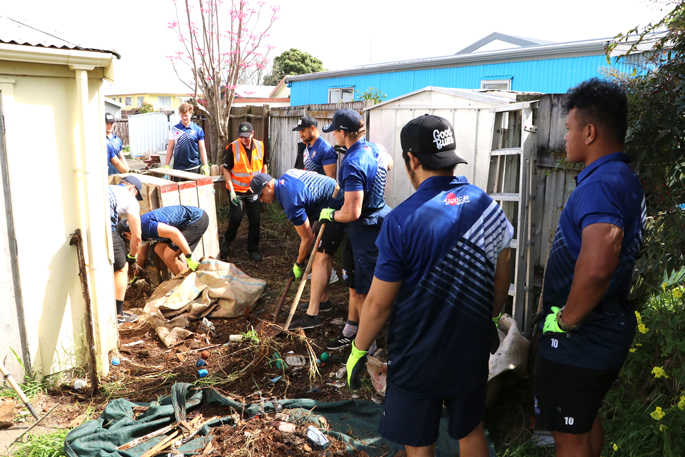 'Just get out and lend a hand when we can. It feels good to personally just to be able to do something good for them and help them."
'It's been awesome to put our hand up and get involved with the community," says prop Tom McHugh.
'Anything we can do to get into the community and try hep and grow our community, as a team we see that as a positive, so it's an awesome experience for us to all get to know a bit more people in our community."
This year, it's the battle between the bays when the Bay of Plenty Steamers take on Hawkes Bay in a charity match at the Tauranga Domain on September 28.
Good Neighbour has been chosen by BNZ to fundraise and sell 1000 game tickets for just $10.
To get your match ticket and to support Good Neighbour, head to http://www.dashtickets.co.nz/ and use the promo code Good Neighbour" to get 1/2 price adult tickets.