A last minute decision to go for a walk on Moturiki Island, led to Adrian Hopcroft saving a girl from falling off the blowhole.
'It was pretty scary stuff we went for a walk on Leisure Island and a guy spotted a girl down by the blowhole on this little ledge, so I climbed down the cliff."
'I went straight down to her. I was a little bit scared a first because I didn't want to scare her off the ledge"
'Eventually she held her hand out and I grabbed her by the wrist and pulled her up."
His friend Nick Pedersen called emergency services while Adrian waited with the girl.
'She then rested on me for quite a while it was quite hard to get her up because she was really weak."
He says police, fire and emergency, ambulance and a rescue helicopter attended the incident.
Adrian says they used a stretcher to get her up the cliff because she was quite weak.
He says he wasn't concerned for his own safety.
'I wasn't worried about me, I'm quite good at climbing."
I'm a bit shaken, still in shock. I remember that feeling when I had her by the wrist I just didn't want to let go."
Earlier: Fire Emergency NZ has confirmed the rescue attempt on Moturiki Island was successful.
A SunLive photographer says a female patient was rescued by police and fire services and was seen walking to the ambulance.
Earlier 4pm: Emergency services are responding to an incident at Moturiki Island, Mount Maunganui.
A police spokesperson says they were called to the scene around 3:35pm following a report of a person needing medical attention.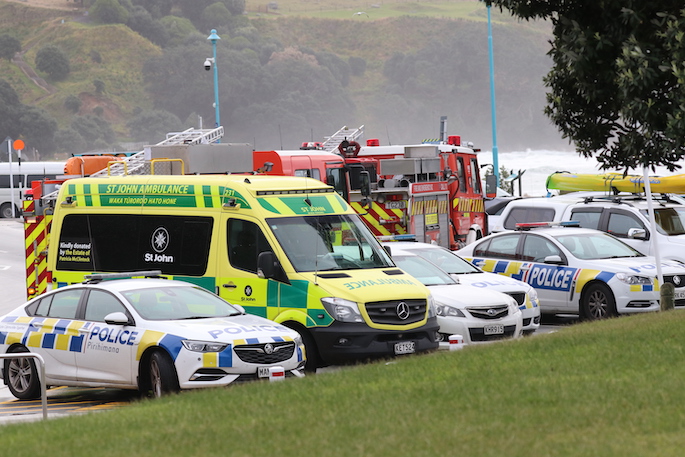 Fire Emergency northern communications shift manager Colin Underdown says they are attempting a rescue with a stokes basket and line rescue equipment.
A SunLive photographer at the scene says the seas are quite rough and there is a number of members of the public watching the rescue attempt.
SunLive will update information as it becomes available.
At the scene?
Call 0800 SUNLIVE or email photos to newsroom@thesun.co.nz