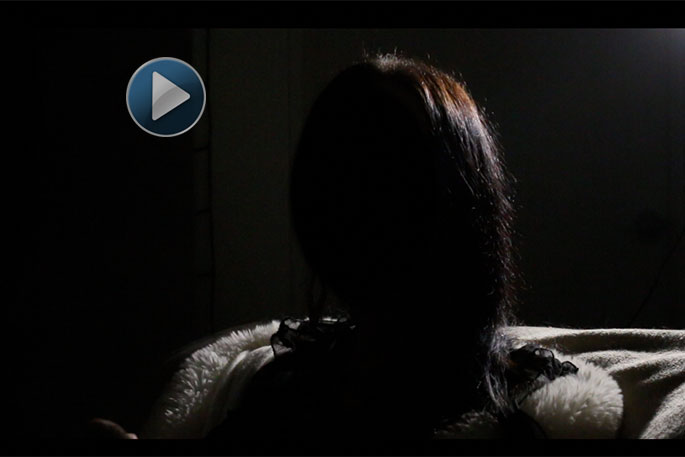 Click the image above to watch the video
WARNING: Some people might find the topics discussed in the video disturbing and viewer's discretion is advised.
It will be a year in October since a Tauranga woman experienced a serious assault in her own home.
Now, she has found it within her to share her story with others, to show that she is a survivor and others can be too.
The assault was captured on cameras installed in her living room when she ran a business from her home.
She had recommendations to put the cameras up to keep her safe.
The woman's ordeal began around 6pm on a Friday night and didn't end until 8am the following morning.
She says every time she went for an exit, it was made clear she wasn't allowed to leave.
"He had his arms around me and got me down onto the ground. He threw in a few kicks as well. The grip of his hands on my arms were extremely painful.
"I am thin, so a strong grip from the offender to me was just almost feeling like it was instant bruising.
"I became very aware that I needed to look for an exit point because this was not going to stop. He was getting worse, more aggressive, more aggravated, his words, his tone and his yelling were getting louder.
"I became concerned that I was not able to diffuse anything from that moment on," she says.
During that time, the woman was taking care of a four-week old puppy. The puppy soon became the victim of the offender's threats.
"His threat was, that if you love this dog so much then I'm going to take it away from you.
"In the surveillance recording, you will see the offender walking out of the kitchen, around my couch, into the lounge, leaning over into a plastic container with a blanket picking up the puppy and holding it in mid-air.
"I'm desperately trying to defuse this situation again, but knowing that this is serious now because he's actually got his hand on the four-week old puppy.
"It wasn't a verbal threat. It was now a physical threat."
The woman relives certain parts of the incident daily.
"I've had to remove split coffee stains from out of the carpets. I've had to throw away the clothing that I was wearing on the night.
"I'm trying to get some peace within myself, but because I'm still in this house, I just don't feel like I can.
She says because the assault happened in her home, it no longer feels like a home to her.
"It's just a house now. It's just a piece of property. It's got all my furniture in it. There is no emotional attachment to this house. It's not worthy of it."
To hear the full story, watch the video above.
SunLive has chosen not to share details of the offender for legal reasons.
WARNING: Some people might find the topics discussed in the video disturbing and viewer's discretion is advised.
Where to get help:
Safe to talk – a sexual harm helpline. 24/7, confidential, free. – 0800 044 334.
Women's Refuge Crisisline – 0800 733 843 (0800 REFUGE) (for women living with violence, or in fear, in their relationship or family)