A two-car collision in Cameron Rd on Friday night has left debris and broken signs strewn across a carpark and a roadside footpath.
"Emergency services attended a two-car crash outside the RSA Tauranga on Cameron Road last night," says a Police spokesperson.
Roy Sanders, a member of the RSA received a phone call about the crash on Saturday morning from a committee member who was on his way to work. On arriving, Roy discovered that the RSA and Oak Tree Restaurant signs were completely destroyed, and the steel pole which also held the Law Shop and Gaming Lounge signs had been bent sideways.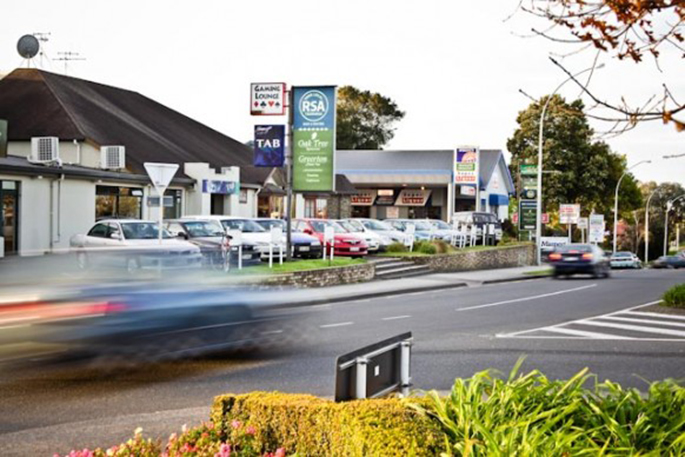 The sign, prior to the Law Shop sign replacing the TAB sign. The large blue RSA and green Oak Tree Restaurant signs have been destroyed. Photo: Tauranga RSA.
"From the amount of damage done, the cars must have been absolutely flying as there are huge concrete slabs pulled out of the ground around the sign," says Roy.
The president of the RSA Fred Milligan joined Roy to help clear up the debris and ensure the area was safe again for the public.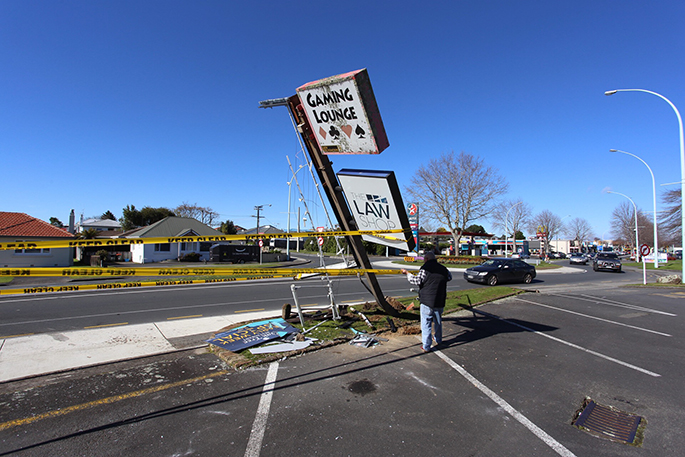 "It looks like one of the cars hit the roundabout and the edge of the carpark. Someone who got woken up across the road said the car landed back on its wheels and that a couple of other cars took off quickly. There must have been more than two cars going fast. There was lots of swearing and people shouting.
The collision was reported to Police about 1.05am.
"It appears the two cars crashed into each other, not the roundabout," says a Police spokesperson. "One person was assessed by ambulance and treated at the scene. The road was also blocked for a time."
"Our sign is in bits of pieces all over the ground," says Roy. "The car hit the solid steel pole and pushed the whole concrete footing out of the ground. The pole is really bent. He'd had to have hit it with some force to do the damage that's there."
The Tauranga RSA moved from its previous location next to Tauranga Hospital to its current location in Greerton about ten years ago.
"Fred and I have swept up all the glass, and we're waiting now for the power board to come check the wiring and make sure it's safe for the public," says Roy.
"I guess the good thing is we were needing a new sign anyway. The sign wasn't old but needed updating."