For a couple of years ago the mullets of Papamoa have wallowed in mediocrity.
"Probably middle of the road at best," says president of the Papamoa Football Club, Maaka. But today is their chance to soar, to be true to their sponsor's name, the Flying Mullet.
The Papamoa premier men's team is just 90 minutes from making history.
"If we beat Te Awamutu at Gordon Spratt Reserve tomorrow, we win The Soccer Shop WaiBOP premiership," says Maaka.
And to put that in some perspective, no Papamoa team has won the top division or league. It would be a monumental first.
"We're stoked. Obviously I am close to a lot of the players in the senior ranks, and I can tell you they are pretty fizzed up. Everyone's excited."
And all this has been achieved under the stewardship of player-coach Colm Kenny and coach Antony Meiklejohn in their first year of coaching at this level.
"It's been a massive effort, huge commitment," says Maaka.
"Training twice a week and travelling over to Hamilton, and the like, every other Saturday. And in terms of injury and availability, we've had to dig deep. Saw an email the other day – we've had 36 players involved in the first team this year."
The club is hoping for a good splash of suburb support – a good turnout of Papamoa club and footie fans in general at Gordon Spratt reserve at 2.45pm tomorrow, Saturday August 24.
"I'd like to see at least a couple of hundred people there."
Papamoa, which is eight points clear at the head of the table, face off in a return match with Te Awamutu, a team they beat 1-0 on a heavy track away back at the beginning of June.
The weather was expected to be a bit dodgy until the end of the week, but then fine. But the Gordon Spratt pitch has the reputation for being the best in Bay of Plenty by a country mile.
"It always holds up," reassures the president.
If the Papamoa premiers win, the history making is theirs.
"But if we draw or lose, then we may have to wait a couple of weeks while Taupo finish a couple of outstanding games. We could still win, but we would have to wait and see."
Then on Sunday the Papamoa Football Club have a chance to make it a one and two double for the season. The Tilemax women's team play out their W-League season against Whakatane also at Gordon Spratt at 1pm. They're expected to cement second spot in the league making it a memorable year for the seaside club.
"Papamoa Football Club – going places," says the proud president, Maaka Nelson.
The suburb is the biggest and fastest growing in Tauranga and the club is growing commensurately.
"We have 660 registered members – second biggest in the region behind Otumoetai with more than 800.
"But we are attracting 50 to 60 new players each year. So in three years we will be up there."
And of course the structures have to be in place to cope with that growth.
"It's been two years of changes. A lot of compliance and regulatory stuff, governance and strategic plans crucial for a big clubs success," says Maaka.
The PFC should have much of that ticked off in six months – just in time to prepare for a defence of the premiership title.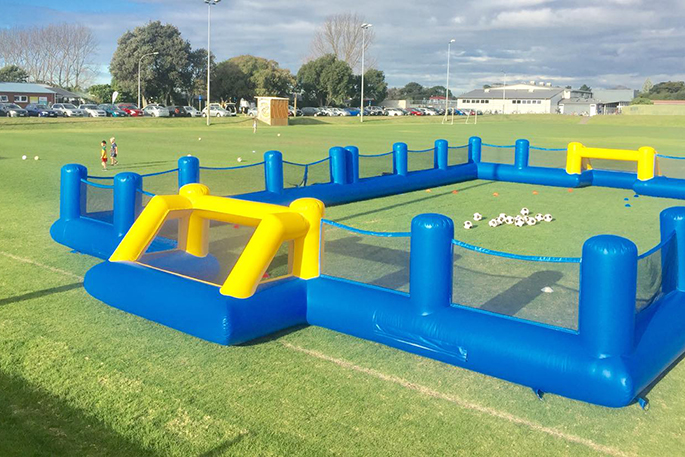 Fun First Football are providing their inflatable football field as well.