Lovers of art will be able to secure a masterpiece by a Bay of Plenty artist while also helping give a smile to children needing cleft lip and palate surgery.
Each year Eunice Chivers runs an Art Fest for the Ruel Foundation – Give a Smile, providing an opportunity to secure quality art while also helping raise funds for children in desperate need.
The Ruel Foundation is a fully registered international charity founded by a Tauranga man, David Cowie, after he visited Eastern Samar in the Philippines in 1999.
During his visit to a local hospital with the wife of the then Governor of Eastern Samar Annie Ambil, David came across a small boy named Ruel.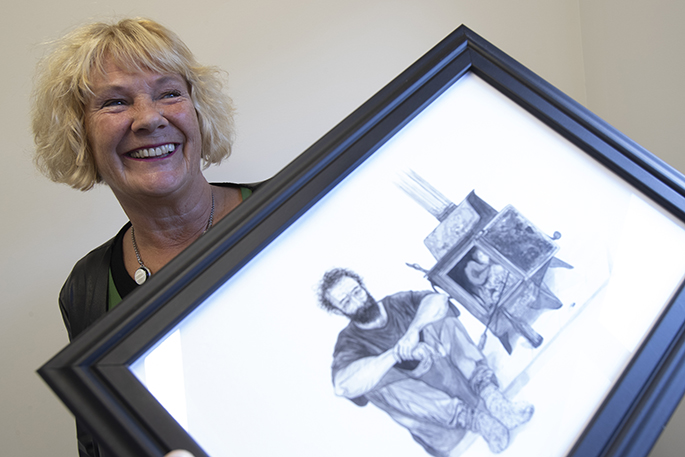 Eunice Chivers with one of the art works that will be on show at the Ruel Art Fest
"Ruel's small, emaciated body lay on a simple steel bed in the under-staffed and under-resourced facility," says David in his online account of the visit. "His face was scarred by a double cleft lip and palate, causing serious difficulty in swallowing. With his tiny body wracked with viruses and infections, Ruel was near death."
David raised the necessary funds for Ruel's surgery, while Annie and her husband ensured he received the food supplements he needed. Over the years, Ruel has made a full recovery.
Ruel's story was the founding of the Ruel Foundation, followed by the establishment of an orphanage and malnourished centre by another Tauranga lady, Pauline Curtis-Smith, in Calapan City, Oriental Mindoro, Philippines. Today thousands of children and their families in the Philippines, and the Fiji Islands have been helped through the Ruel Foundation – Give a Smile. They are providing life changing cleft lip and palate surgeries, quality care and education for orphaned and abandoned children, specialised care for malnourished babies and children, rescuing children in crisis and are providing 'forever families' through international adoptions.
This year the art will be on sale for two days over Saturday and Sunday August 24 and 25, followed by the auction on the Sunday at 2pm. Many respected artists are contributing their artwork for the annual Art Fest and auction this year.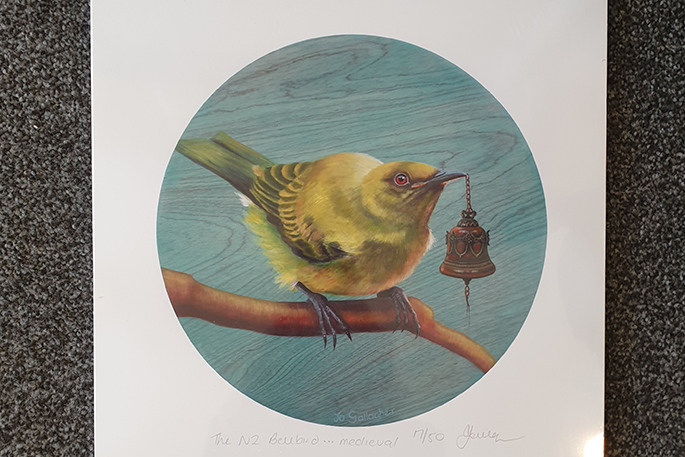 Bellbird print by Jo Gallagher
"Dave Roy, who lives locally and has worked for Peter Jackson on Lord of the Rings has created some mixed media on aluminium pieces," says Eunice.
"We also have Rob McGregor who is very well known and respected, Nick Eggleston who specialises in watercolours, and Jo Gallagher, a Te Kuiti-based artist who derives her inspiration from the local landscape, plants and birds, animals, and farm activities."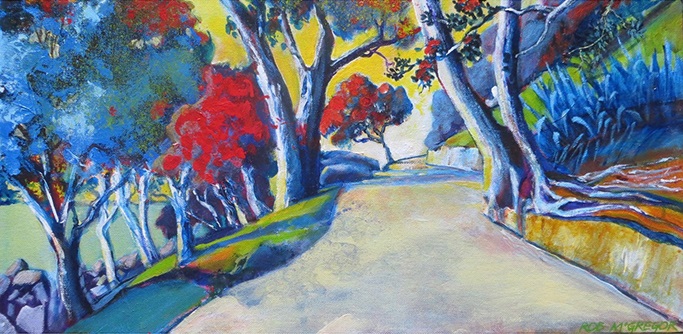 Painting by Rob McGregor
Many more well-known NZ artists are involved and include John Campbell, Meredith Reece, Mandy Williams, Jackie Gray, Birgitt Shannon, Paul Oellermann, Rosslyn Johnson, Hope McConnell, Tina French, Lyn McConnell, Justine Hawksworth, Gill Brodie, John Hawksworth, Benjamin Cooper, Elizabeth Cross, Cindy Delaney, Jill Bryan, Sue Dent and The Paper Rain Project.
"I'm also excited to say that we have a commission painting from Timo Rannali for our auction," says Eunice. "Timo has been a full time artist for 15 years and works from his Mt Maunganui studio."
The Ruel Foundation – Give a Smile Art Fest will be held at Farmer Hyundai, thanks to their generous support, at Farmers Autovillage, 116 Hewletts Rd from 9am – 5pm on Saturday August 24, and 10am – 4pm on Sunday August 25. The auction will take place at 2pm on the Sunday.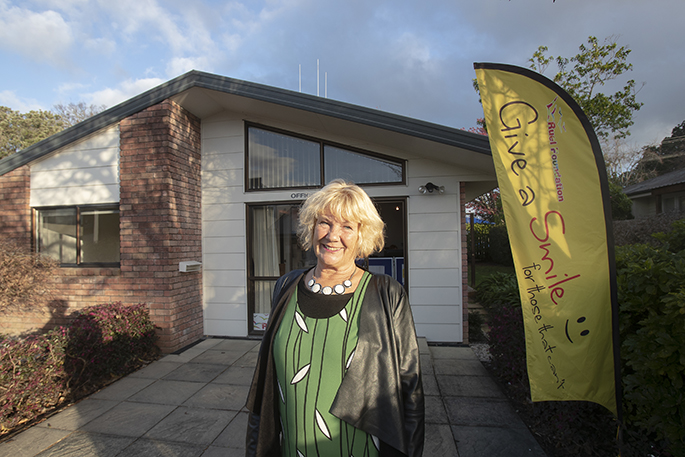 Eunice Chivers outside the Ruel Foundation office in Otumoetai