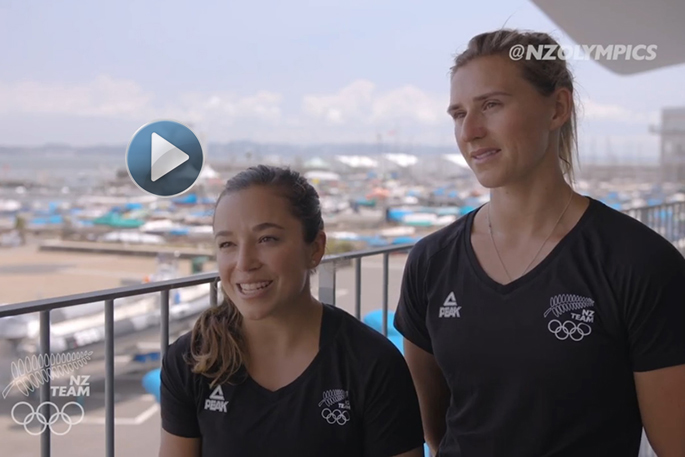 Click the image above to watch the video
Rio 2016 silver medallists Molly Meech and Alex Maloney have touched down in Japan and begun training ahead of their Tokyo 2020 Olympic Test Event.

The 49er FX pairing arrived in Enoshima, where sailing will be contested at Tokyo 2020, three days ago and had their first on water session yesterday, Saturday August 10.

"We're going pretty good, last month we were up here for a couple of weeks so we're really getting into the swing of things and looking forward to the test event next week," says Molly.

"It's great sailing conditions off Enoshima Bay, you can get an onshore with great waves to sail in and you can also get the offshore which is pretty shifty and similar to sailing back home so we're enjoying the conditions and trying to get used to the heat," says Alex.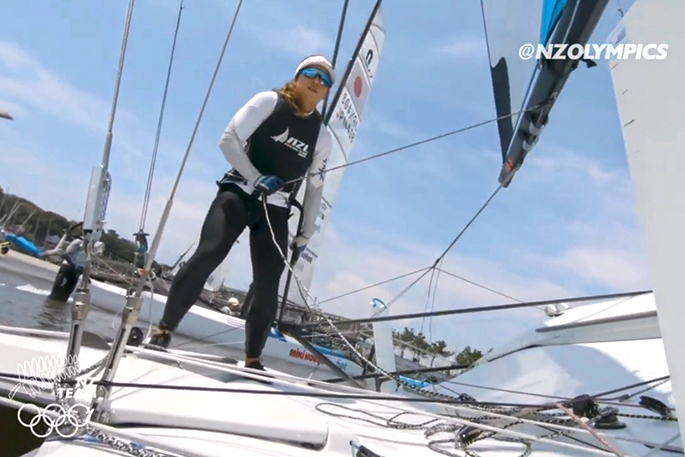 With temperatures above 30 degrees the athletes have been using cooling devices to help keep their core temperatures down.

"The humidity's also pretty high so that's what gets you. It's hard to find relief but we're lucky to be out on the water because you get a breeze and that's quite cooling," says Alex.

"We've got a great support team behind us and we've been doing heat prep back home which is really helping. We're also drinking ice slushies and wearing ice vests and using other cooling strategies which are making a difference," says Molly.

The pair begin racing on August 17 and are looking forward to one of the toughest contests they've faced since their Rio campaign.

"It's the first mimic of the Games we've had since Rio and we'll be racing on Olympic waters roughly a year out from the Games so it's a pretty important event for us," says Molly.

"We're in a good place as a team and are looking forward to starting racing."

Six New Zealand crews will compete in the Tokyo 2020 sailing test events.
About the New Zealand Team - Tokyo 2020 Olympic Games

The New Zealand Team will take on the rest of the world at the Tokyo 2020 Olympic Games. Competing in more than 20 sports New Zealand athletes will once again make history.

With perhaps the largest team New Zealand has ever sent to an Olympic Games, NZ athletes will earn the fern in sports Kiwis are familiar with – rowing, cycling, equestrian, rugby sevens, sailing, canoe and more.

Tokyo 2020 will also feature sports new to the Olympic programme – for the first-time surfing, karate, sport climbing and skateboarding will be contested at Olympic level, while baseball and softball will return to the Olympic program for the first time since 2008.

A host of new disciplines and events including 3x3 basketball, freestyle BMX and triathlon mixed team relay are also set to debut.

The New Zealand Team will be named from late February – July 2020. Follow the New Zealand Team's progress by downloading the New Zealand Team app or at www.olympic.org.nz.

The Tokyo 2020 Games will be the largest sporting event the world will have ever seen, with more than 11,000 athletes from 206 nations to compete in 33 sports.