With rain in the forecast for the next few days, Tauranga City Council wants people to make sure drainage systems are clear.
Drain services team leader Wally Potts says Tauranga has had about 4mm of rain overnight to 7am this morning.
"Currently the average rainfall is about 1mm per hour. It's really just showers and with no problems expected."
The MetService has issued a severe weather watch for heavy rain for Tauranga.
Heavy rain is being forecast for the Bay of Plenty, east of Te Kaha, in the eight hours from 10am to 6pm tonight.
In light of this, council wants to remind people that during times of rain to keep an eye on the road gutters in their areas.
"Any leaves and debris should be swept up and disposed of to ensure they don't wash back into drains, as this could cause blockages and potential flooding issues if rainfall did become heavy.
"On their own properties - ensuring their own roof gutters are clear of leaves and debris and ensuring drainpipes are clear, are all good house maintenance practices especially during the winter months."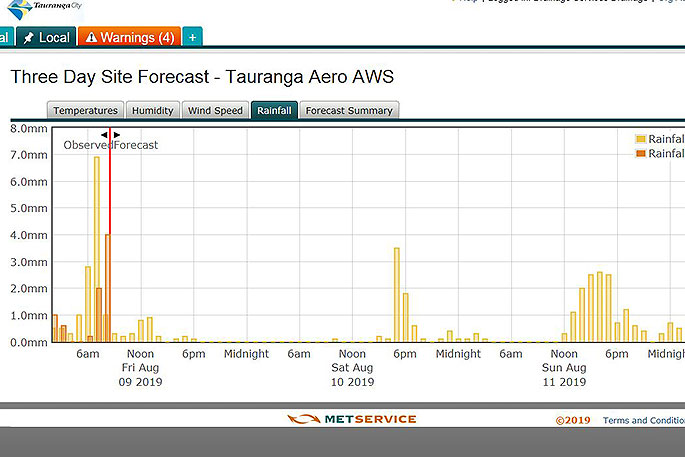 A graph for three-day forecast from 6am today to 6am Monday 12 August. Supplied image.
WeatherWatch.co.nz says the low that has moved across New Zealand will bring rain, showers, some thunder and snow into the South Island - and some sunny mild weather in the east of the North Island.
"It's a complicated forecast with a lot of moving parts, with some severe weather possible this weekend (heavy rain warnings and heavy snow warnings possible, so keep up to date with Government forecaster MetService for any tax funded weather warnings and watches).
"Snow is possible in Queenstown this weekend and surrounds - it's a bit of a borderline set up so we're not sure if you'll be able to build a snowman in your backyard, or maybe a short drive to slightly higher ground.
"Snow may be mixed in with rain, as it's a complicated set up this weekend. Queenstown has highs of just 3 or 4 degrees this weekend and next week too and it may be a damp cold."
As for next week, a storm well south in the Southern Ocean will send up another pulse of cold air early next week, making for wintry conditions in the lower South Island.
"Latest data continues to suggest it will pull away east enough to just spare the South Island from a major blast but next week, especially for those in calving, should be aware of a likely cold southerly wind and biting wind chills for a time early next week, peaking on Tuesday."
Here are the positives and negatives weatherwise with the big belt of low pressure which will not directly hit NZ but certainly influences our weather pattern next week for a time.
NEGATIVES:
Sub-zero wind chills in exposed southern areas next week for a time, most like Tuesday morning.

Single digit highs for a large portion of Southland and Otago until Thursday.

Snow possible on Alpine passes and roads over 300m State Highways on Tuesday in particular

Snow possible in Queenstown airport on Tuesday

Snow potentially to sea level in Milford Sound on Tuesday

Snow possible on SH1 the Desert Road on Tuesday
POSITIVES:
The storm is centered a very long way from NZ, meaning we're only being brushed by the edges of it.

The cold southerly looks fairly dry, meaning heavy snow to low levels looks unlikely

As we said earlier this week, the southern placement of this big low means northern NZ not really impacted by it

Wind chills, while tough for newborn stock, don't look to drop into negative double digits.

Limited travel disruption

Short lived - the colder air peaks Tuesday, eases Wednesday and double digit highs return to those in the south by next Thursday.